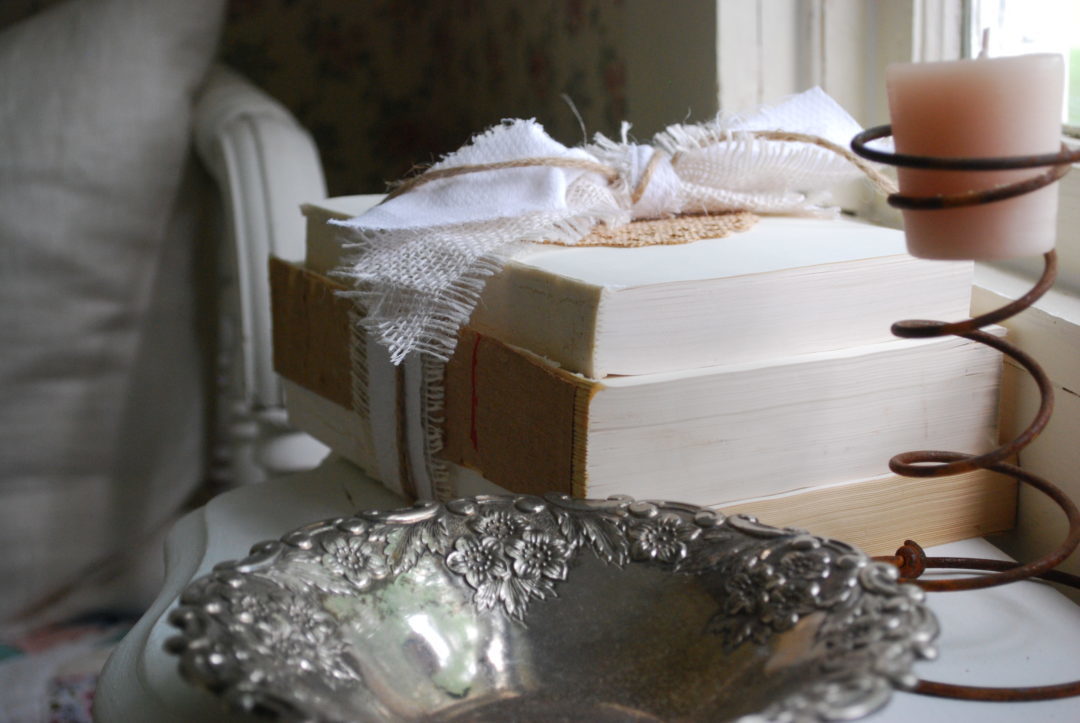 The farmhouse in Navasota has 3 bedrooms.  You've seen most of the living room in this post and some of the dining room in this post.  Today I'll show you the guest bedroom.  It's a small awkward "L" shaped room with wallpaper.  Even though the crazy busy flowery wallpaper isn't my first, second or third choice, I'd rather make it work than take the time to remove it.  Bleh – what a time consuming, not-so-pleasant job that is.  Even with all of those quirks, this guest bedroom screams farmhouse charm.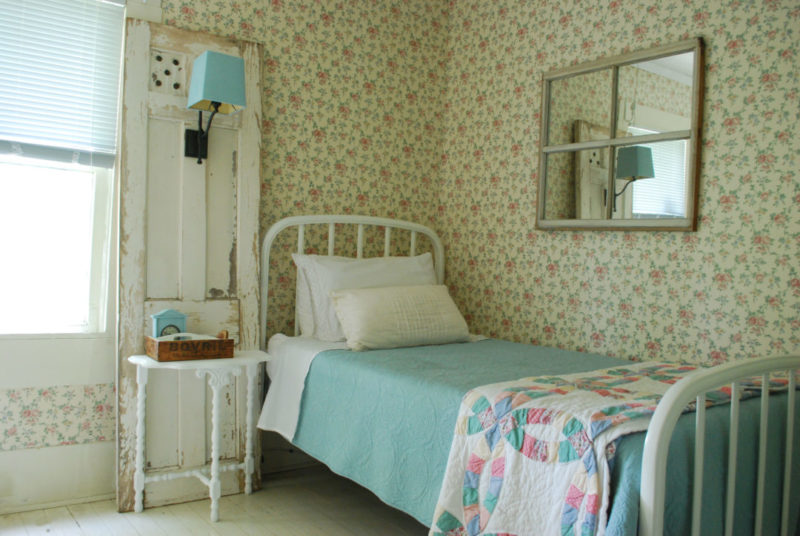 Initially, there were two twin beds squeezed in here and one day we'll go back to that, but for now, it looks like this.  The room faces east so lots of light comes in during the morning and throughout the day.
But besides the eye crossing wall paper that I think was hung upside down, can you see the white painted wood floor?  I think that's my favorite part.  Yeah they're scratched up but goodness me, they're super easy to clean and it helps keep this room bright and happy.
To give this room a bit more farmhouse charm, I added an antique door that we made into a lamp.  Purchased the door about 5 years ago in Canton at the First Monday Trade Days for $20 bucks and knew one day I'd do something awesome with it.  The lamp came from Pottery Barn but I got it from a Facebook garage sale site for only $15.  The shade was beige so I used left over chalk paint to cover it and the Mister screwed it in so the cord comes out of the back.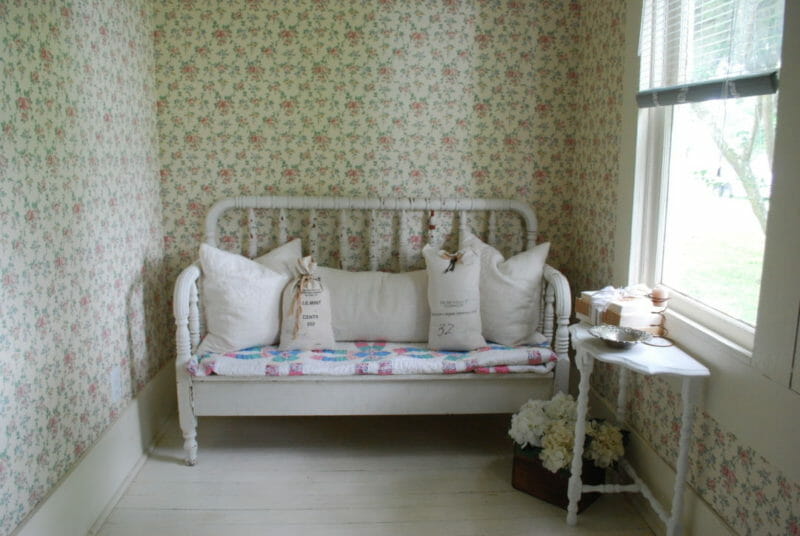 Here is the other side of the room.  Can you see yourself sitting there on that adorable bench looking out at the cows, drinking coffee and spending time with the Lord?  Me too!  Well I'd have a Diet Coke but you get the drift.
Mr. Wonderful made the bench using the headboard as the back, the footboard for the sides and the side rails as the support beam across the front.  I L.O.V.E. it and will show you a DIY about that soon.
For now it just has a folded quilt on the seat but eventually I'll get around to making a cushion.  Haven't done that yet because the foam for the padding is really expensive.  I'm talking $50 dollars expensive w/a coupon.  Say whaaat – I know, right?!  Not happening when we have so many other things we want to do to this little house.
White chippy paint is another farmhouse charmer and something I never tire of.
I made the pillows from old bank bags I found at the Round Top Antique Fair.  The bags were $10 and the vintage keys were 50 cents.   Got the stuffing from Hobby Lobby (50% off of course) and tied them with scrap ribbon.   Any time you can use vintage items and repurpose them, you'll can get the look of farmhouse charm.  Oh and quilts – always try and use quilts.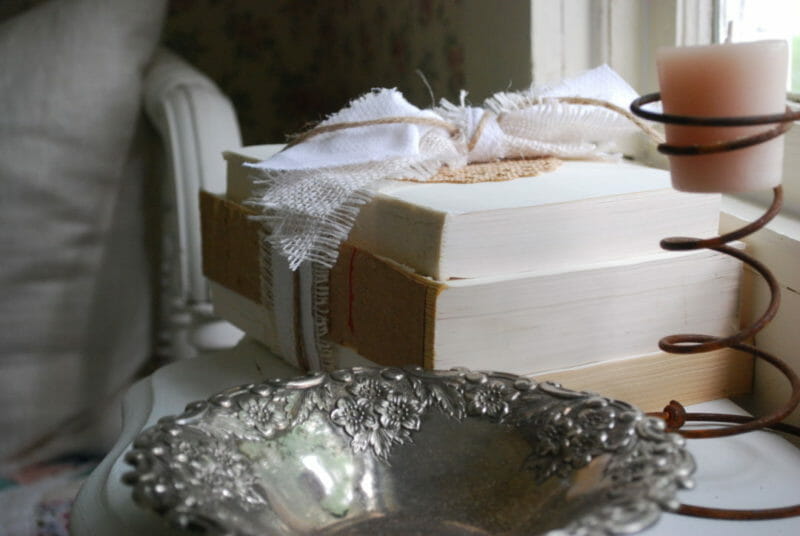 Removing the bindings from books can also give you the same look.  Just tie them with twine or an assortment of left over ribbon like I did.  The silver bowl was $2.00.  Like it for its flowery edges.  And the rusty old bed spring that holds a fabulous smelling candle (no, I won't burn it) was a whole dollar.
Well I think that about does it for the Navasota guest bedroom.  This room has it's own half bath and maybe I'll post about that later on but honestly, it's a half bath and even though it's decorated super cute, who really wants to see a picture of a toilet?   No stanks.
Looking back at all we've accomplished with this little house, I think The Mister's mom, grandma, and great grandma would smile at the new changes.  I know I do.  😉
Deuteronomy 5:16 – "Honor your father and your mother, as the
Lord

your God has commanded you, so that you may live long and that it may go well with you in the land the

Lord

your God is giving you.