It's still super hot here in Texas but I can't wait until September 22 (first official day of fall) to start transforming my decor.  Fall is my FAVORITE time of year.  Did you notice the emphasis there?  I'm telling you my house looks like Hobby Lobby threw up all over it during the fall months.  I can't help it.  It's the cooler weather, the leaves, the clothes, the not sweating just after you get out of the shower, and of course, the decor!  So in honor of fall being on it's way, I'm sharing how a store bought pumpkin gets a vintage vibe!
I want this pumpkin to be unique and different so I can't just leave it in its original orange.  That doesn't say decorator/blogger/fall goddess.  And it certainly doesn't say vintage farmhouse fabulousness.  So here is a list of what you'll need to achieve this unique vintage look.
Supplies:
Store bought plastic pumpkin
Fabric Doily
Knob or drawer pull
Paint of choice (I used American DecoArt in a chalky finish)
Sponge paint brushes
Fabric Glue (Crafter's Pick was my choice)
Hot glue gun and glue stick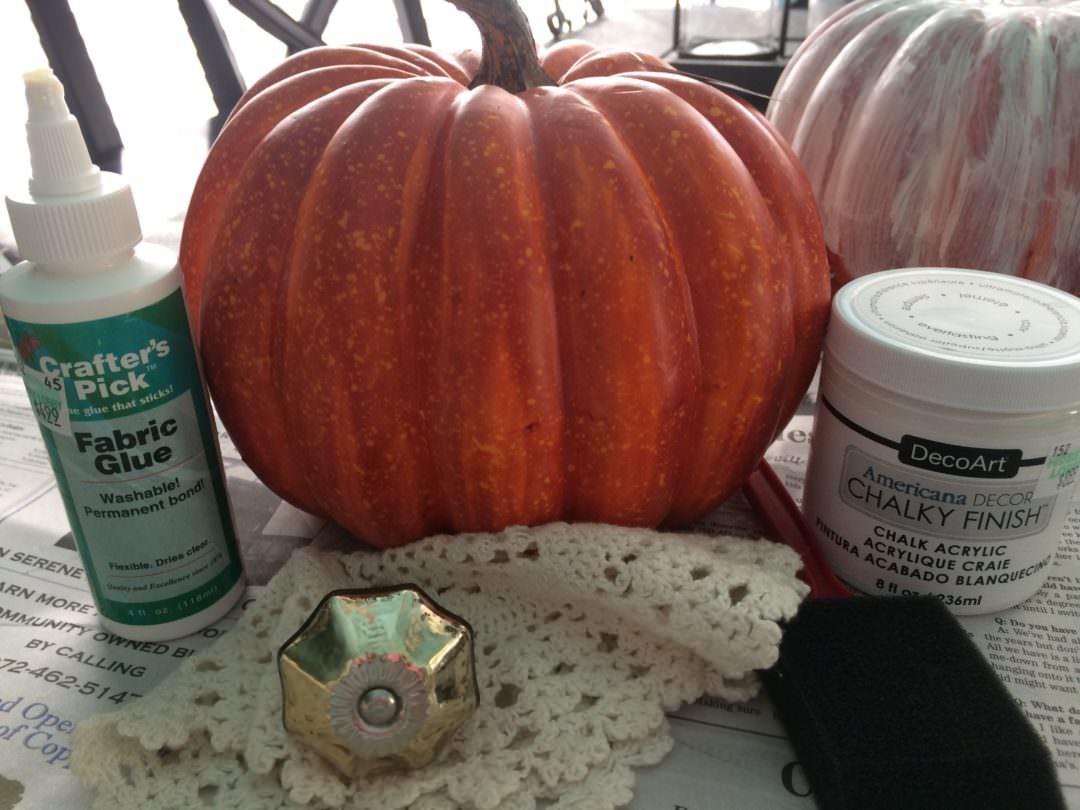 Directions:
You'll want to first remove the stem.  Each pumpkin is different but with this one all I had to do was untwist it.  Now you can start the fun part of painting it.  A vintage pumpkin doesn't have to be white.  It can be cream, gray, pale blue, green, pink or even yellow.  I want white so it took about 4 coats of paint.  I could've purchased white pumpkins but they were double in price and since I am painting anyway, I went the cheaper route.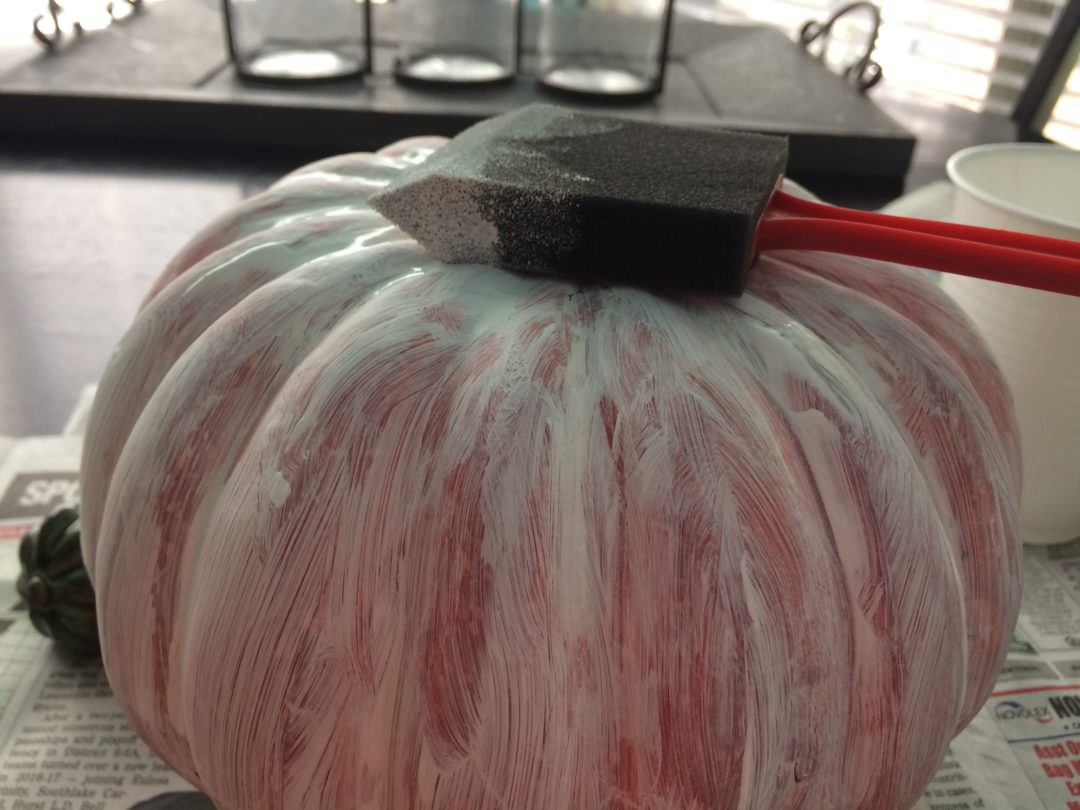 After you are happy with how the paint looks and it's fully dry, it's time to glue on the doily.  Put fabric glue in the most solid areas of the doily and on the edges too.  I dabbed a little all over the entire piece but had a solid line of glue on the top, in the middle, and on the edges of the doily.  Try not to overdo the amount of glue.
When you lay the doily on the pumpkin, line up the center hole from the doily with the hole where the stem use to be.  Don't forget to gently push the doily in the creases of the pumpkin.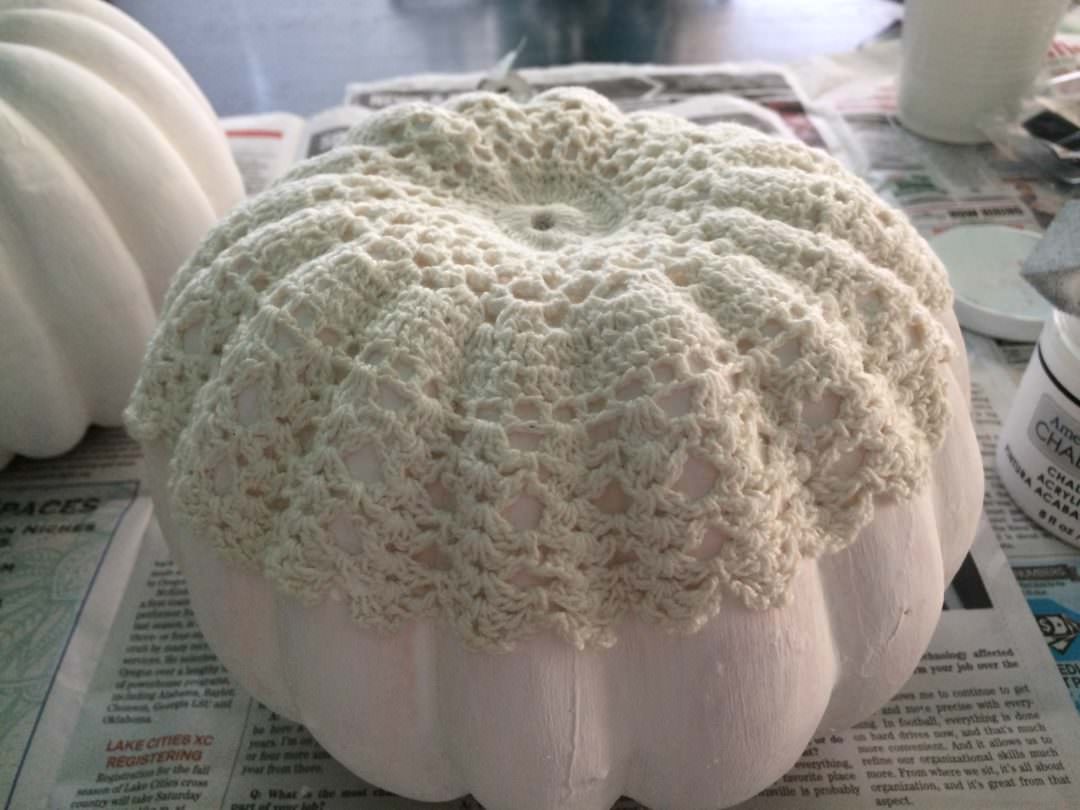 The finishing touch is to add the knob.  You can simply insert the knob or hot glue it in if you want it to be permanent.  Isn't it fantabulous?!  It has the vintage vibe I was striving for and a softness even with the added texture!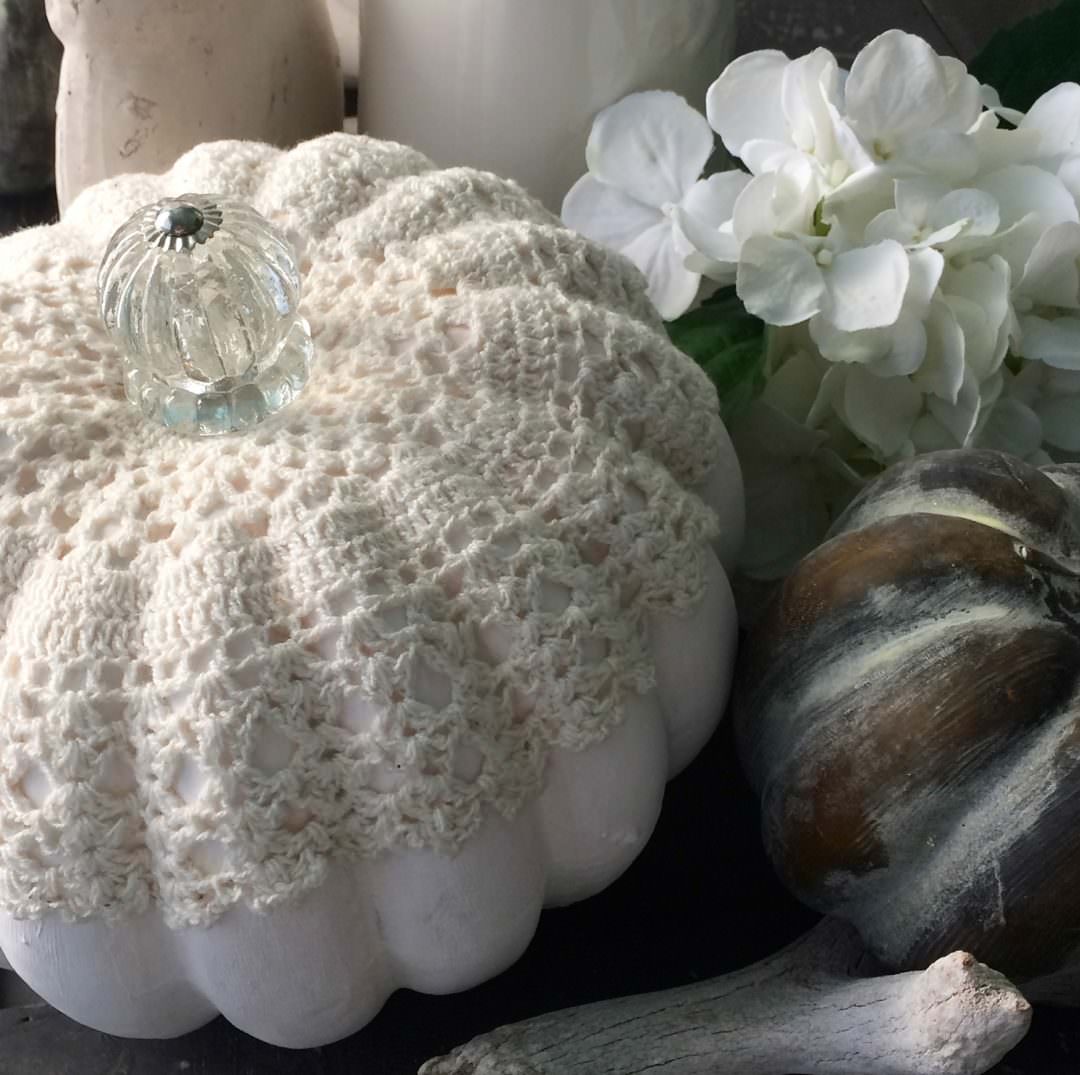 Below is another video for my new library!  I wanted to name it "Look Ma, no man hands!" because you don't see my man hands like in the first video.  But I chickened out.  I feel it isn't very professional and someone might come across it one day and think it's about a girl who replaced her hands with doll hands or hooks or something.  Not about a vintage inspired pumpkin.  Anyway, let me know what you think and don't forget to like and share it.  You know – since I'm vying for Internet Sensation!  😉
Here's the Video!
Save
Save
Save
Save
Save
Save
Save
Save
Save
Save