Well it's raining today and was gloomy here yesterday and the day before that.  I for one cannot deal with cloudy days for very long which reminds me of the serious words of Popeye – I can't stands no more!
I had to do something to cheer myself up so I played around with the stone mantel in our family room.  I honestly do not like the fireplace at all.  Okay I like the stone that goes up to the ceiling but you've heard it before, the mantel is puny.  Puny because I can barely put anything on it and when I do, it's uneven.  Ugh.  The Mister has told me one day I can have a real mantel.  One made from a reclaimed piece of wood but I'm not holding my breath since that was like oh… 8 months ago.
Not to bash the Mister.  He's a busy guy and takes good care of me but man would I love a new mantel.  Anyway, with all that playing around here is the simple spring mantel for a pick-me-up.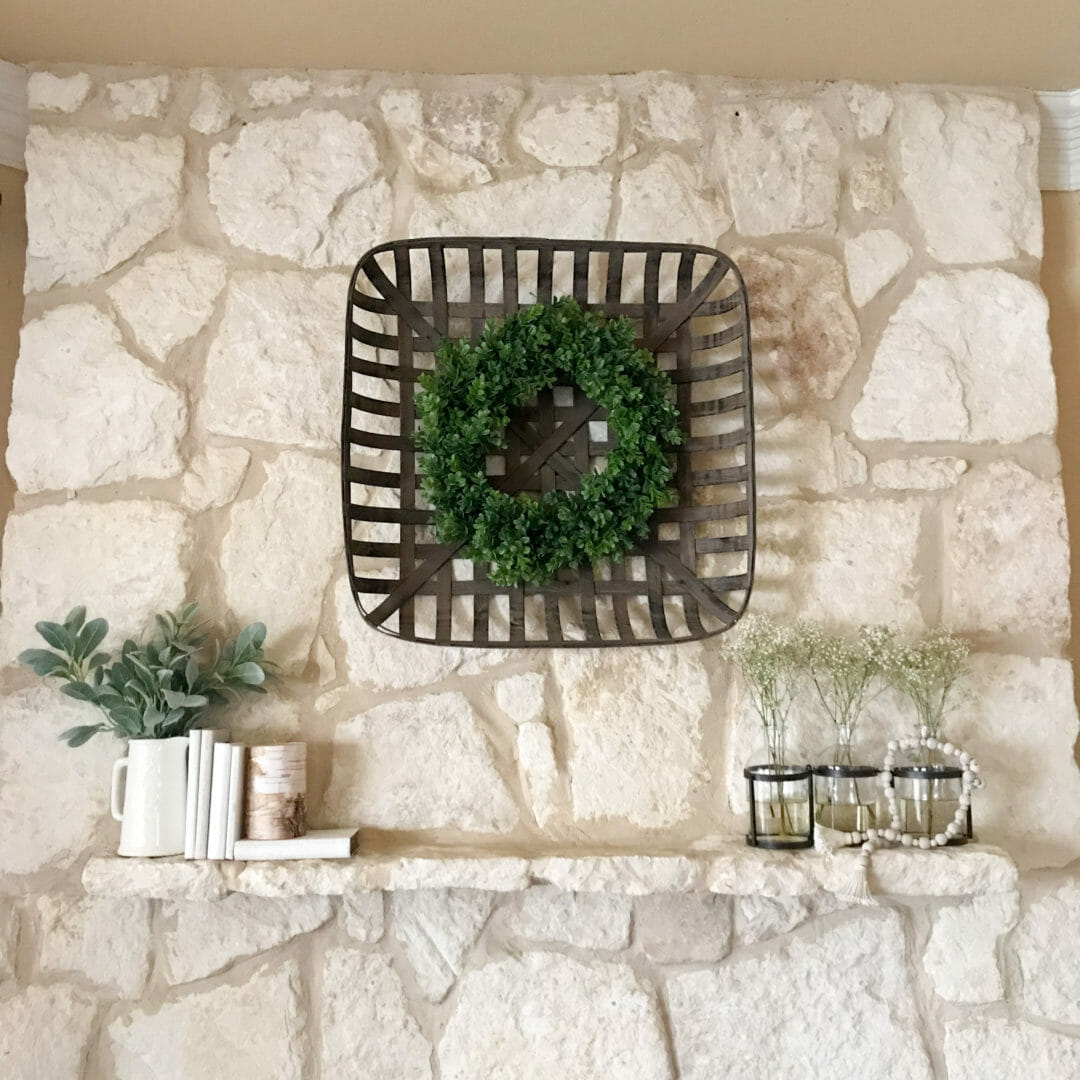 See how puny the mantel is?  What you can't see is the tiny pieces of paper and wood I have shoved underneath the accessories to make them stand a bit more evenly.  And it's hard to tell from this photo but the tobacco basket is 30″ wide.  I think it looks small up there.  Just one more thing about the love/hate relationship with this mantel.  But overall, I love how it turned out.  It's happy and spring filled for sure.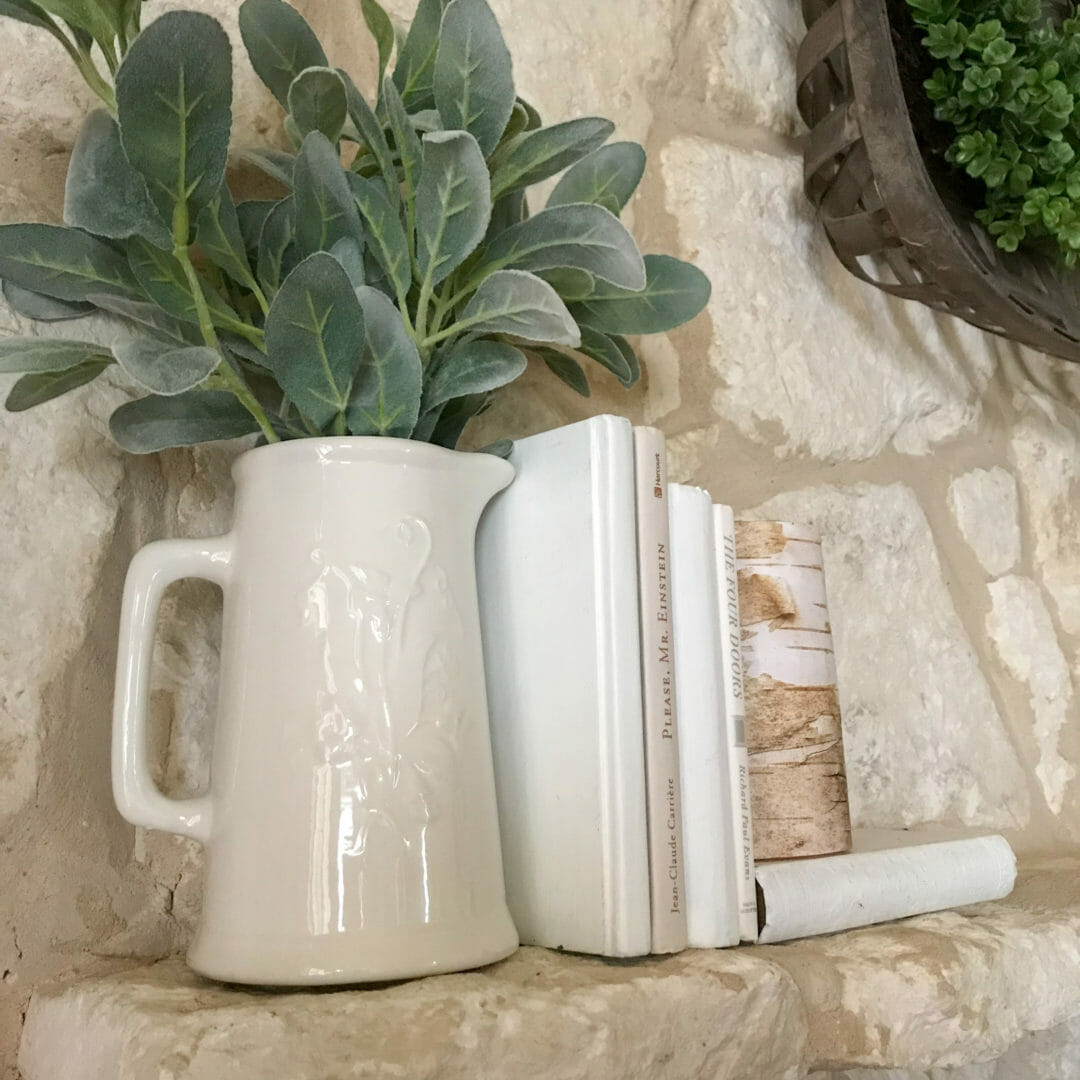 In the process I noticed one of my favorite spring colors is green.  Dark green, lime green, apple green, leaf green – all kinds of green.  How can you go wrong with green?  It's like bringing the outdoors in.  Even though as I look out the window right now, it's brown and dreary and gray.  Bleh.  But not the mantel!  It's bright and joyful; two must haves for a spring mantel.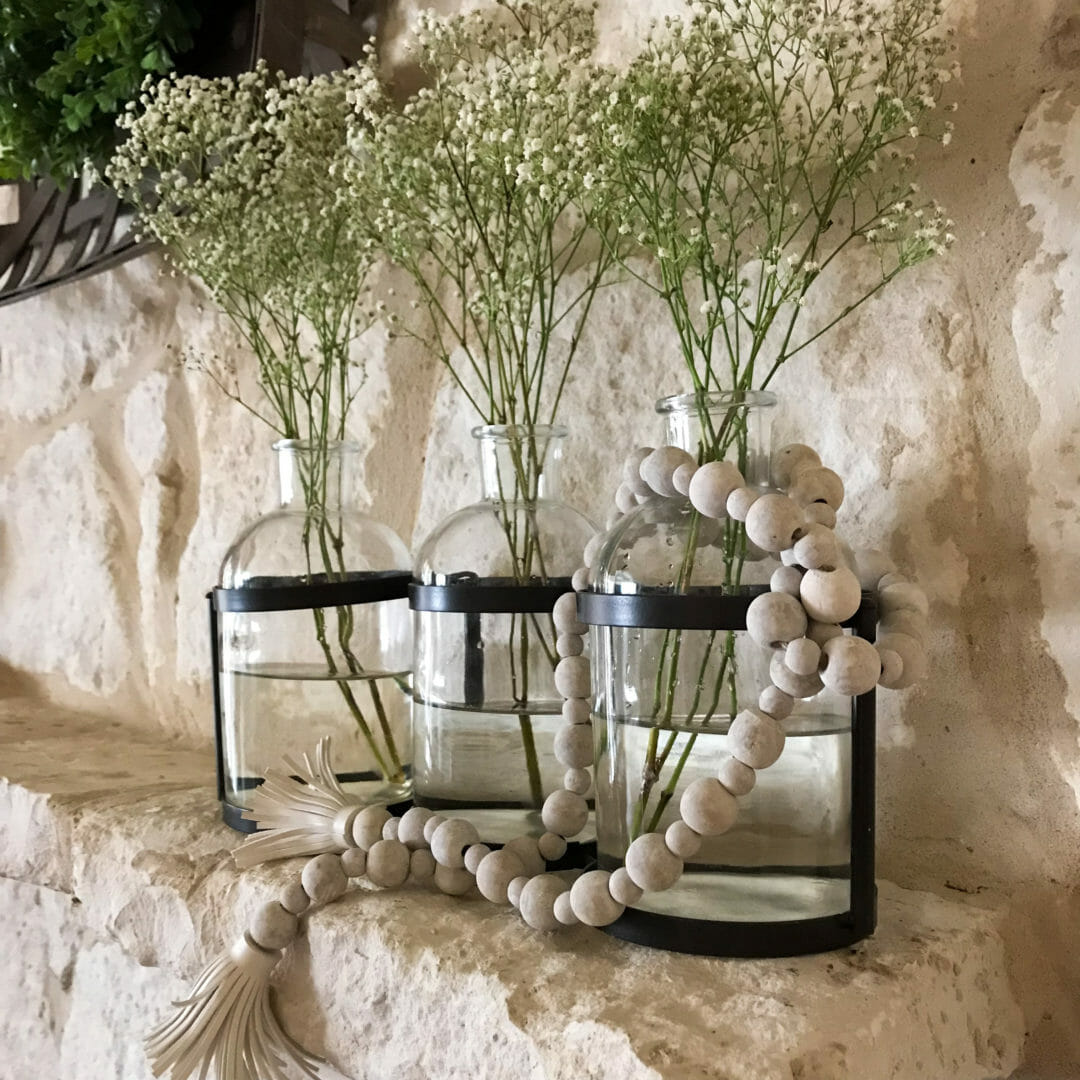 Last week I was out and about with some new friends and found these wooden beads at Kirkland's.  They were only $14.99.  I like how they help the glass vases show up a little more against the stone.  Hint: If you are using glass or anything clear, you need to add something behind it or around it so it doesn't blend in with the back ground.  Even with red flowers, only the flowers would show and the vases would still be barely visible.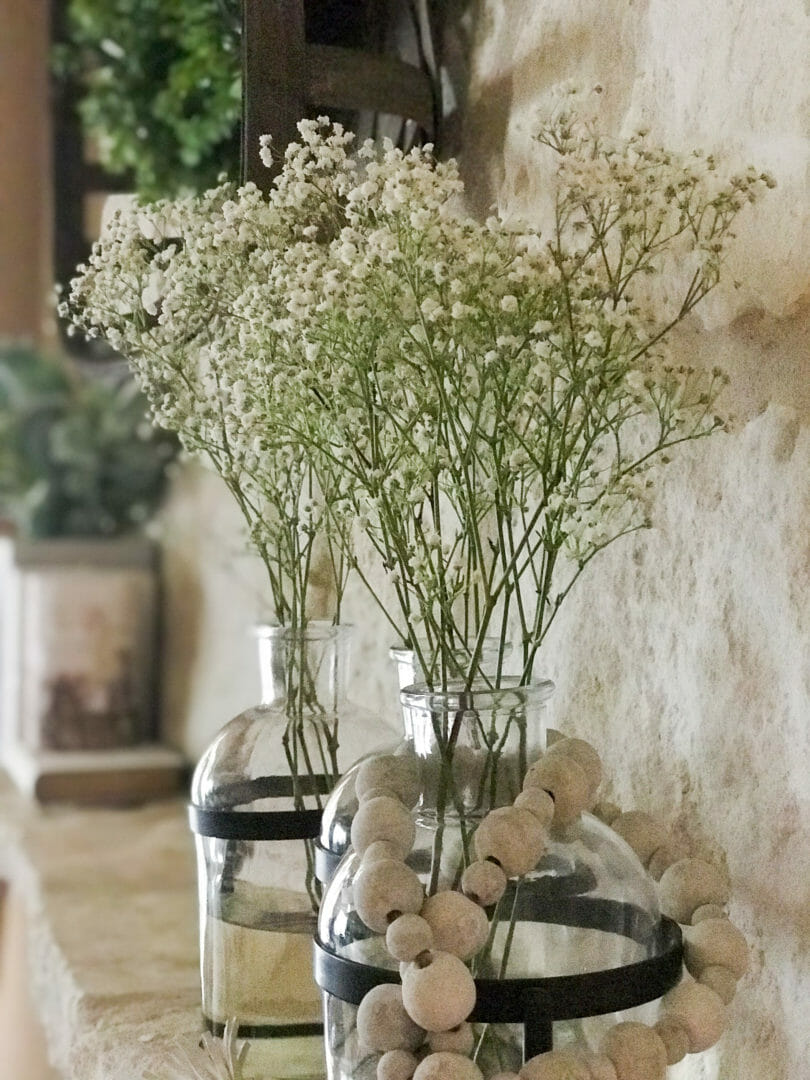 Purchased the Baby's Breath at my local grocery store.  Can't go wrong with spring flowers for only $4.99 – they last for weeks.  The rest of the items were things I already had around the house.
If you missed the post on the Easy Steps to Decorating a Mantel, you can find it here.  But for those that did see it… Do you see the triangle?  This triangle is asymmetrical. 😉
So do you need a spring pick-me-up?  Choose to decorate a place you see a lot.  Maybe the dining table centerpiece or the kitchen island or even the vanity in your bathroom.  Pick up some flowers or greenery and add them to a container.  The flowers don't have to be real; faux works too.  That's all it took for me to be in a better mood. 😉
If you like anything on my mantel, I've listed a few affiliate links so you can find the same item or similar item for your convenience.
Tobacco Basket – Kirkland's
Boxwood Wreath – Amazon
White Pitcher – Ikea/Amazon
Faux Lambs Ear Stems – Hobby Lobby
Vase Set – World Market
Vase Set – Hobby Lobby (Don't forget to use your 40% off coupon!)
The books were painted or already white and the Birch bark candle was made using paper.  You can see that super easy DIY here in this post.
Happy Soon-to-be-Spring Friends!