Well now that it's officially fall, how about starting off the season with a Fall Home Tour?  I'm kind of excited and kind of nervous.  Why? 1. I've never thought our house was decorated to my liking because I have to decorate around the ugly pale mustardy yellow wall color.  2. I am casual and simple and all over the board when it comes to a decorating style and calling it eclectic doesn't even cover it.  3. This house isn't even close to being finished.  But is any house ever really finished?
It was fine years ago when I was going through my red phase but now that I'm over that, we've started painting some of the rooms.  Okay, just one so far but now the house is going through a midlife crisis.  Is the house old enough that it needs a full on surgical lift and tuck or just a bit of lipstick and rouge?  Do people even say rouge anymore?  What I do know is that we are passed the point of just buying a convertible and calling it a day.
But, I am always changing and decorating and fluffing and primping and sprucing and playing and have decided it is what it is and I'm going to share it anyway.
Maybe we should call this post "How to decorate for fall when you have to live with a man that doesn't want to paint or buy a sofa". 😉
The Family Room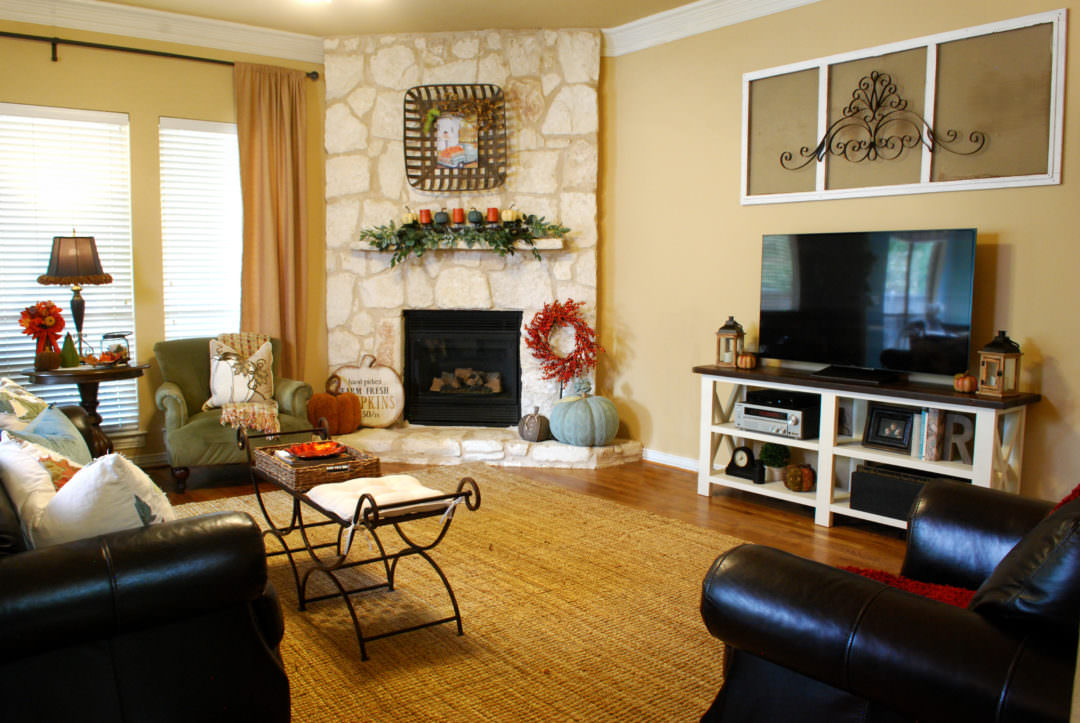 I know it's not hideous and I should be (and I am) grateful to live in a nice house with furniture and electricity and fall decor etc.  It's just that I think the house would be so much prettier with soft taupe walls.  Okay and a slip covered sofa and a nice big wooden mantel.  Don't you?  Seriously though, I can barely get anything to stay up on that uneven rock mantel.  Jeez Louise – I have to add folded up cardboard to keep things propped evenly.  Sorry, I digress/tangent over.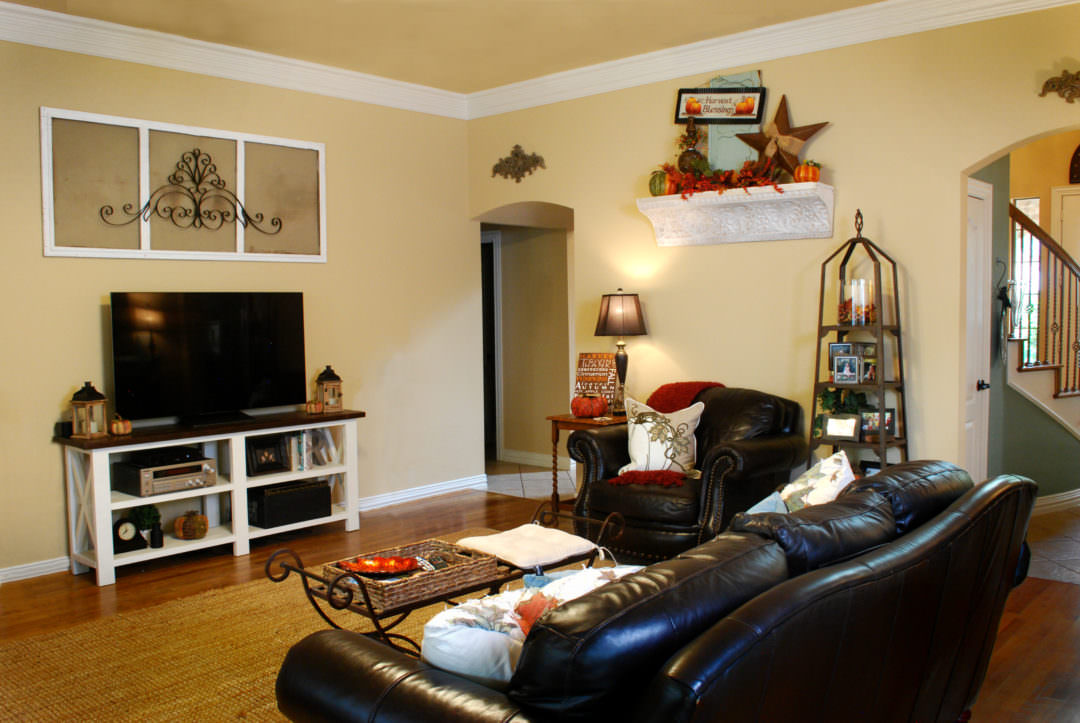 I chose blue and orange which you'll understand when you see the kitchen.  Inspiration happened when I saw the picture of the old truck full of pumpkins at Kirkland's.  Thankfully, it still works with the gold walls but I think it's more than that.  I believe you need to spread the color combination around the room for it to look good.
It's like Horace Vandergelder says  "Money, pardon the expression, is like manure. It's not worth a thing unless it's spread around, encouraging young things to grow".  That's the same when you decorate for fall!  LOL, is that a stretch?  I love that movie (Hello Dolly) and that's what came to mind when I said "spread it around".  Ha!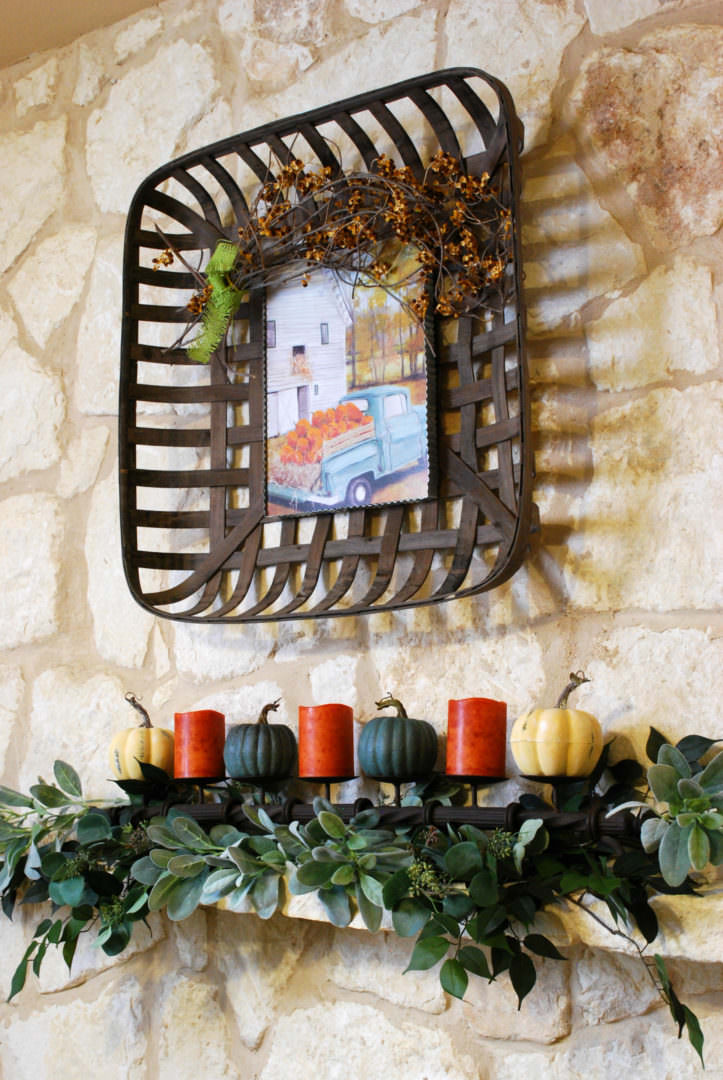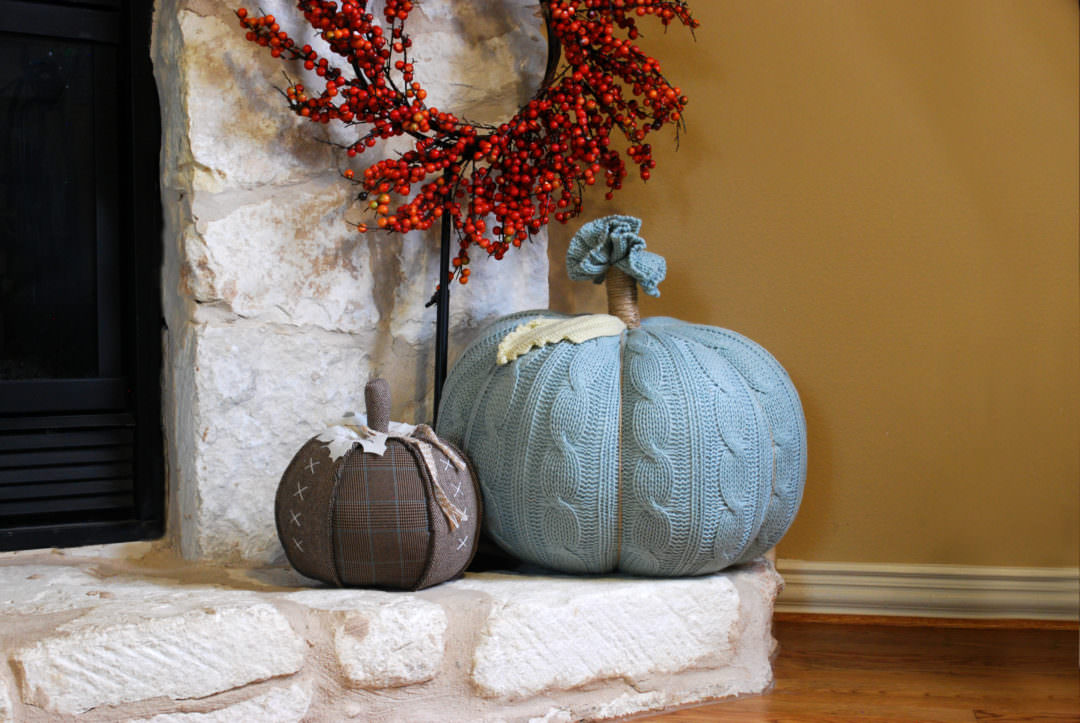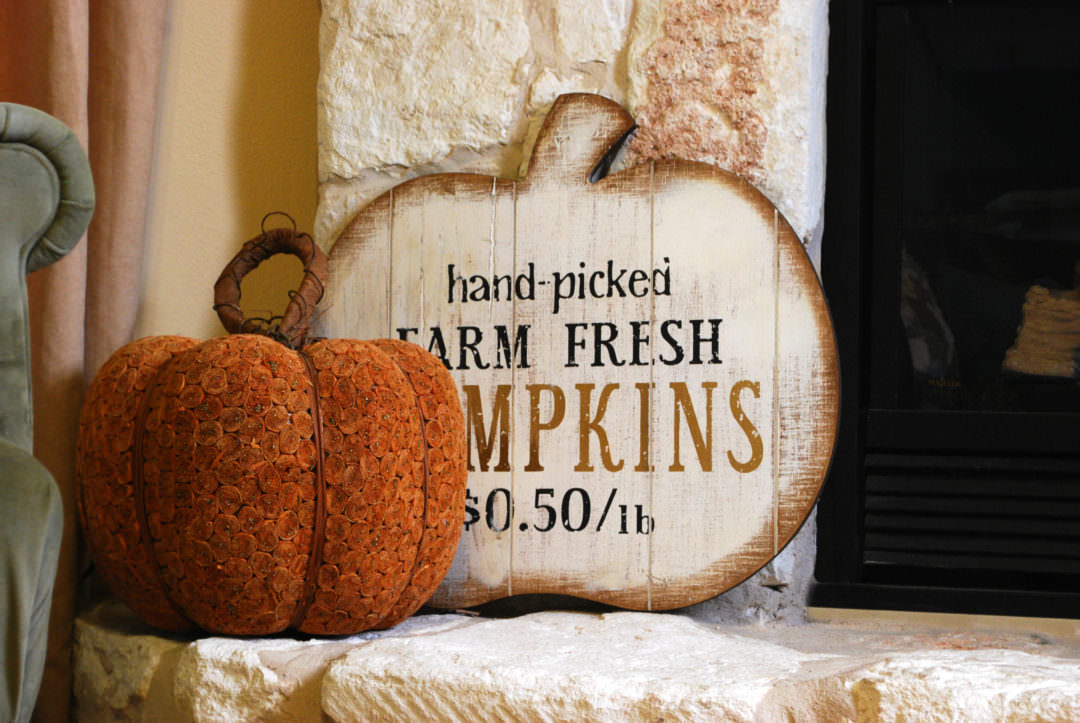 Fall accessories don't have to be pumpkins and gourds.  Here is a vintage cabinet door to bring that blue/green color around the room.  You could also use books, candles, ribbon, fruit, or plants in the same fall colors.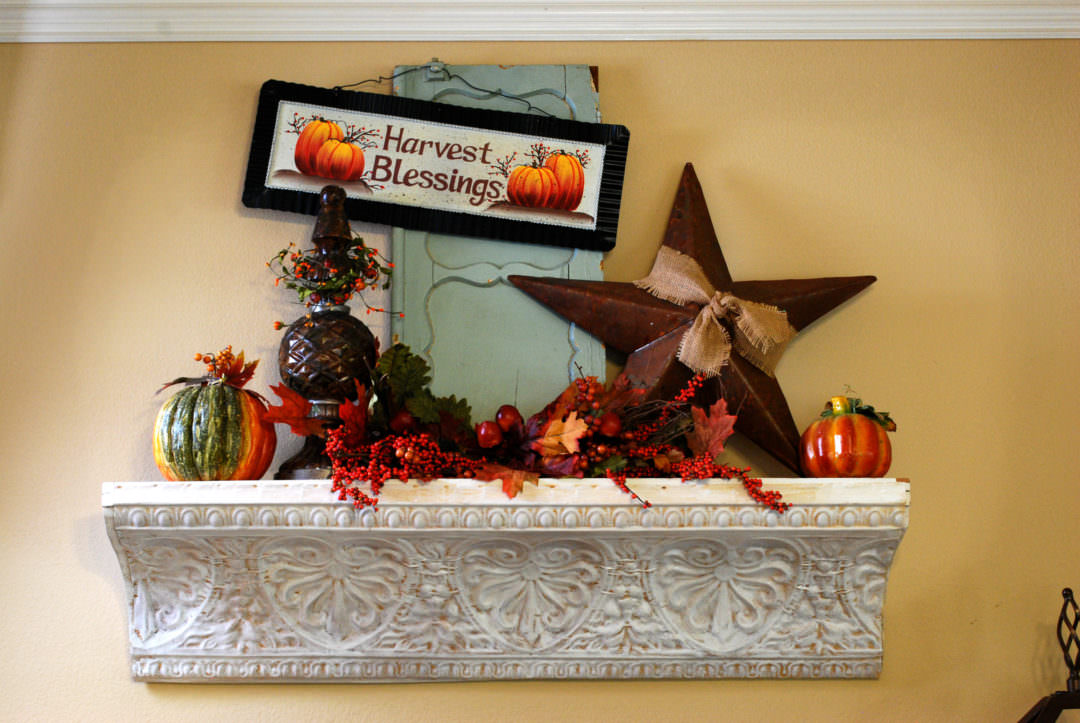 The Kitchen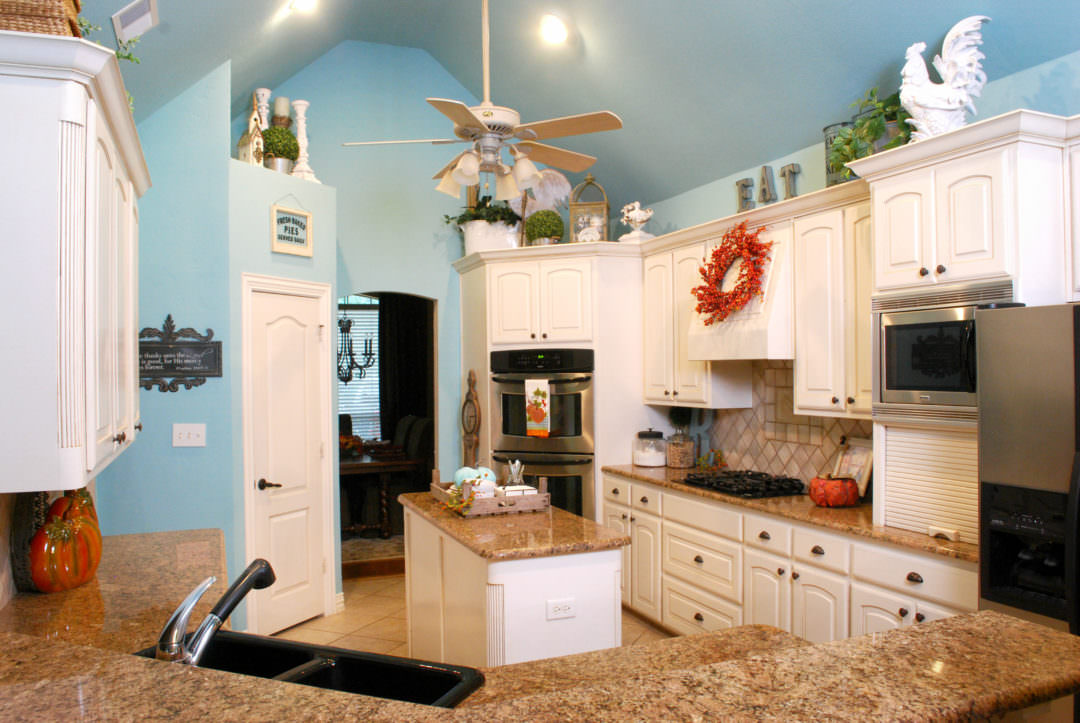 This kitchen use to be dark rusty red but with the cream cabinets I couldn't go with white walls and I've decided that since the rest of the house is going to be soft taupe/khaki, I should have some color.  Boy oh boy is it full of color.  It took a couple of weeks to get use to but I really like how the orange accents pop against the blue and cream.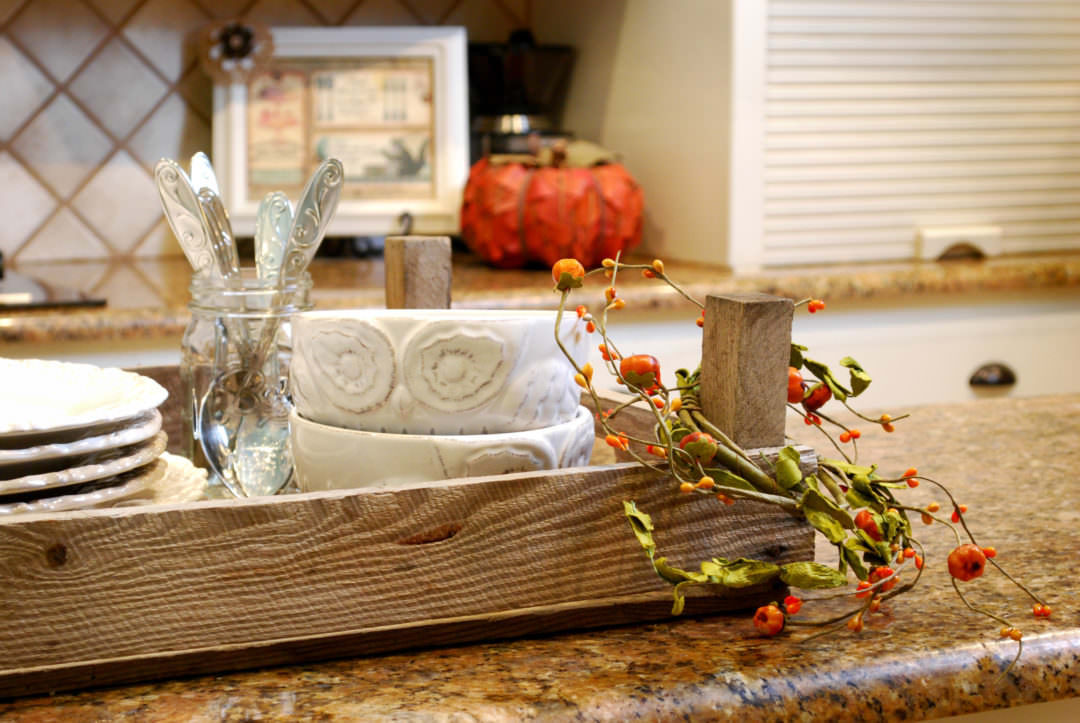 I use candle rings to add small touches of color in different places.  You can use napkin rings too.  Oh and a quick fix – I didn't like the container to the topiary tree so I just dropped it inside a brown paper bag.  Easy peasy lemon squeezy.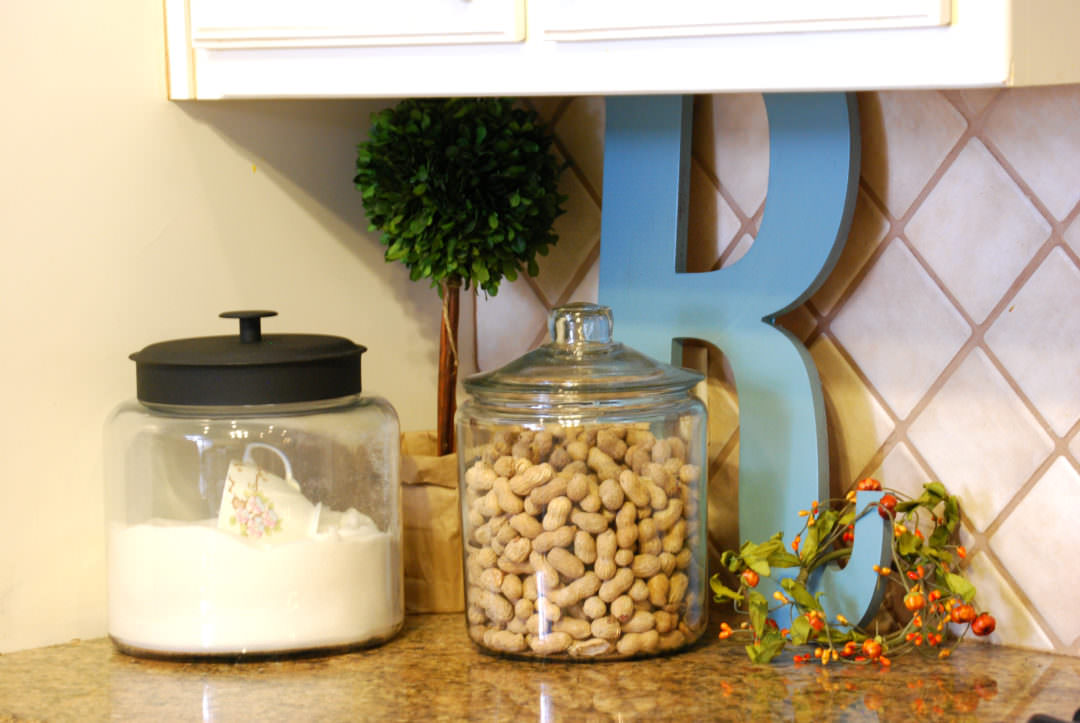 The Breakfast Room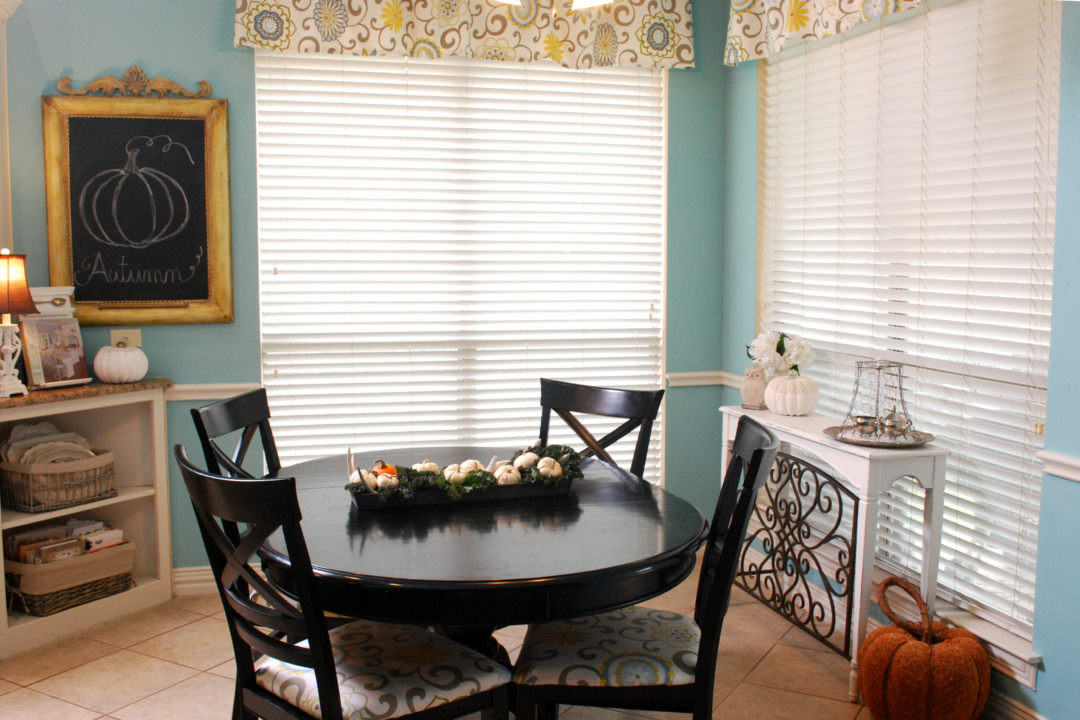 Since the Breakfast Room has so much blue and the chair cushions and curtains are multicolored, I chose to stay pretty neutral.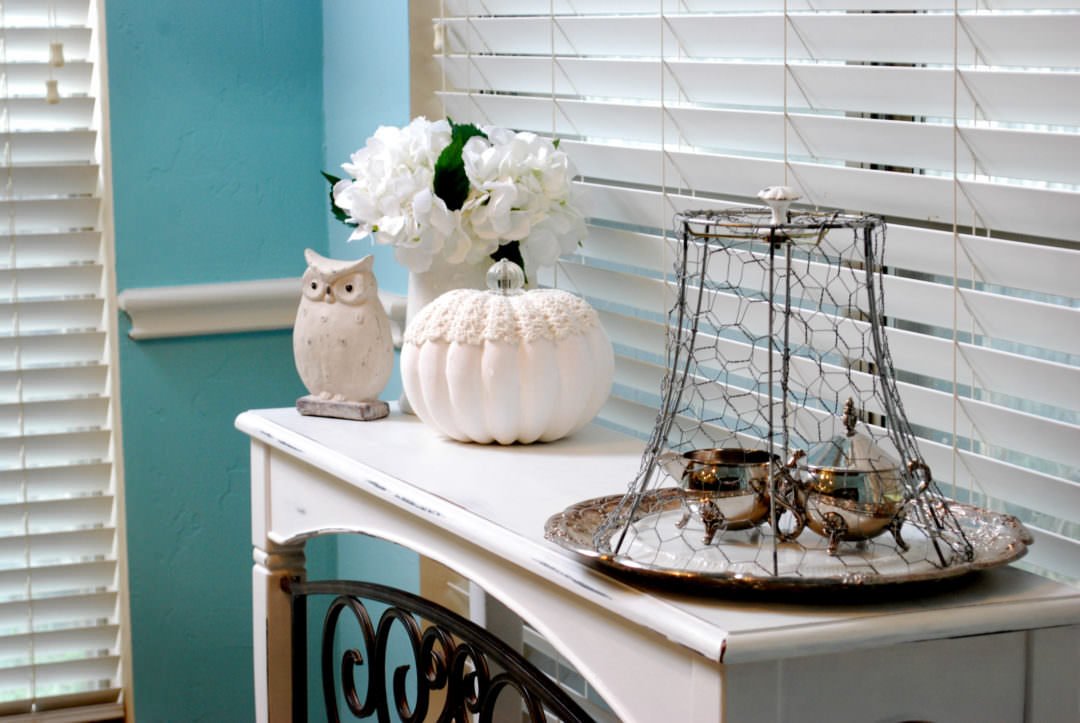 If you'd like to see how to make the vintage looking pumpkins, you can see that post here.  If you'd like to make a chicken wire cloche, you can check it out in this post.  Both are easy to do and a quick way to impress your visitors.
For the table, I wanted a simple natural centerpiece so I hopped over to Whole Foods and got mini pumpkins and fresh kale.  I love the deep rich green and purple of the kale and think it brightens the pumpkins even more.  Truth be told, I could either spend the $16 on greenery stems at Hobby Lobby (they weren't on sale) or spend the $1 on kale.  Kale won plus I can feed it to the rabbit later!
If you'd like to see another centerpiece idea with fall dishes, you can see that simple tablescape here.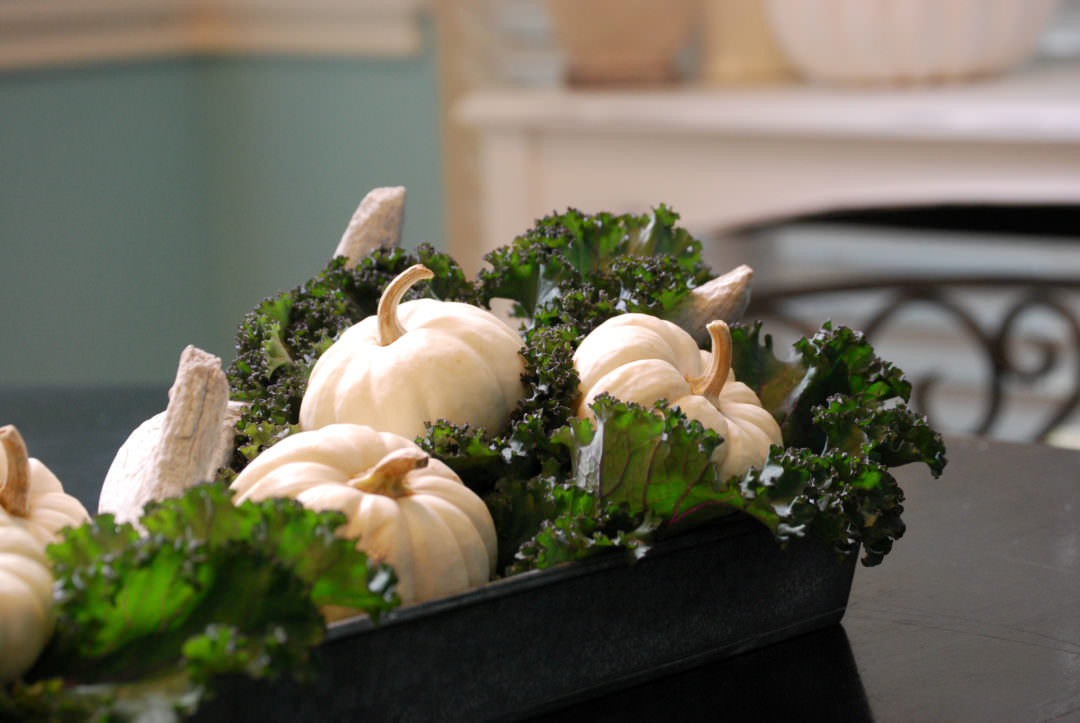 There's my Fall Home Tour – well, at least 3 rooms.  Do you feel sorry for me now?  Sorry enough to come over and paint the ugly pale mustardy yellow walls?  Pretty please?  You'll need to bring scaffolding for the entry (main reason we haven't painted).
And in my defense, the Mister did say when we moved in that we could paint the walls.  I guess I should have asked what decade.  🙁
Now check out Fall Tours from 15 other Texas Bloggers by clicking on the names below.  Happy Fall Y'all!

Fall In Love With Texas Blog Tour
Monday
Tuesday
Wednesday
Save
Save
Save
Save
Save
Save
Save
Save
Save
Save
Save
Save
Save