Good Morning Sunshine!  I have a fun and colorful post for you today.  Do you remember a while back I added a Coffee Bar in Navasota just for the Mister?  If not, you can check it out here.  Well for Christmas I've turned it into a Christmas Cocoa Bar with the anticipation that it will actually get cold soon – although it's now December and I'm still wearing short sleeves… Can someone please tell Mother Nature it's winter already?!  Ugh.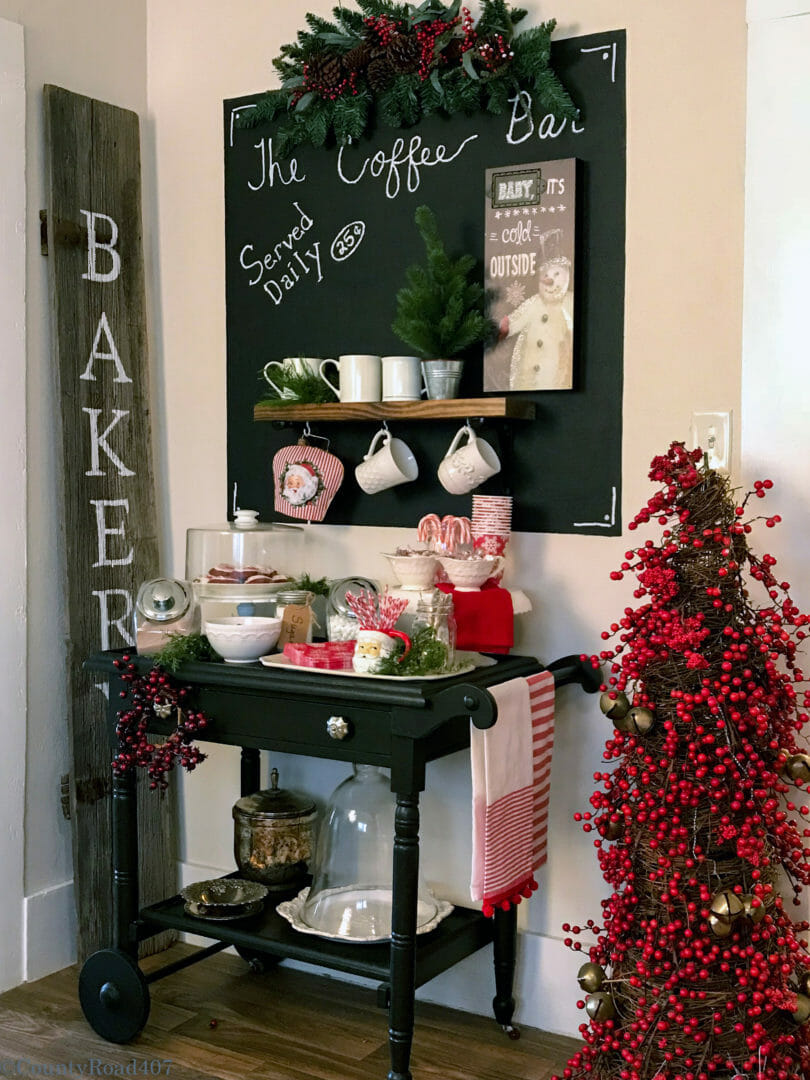 I have an antique/repainted tea cart I used but honestly you don't need to use a separate table or need much space really.  You could use a 3 tiered dessert tray, a serving tray, a wide basket or even a large serving platter.  It's just something to section it off from the other items you may have sitting on your counter already and to make it seem a little bit special.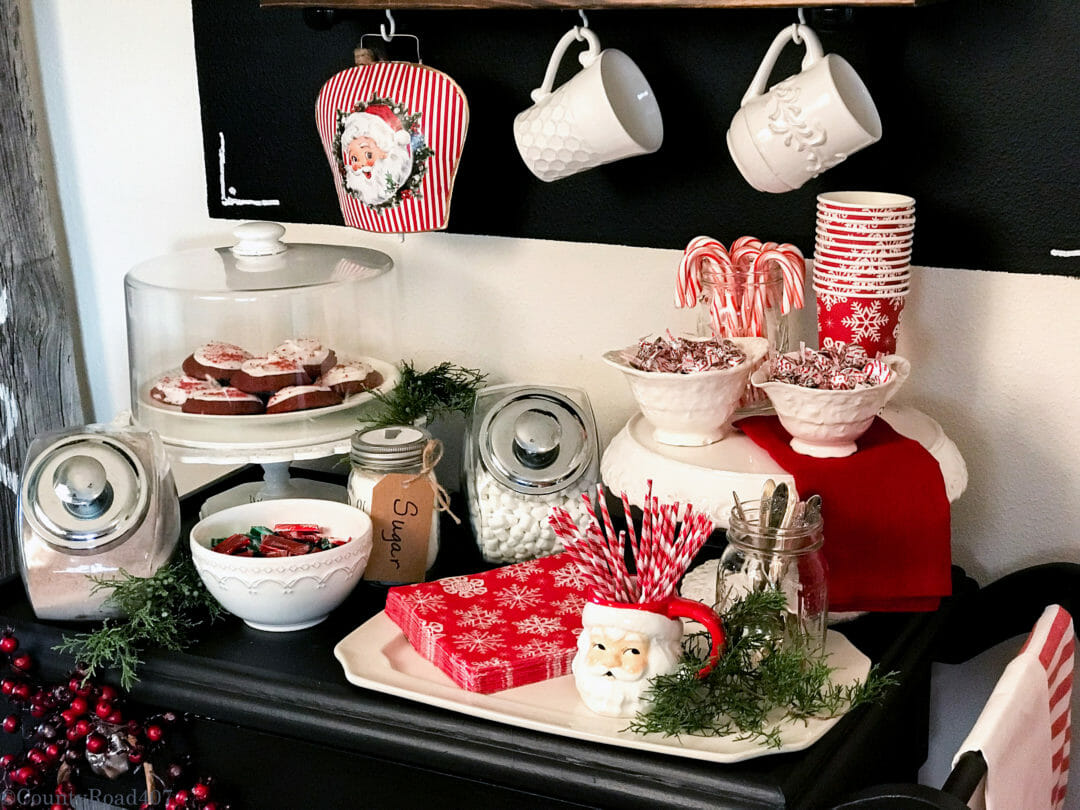 Here is what I have on my Christmas Cocoa Bar but I'm sure you can come up with several things I haven't thought of.
Christmas Cocoa Bar
Instant Cocoa/Hot Chocolate


Mini Marshmallows

Peppermint Sticks or Candy Canes

Cups and Stir Sticks

Napkins and Dessert Plates

Candy and/or Desserts
Placing things on multiple levels adds more interest and makes it easier to see and get to.  I've used antique cream and sugar bowls and a cake plate for added height.  Ooh, I just thought about using a cupcake tin.  That could hold several mints, marshmallows, or sprinkles and look cute.  Oh I just thought of something else… You could add bottles of flavoring.  Hmm, I might have to get back to the store for some of that!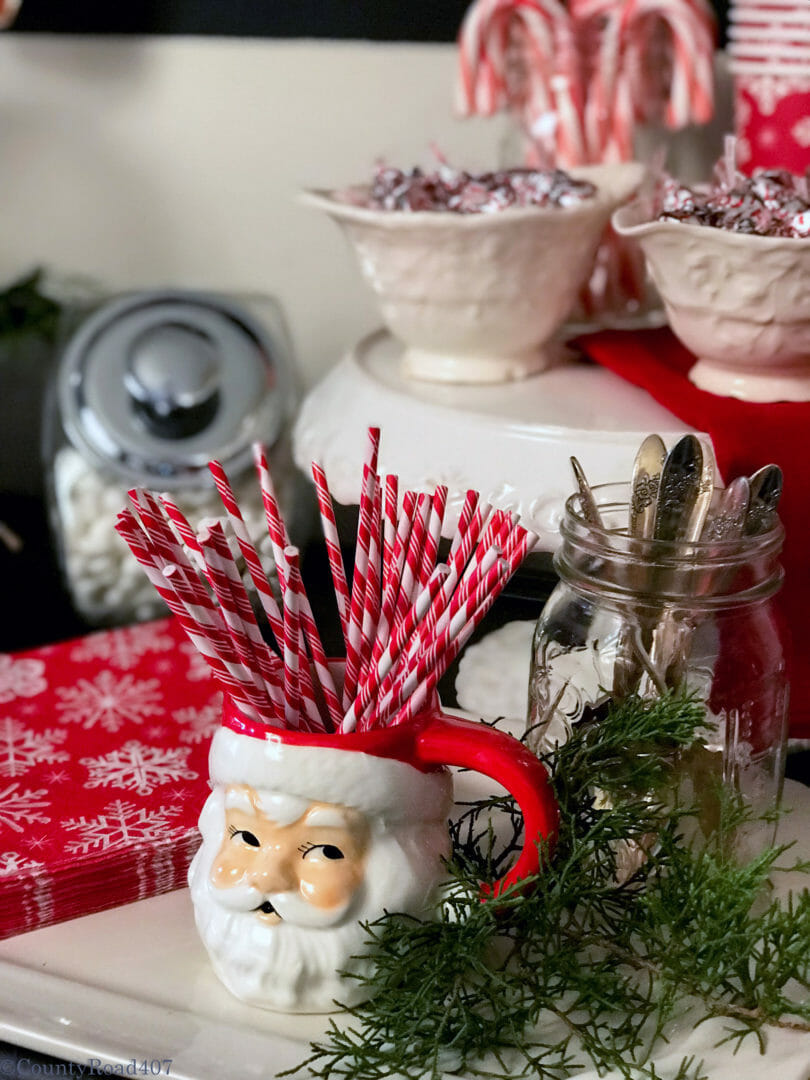 You know I'm all about decorating so don't forget to dress up the Cocoa Bar.  Choosing a theme ahead of time helps pull it all together.  I wanted my theme to be "peppermint" so I chose a couple of tea towels in a red and white stripe, a striped Christmas bell ornament for something fun, napkins and cups in a red and white pattern too.  Even the added sugary items were red and white; like the red velvet cookies, the Hershey kisses and the Andes mints and candy canes.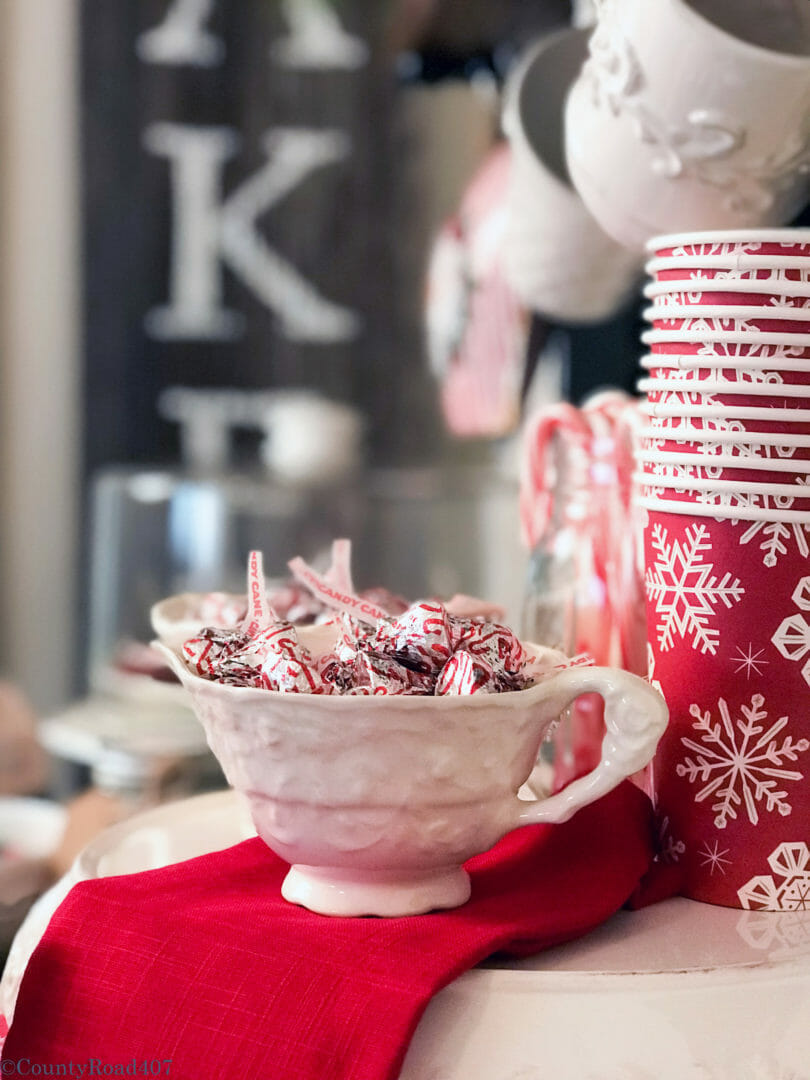 A few other cute Cocoa themes could be Winter Wonderland where everything is white and silver.  Or a Snowman theme with items in different shades of blue.  How about a woodland theme with a campfire/outdoorsy look or using Santa or Christmas ornaments as your theme?
For added color, I used sprigs of cedar I had left over from making the fresh garland for the front gate (which you can see here).  It makes it look filled in and a little more grown up.  That's it!  We are ready for some cold weather and for welcoming any invited guests or the pop-ins.  Let me know if you put together a Christmas Cocoa Bar.  I'd love to see it!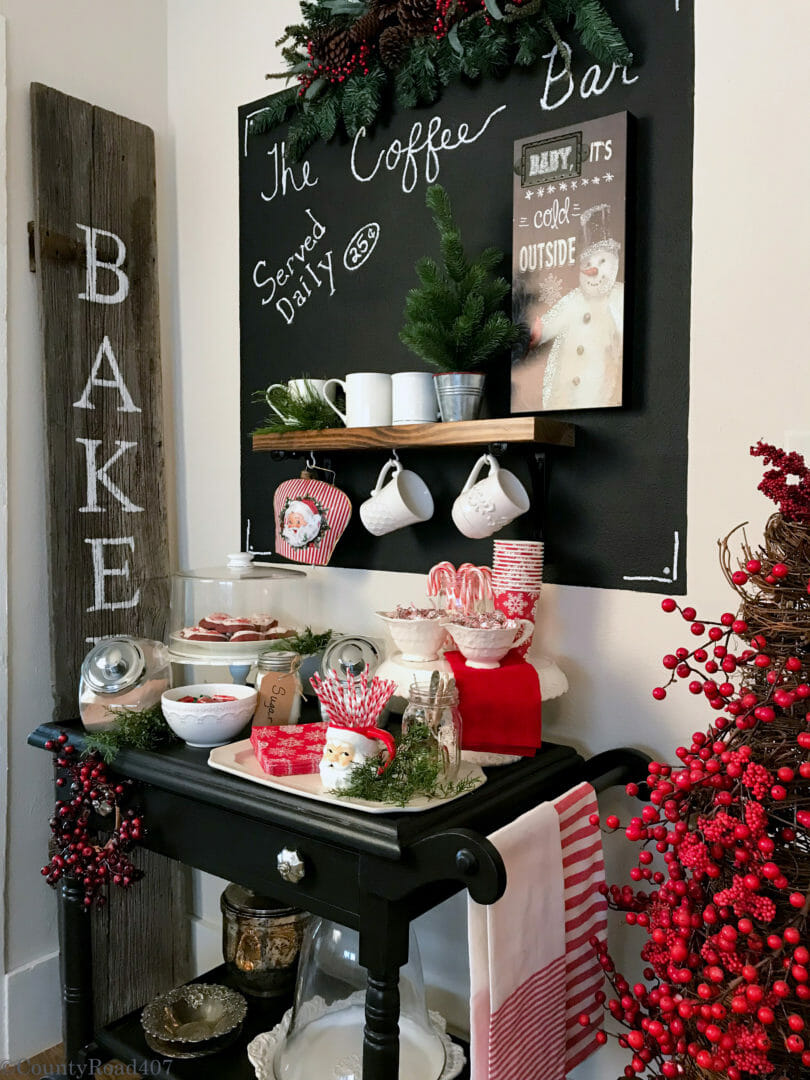 I've teamed up with several of my Texas Blogger friends to bring you a wonderful and inspiring tour.  There's a lot of talent in this big ol' state!  Just click on the links below on the specific days and you can see more of the Cozy at Christmas Holiday Blog Tour – You won't be disappointed!