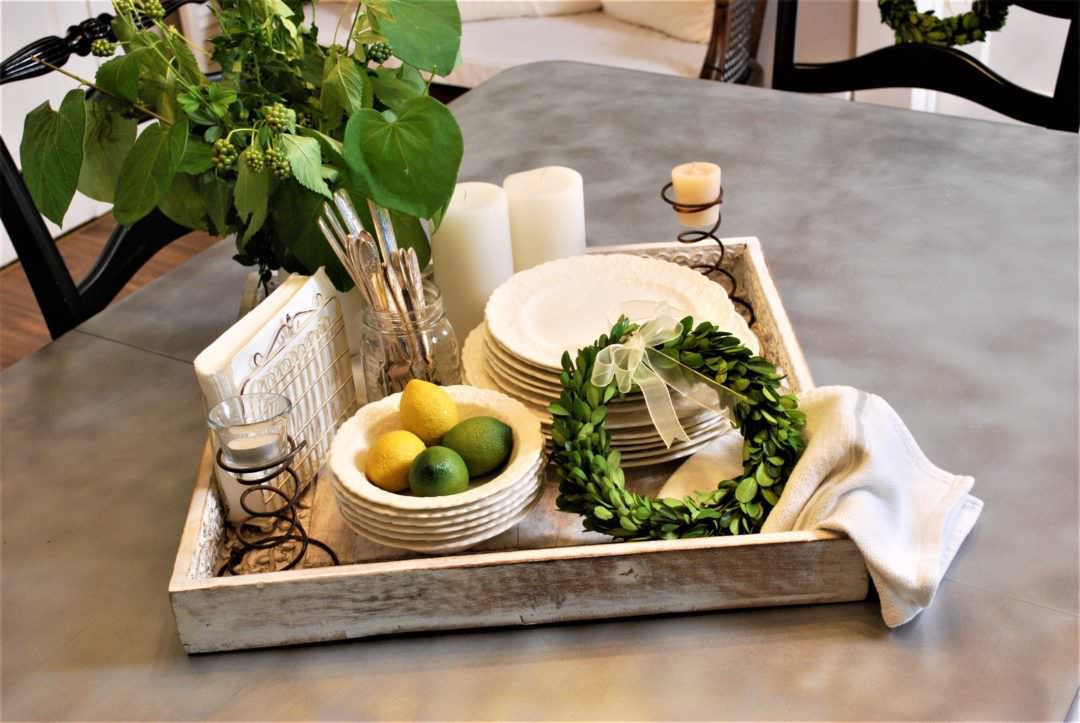 I've always wanted to dine "al fresco" in Navasota.  Doesn't that sound fancy shmancy?  Aaal frescooo.  But even though I can mix a fancy Italian word that means outside with a farmhouse yard and a view of moss covered trees and cows, there's still a few things that deter me from actually doing it.  There's the humidity, the heat, the mosquito's, the infestation of crazy ants (that's what they're called) and the lack of planning ahead.
Although the first 4 excuses are out of my control, I can go ahead and put together a tray so I'm ready when/if we get a cool front and God decides to wipe out the bugs.  So I'm going to share tips for an al fresco ready tray or centerpiece with you just in case you can dine outside!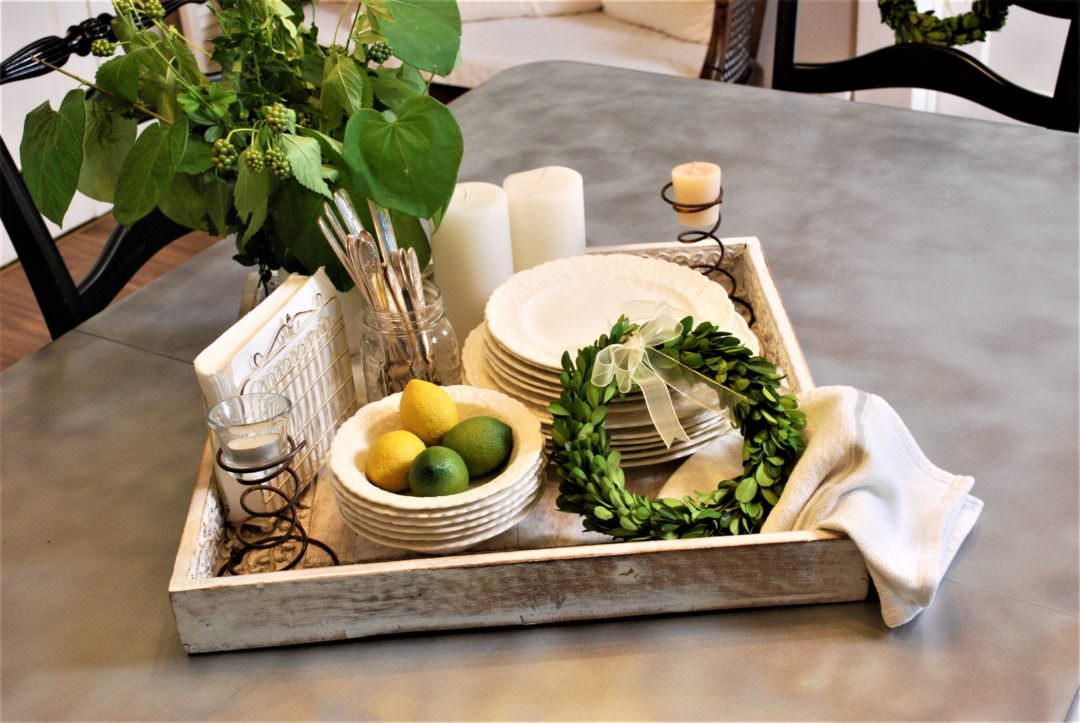 Tips for an al fresco ready tray or centerpiece
Step #1:
Begin with a tray.  Make sure it's sturdy and large enough to hold everything you need so you are making minimal trips in and out.  Take weight into consideration when choosing.  I decided to use this white tray from Pier One; it's big but light weight.  It could get heavy once you've put everything on it.  It's like those nice pretty crystal or cut glass pitchers you fill up with orange juice.  My word it's so heavy you can barely pour from it.
Step #2:
Decide on a color scheme.  The one above will work for the entire summer with it's green and yellow.  Pull things from around the house that you may use as decoration.  Keep in mind you'll want a centerpiece for the table outside.  While looking around, check the fridge like I did.  Lemons, limes, apples, oranges, no bananas, pears – they would add nice color.  It doesn't need to be a lot and remember to try and keep the tray lightweight.
Step #3:
Gather your plates and utensils.  I use white plates and bowls because they go with everything and usually use a mason jar to corral the utensils.  Paper plates or plastic is fine too.  I have a set you'd never know were plastic until you picked them up.  That's the stuff you use when you're having a large gathering.  Like a Southern Baptist picnic when everyone brings a casserole and it's served buffet style.
Step #4:
Set your dishes in the tray first.  Now add the next largest item which will probably be the actual outside table centerpiece.  I used a jar full of weeds (excuse me – wildflowers) for this summer look.  Easy to come by and cheap/free!
Step #5:
Next add the necessities like the jar of utensils and napkins.  I added candles just in case we were having an evening soiree.  LOL – another fancy shmancy word.   I also added a towel.  You never know when you might have a spill and it adds soft texture to the tray decor.
Step #6:
Time for the finishing touches.  Add the rest of the decorative items you gathered from around the house.  You'll want to vary the heights to make things more appealing.  And place your color in at least 3 different locations.  A triangle formation always looks good.  The small boxwood wreath can be tied to an outside chair and the lemons and limes can be added to drinks.  The perfect touch of color for a summer time centerpiece.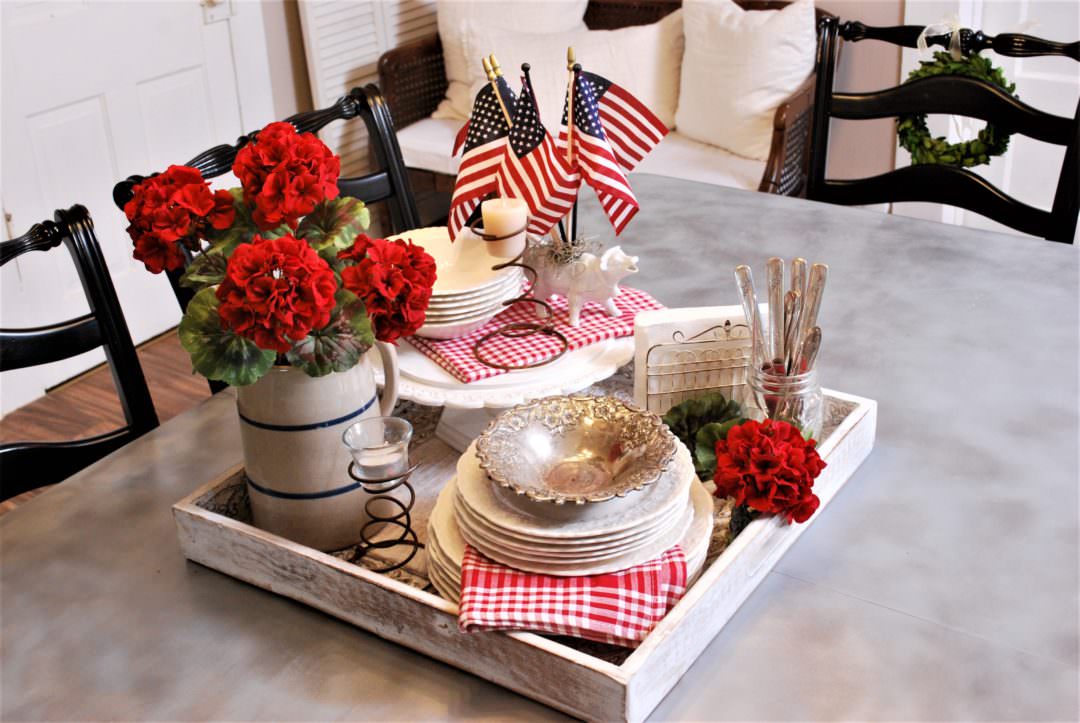 Since it's almost Independence Day and because around here we are already decked out for the occasion, this tray is donned with extra red, white and blue.   I gathered my decor items, decided what to use as an outdoor centerpiece and varied the heights in the tray.  Can you see little ol' Elsie the cow screaming ouch because I stabbed her in the back with flags?  I told her it was for a national celebration but she looks as if she's still screaming.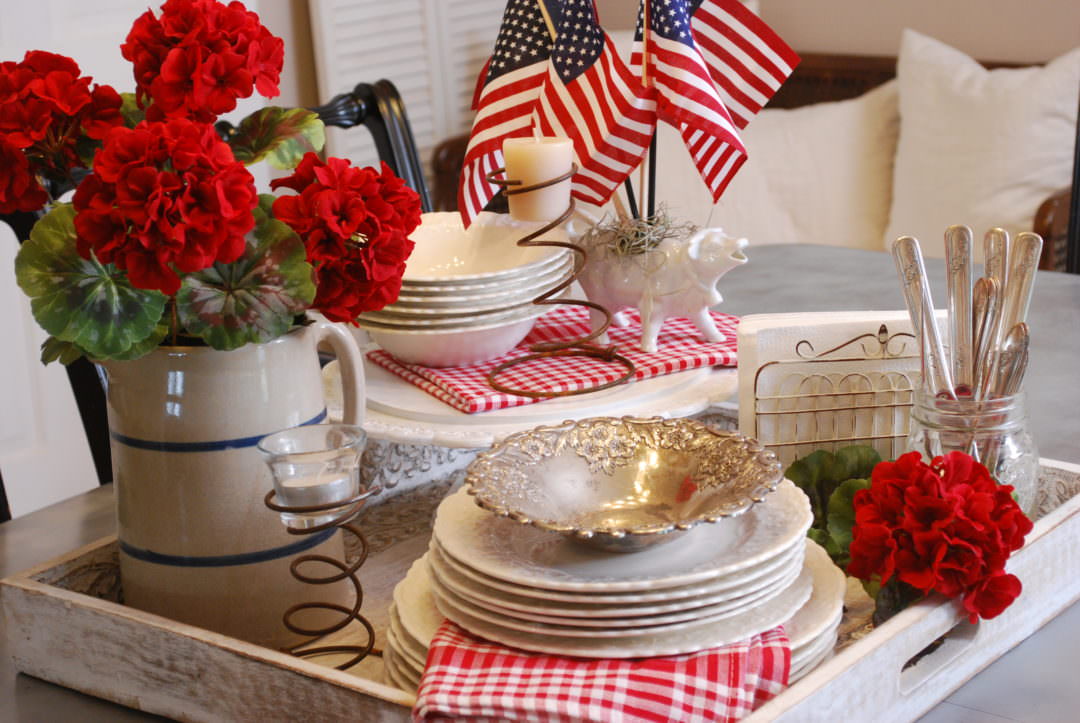 With these 6 easy steps, you'll have a beautiful al fresco ready tray or centerpiece.  All you need to do is pick it up and tote it outside.  This one seems like it's going to be heavy so I'll ask my man slave (aka the Mister) to help.
If you'd like to see the other July 4th decor items we have at the farmhouse, you can see the living room here and the front porch here.
Enjoy your summer and send a picture if you make up an al fresco tray!
Save
Save
Save
Save
Save
Save