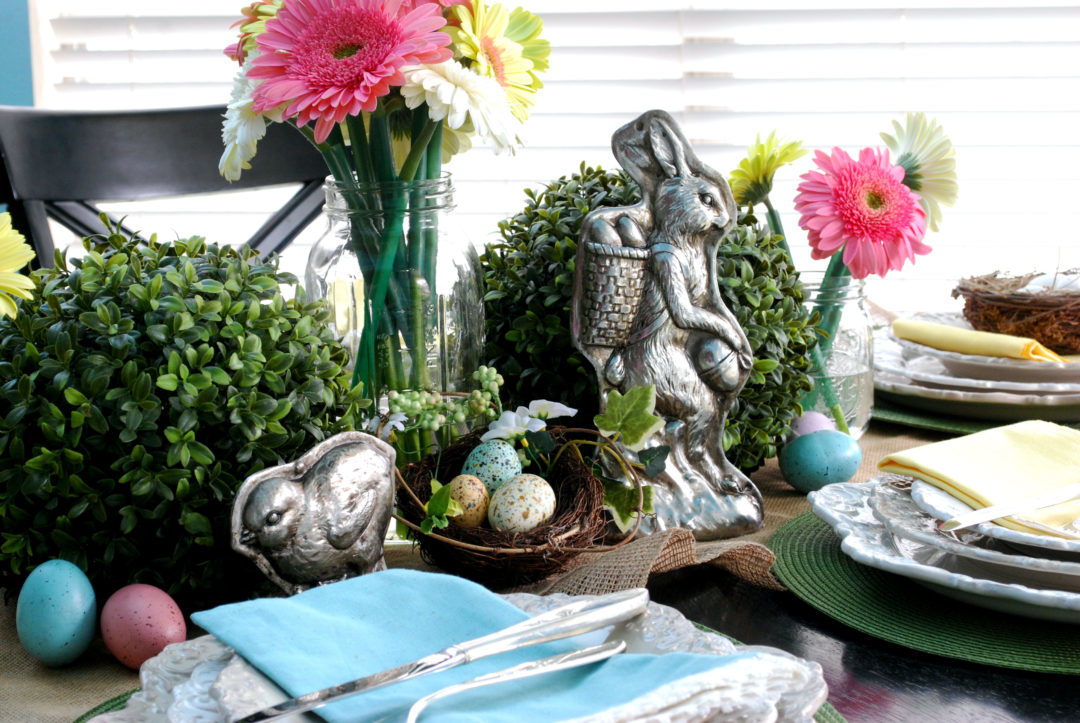 This time of year I usually have friends asking for help in decorating their tables for a family Easter lunch.  With Spring décor having such beautiful bright colors it's a fun time to decorate so I'm always excited about it.  This year though, instead of doing it for them, I thought I'd push my little birds/friends out of their comfortable nests and guide them in doing it themselves.  It's always a great feeling when you've accomplished something you find intimidating at first.  So…here is an easy step by step process on styling an Easter table.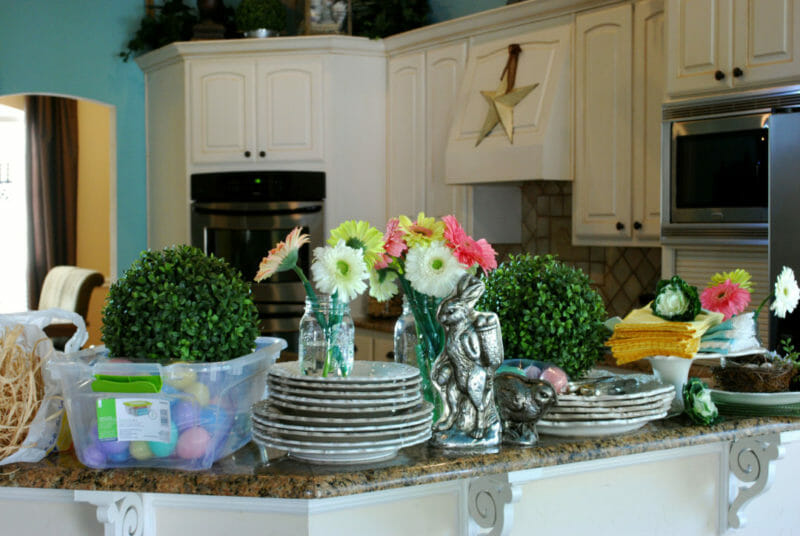 Easy Step by Step Process on Styling an Easter Table
1. Choose a theme.  Since it's Easter, you might choose crosses, bunnies, bird nests, eggs, etc.
2. Choose a color scheme.  Here is where you'll find your inspiration piece.  I purchased inexpensive gerbera daisy's in order to choose what colors I wanted to go with.  As you can see, I decided on white, yellow, pink and green.  You might have a favorite set of dishes, napkins, or candle sticks you'd like to incorporate.  Pull your color from that item/inspiration piece.
3. Shop your house for everything you already have that you may want to use.  Spread it all out for easy access.  If you feel you don't have enough to style your table, ask a friend if she/he has something you can borrow.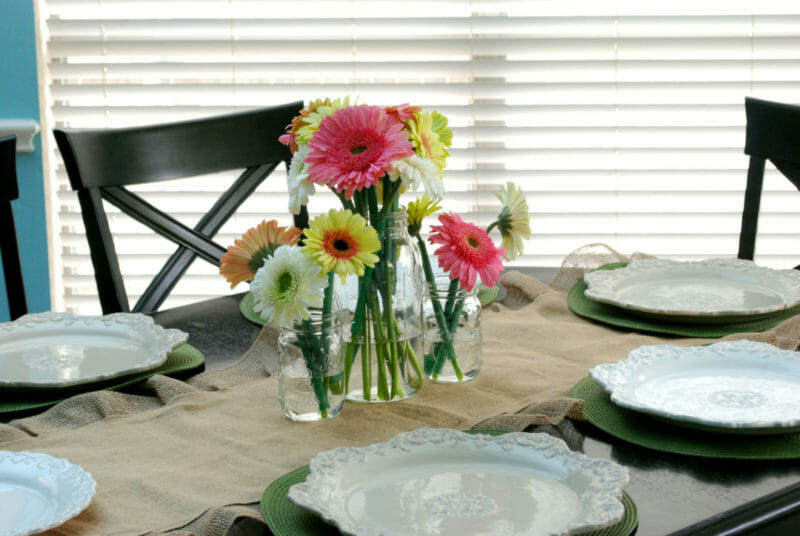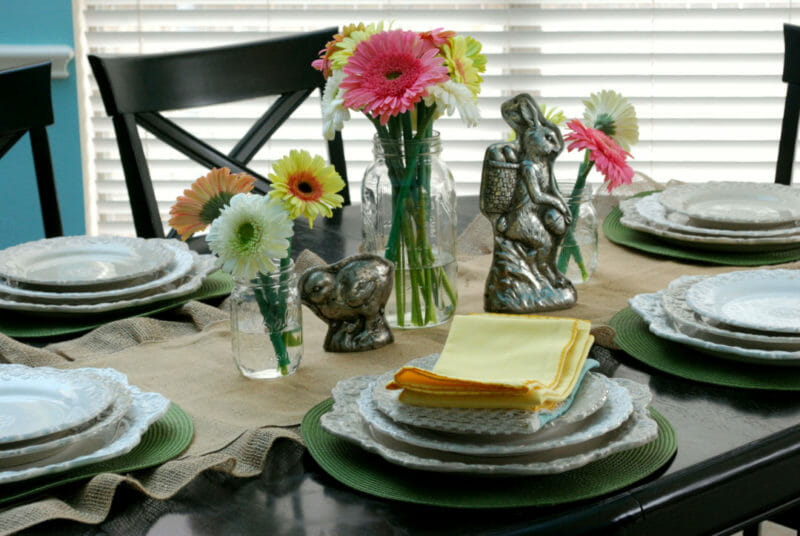 4. Start with your basics.  Do you have a table runner or placemats you want to use?  Since this table is black, I chose a ruffled burlap table runner and green placemats for added color.
5. Then add your inspiration piece.  Place them in the center of your table.  Remember there are people sitting on both sides of the table so each side needs to be festive and pretty.
6. Choose items that speak to your theme from step 1.  In this case, it's the silver Easter bunny and baby chick.  Aren't' they cute?  Found those during our Waco, TX trip at The Findery.  I already had the boxwood balls sitting on large candlesticks on the mantel.  They looked spring like so I borrowed them for the table.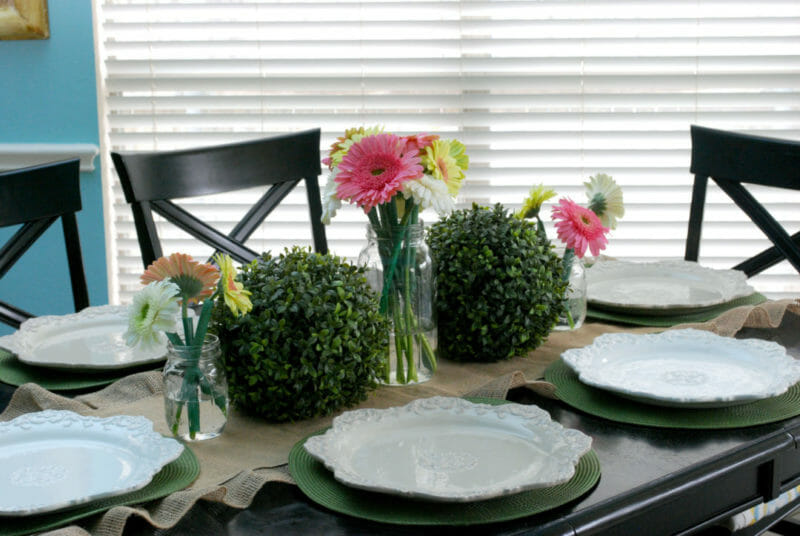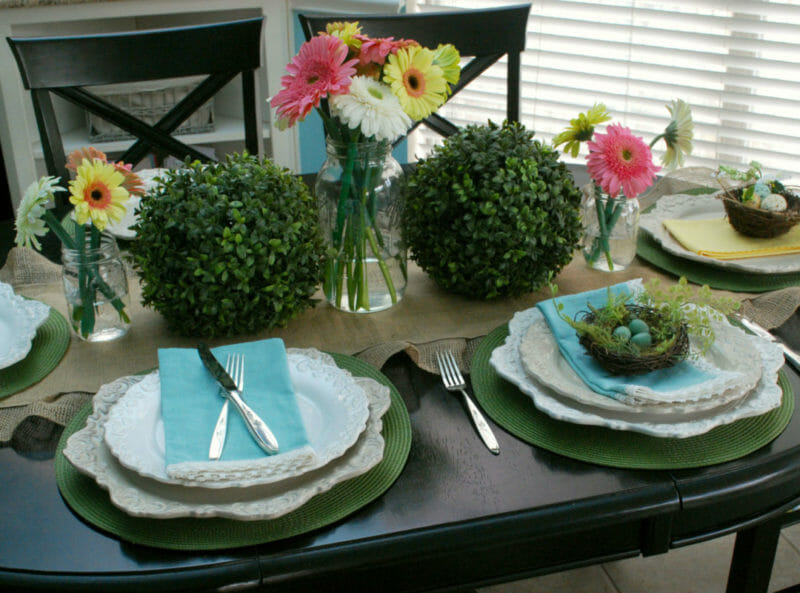 Decide on how many pieces you want  in your centerpiece.  Perhaps you only want one floral arrangement or maybe 3 smaller pieces.  I like a full table so I'll add at least 7 pieces.  Odd numbers look best when decorating but remember not to have your pieces so high you have to look around the centerpiece to talk to the person across from you.
7. Play around with the napkins and where you want to place the utensils.  You'll need to see how much space is left for the Easter centerpiece.
8. Now for the fun part.  Start choosing some of the items you gathered at the beginning.  Spread out your color.  Vary your heights.  Add texture and fill in any holes.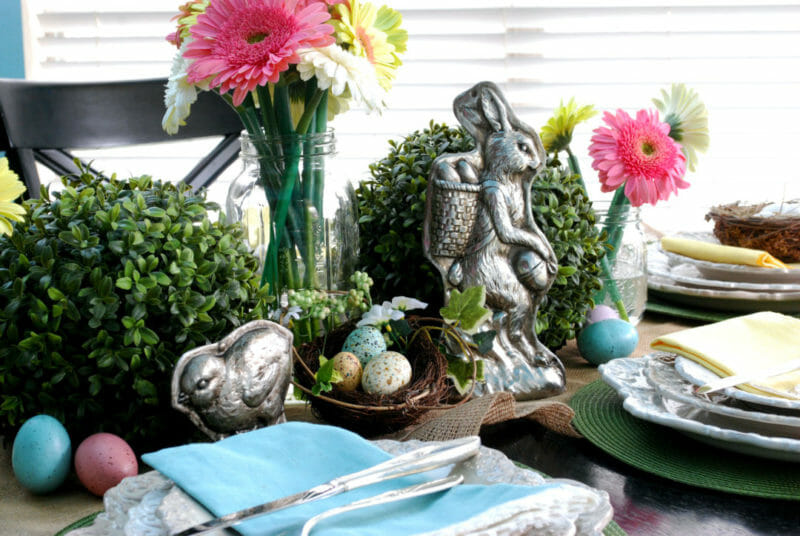 Guests will need drinks, so leave room for the glasses.  Due to my love of fullness, I'll probably have to remove the extra colored eggs for the glasses.
You may decide instead that your big ol' ham and side dishes need to be the centerpiece.  That is totally fine.  Try adding a small decorative piece to each plate instead.  You could use something like the bird nest below.  Or adding an egg cup full of jelly beans would be fun.  Guests will move it to sit above or next to their plates when they sit down.  Or you can just move it for them.  They will have seen the fabulousness already anyway.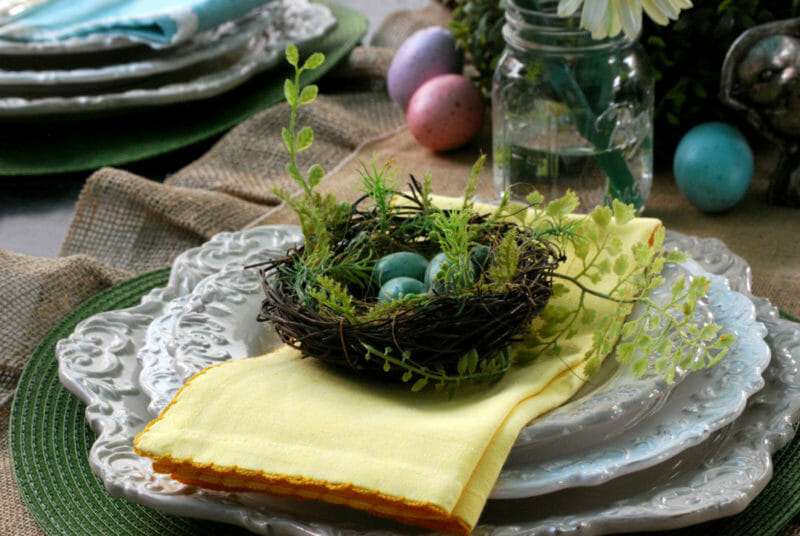 Whatever you decide, you have now completed the step by step process on styling an Easter table for your family and friends!  Step back and admire your work.  Be proud of yourself!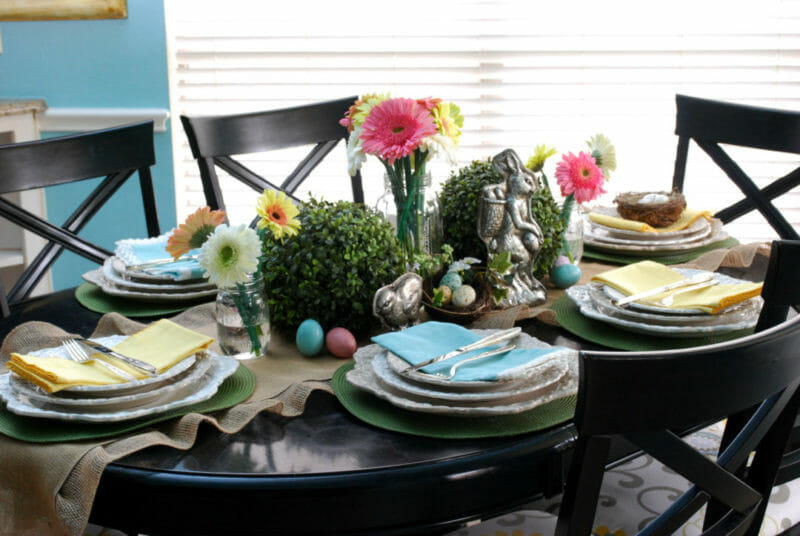 Mathew 28:6  "He is not here; he has risen, just as he said. Come and see the place where he lay."  I just love that verse!  When I read it or say it aloud it's as if I'm shouting on the inside with happiness.
Happy Easter Friends.  Oh, and send a picture of how you created your own table masterpiece – I'd love to see it!