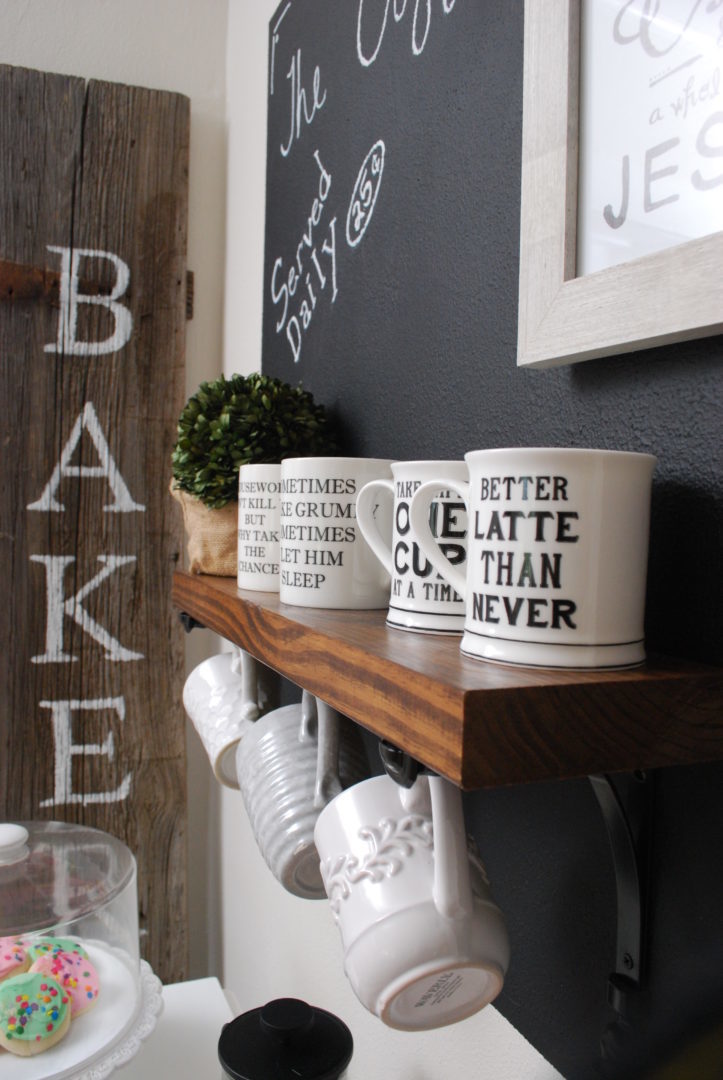 I have the bestest hubby around.  Why you ask?  Well I'll tell you.  One reason is he lets me sleep in every day while we're in the country.  Sometimes he even goes and buys breakfast!  Actually he lets me sleep in at the house in the burbs too.  Oh, he acts all nice and sweet about it but I think he does it partially because he likes the quiet in the morning; sitting on the porch, talking to Jesus, and watching the animals while drinking his coffee.  But most likely it's because he knows I'm more of a nocturnal creature and a wee bit of a silent type in the AM's anyway.
So since the Mister loves his coffee and because I'm a sweet wife (No LOL!), I thought adding a coffee station to the kitchen was a great way to show him some love.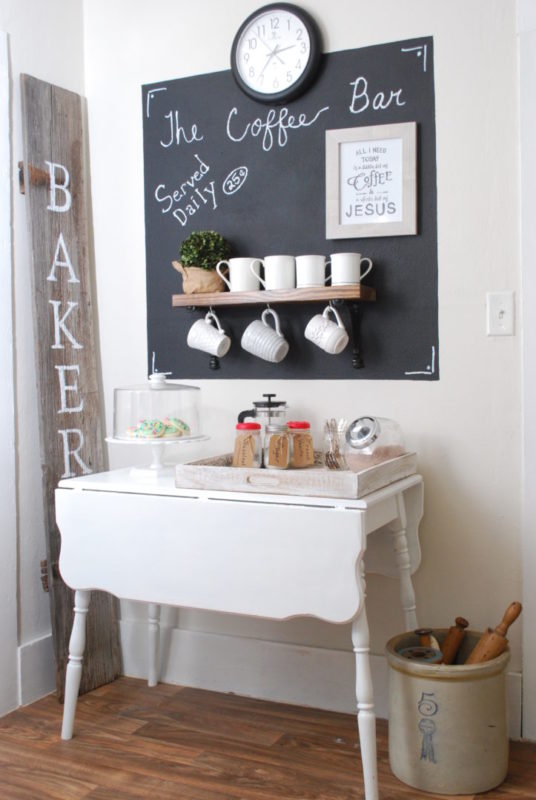 How to add a Coffee Station
There isn't much counter space in Navasota but there is a small area on the opposite side of the kitchen that's just right.  We had an extra table so I painted it white and thus began the making of a coffee station.  You know how coffee houses have chalkboard signs?  Well when you get to know me better, you'll realize I like bigger statements more than small.  So instead of purchasing an extra-large frame or chalkboard, I decided to paint the wall instead with chalkboard paint I got from Lowe's.  It goes on smooth and even but the wall is textured so it needed two coats.
We needed a place to store mugs and we had left over wood from the shelves we installed in the kitchen.  We cut the shelf in half lengthwise and used two brackets we purchased from Home Depot.  Then added the mug hooks underneath and voila, cute coffee mug storage.
The area is so fun to decorate.  I used the chalk paint pens instead of regular school type chalk.   The pens are dustless, go on thicker, and are easier to use.  Plus they wipe off with a damp cloth.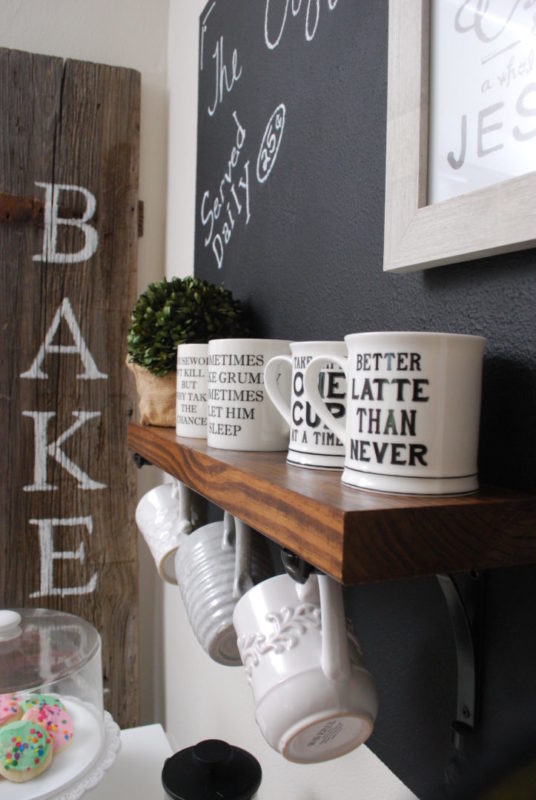 Over a year ago, I found the tray on clearance at Pier 1.  It had a crack in it so instead of $50, it was $15!  Bargain of the day.  I think it's perfect for containing the coffee clutter.
Did you know the lids from the Nestle Coffee-mate (15 oz. powder) creamers fit on mason jars?  You can just swap the lids!  I added tags so we'd know what was inside each jar.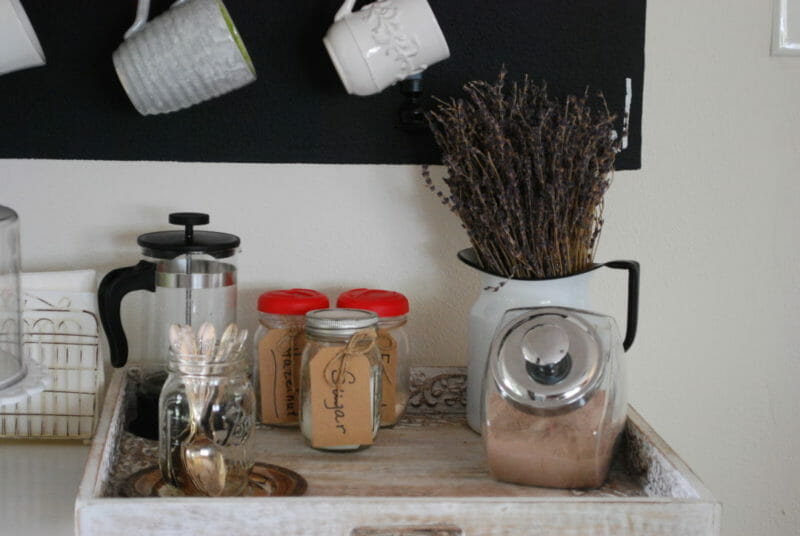 For the sugar dispenser/mason jar, I traced and cut out the lid from a Morton Iodized Salt container and swapped it out for the regular metal insert from the mason jar lids.  Genius right?!  Saw that on Pinterest 😉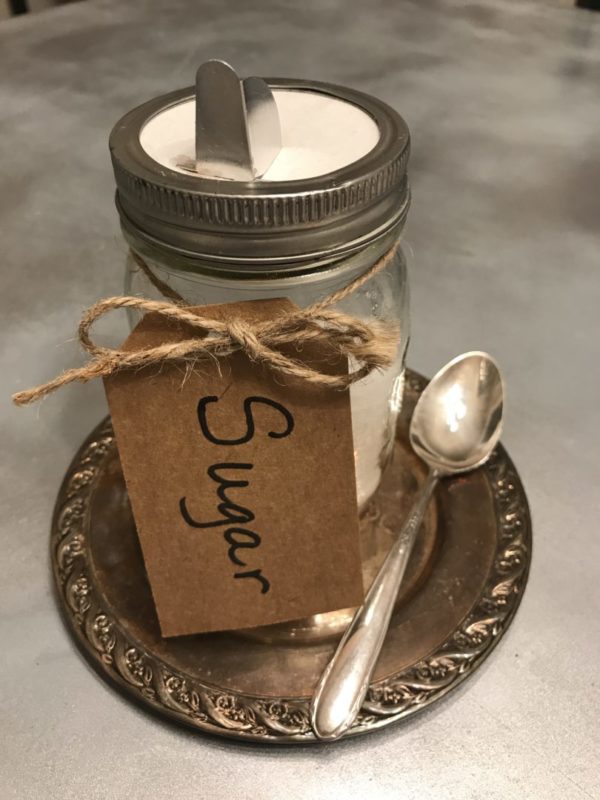 I found this vintage wooden cake plate at an antique store in Sanger TX while we waited for our table at Babes Chicken.  I don't mean to get off topic but if you have never eaten at a Babes, you haven't had the best mashed potatoes and corn – EVER.  Anyway, the cake plate has a plastic lid which I love because I'm clumsy.  But it came in the natural wood color and you know that won't do for a farmhouse look so I had to paint it white.  It fits nicely right next to the tray.  It's fun to stack donuts and muffins in it, they just don't last long.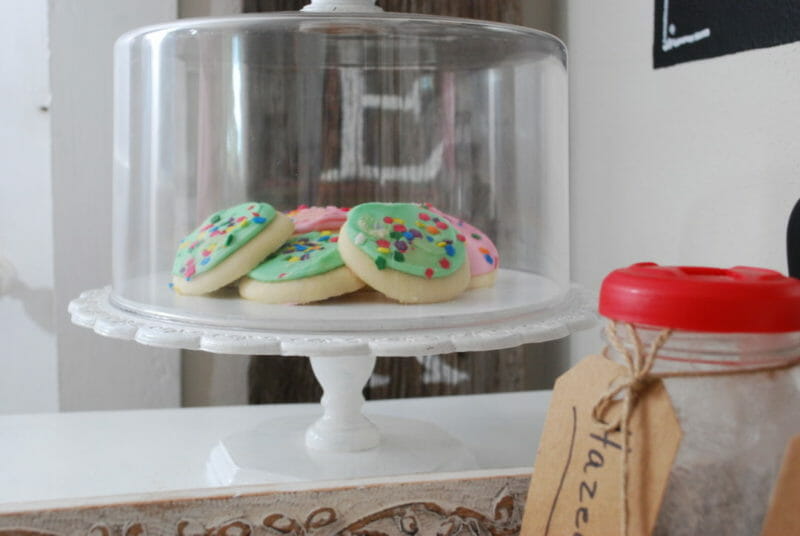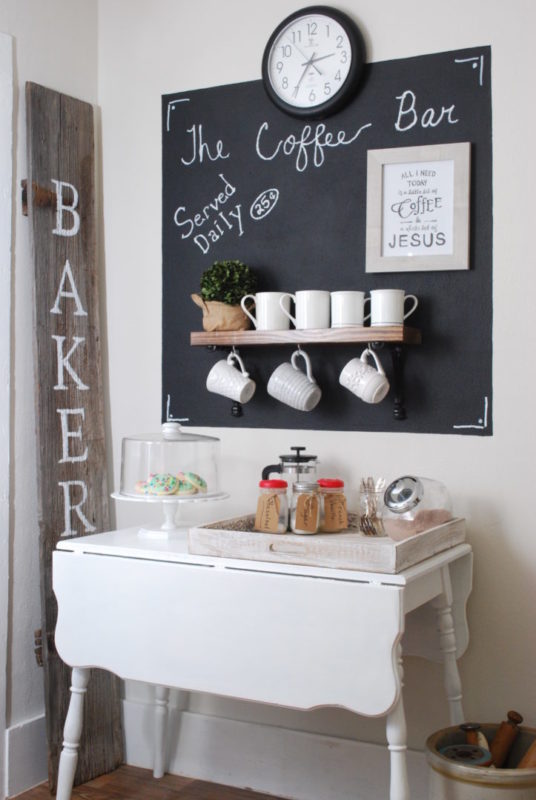 In the winter we have 3 of the clear jars lined up on the tray.  They hold hot chocolate, mini marshmallows and peppermints sticks.  Of course the décor on the chalkboard wall and on the little mug shelf changes too.  😉
The Mister enjoys using it everyday we are there.  I enjoy changing it up.  Oh yeah, I'll post about making the Bakery sign (another easy peasy super duper cheap DIY) and show you the other side of the kitchen and the shelves we made… very excited about that post!
Happy Friday Friends.  Now I'm going to have a big ol' glass of sweet tea…the Mister can have his coffee.