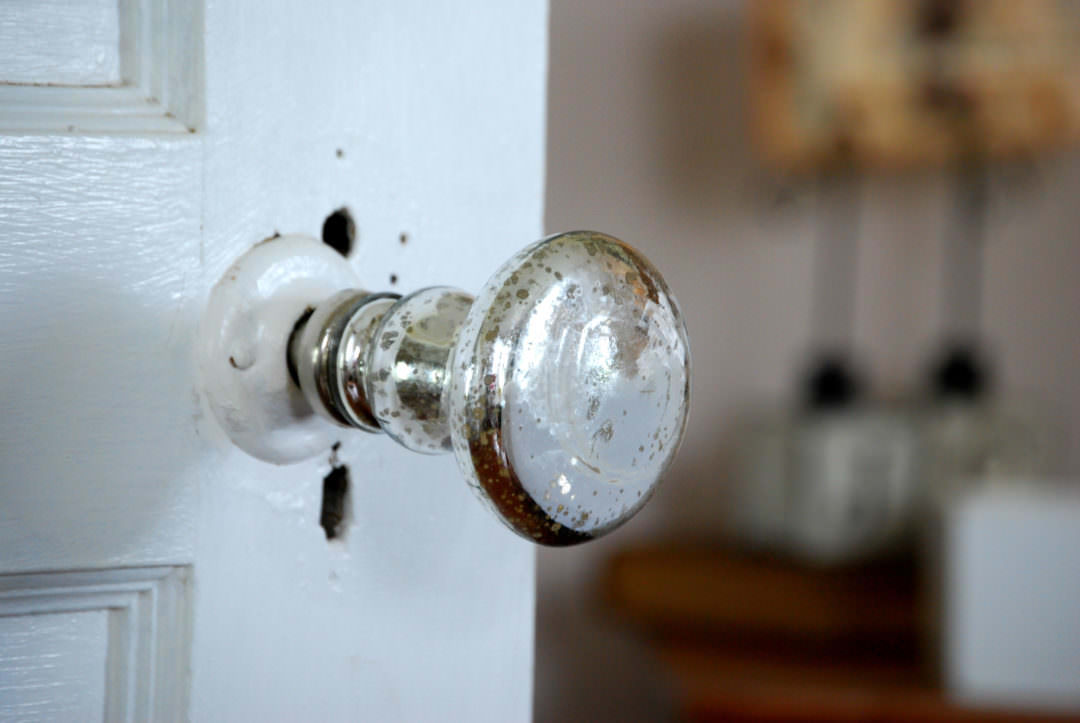 This last weekend I made a visit to my BFF and we went to the grand opening of The Painted Tree Vintage Market in North Richland Hills, TX.  They describe it as a community of shoppes.  It has new and vintage items, home decor, handmade things, art, antiques, furniture, etc.  I've decided it's a new favorite!  I controlled myself and purchased only 4 things but could have certainly walked away with waaaaaay more.
I'll share the other wonderful things later but today I'm going to show you the item that's been added to our bedroom in Navasota.  It's a vintage baby cradle!  I don't know much about it except that I find it A-DOR-A-BLE!  And that it has to be old because it's obviously before people worried about babies getting their heads stuck in between the slats.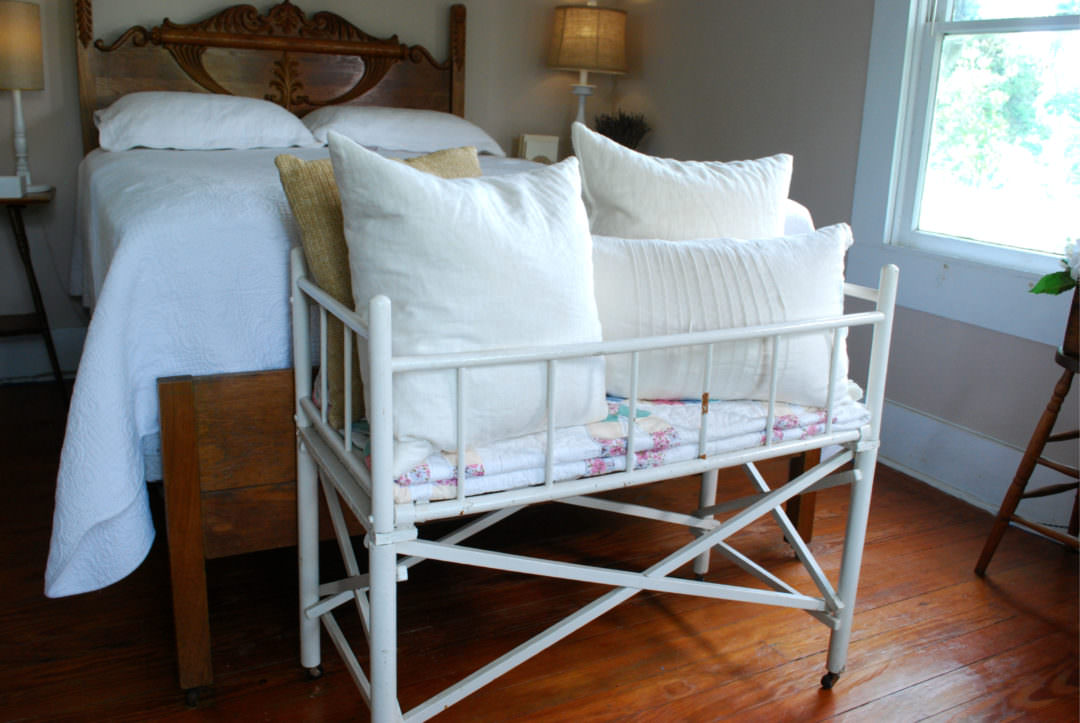 I wish you could feel the old chippy paint and see the original wheels and springs – so cute!
Mr. Wonderful knew it wasn't for a baby so he asked what I was going to do with it.  I couldn't believe he didn't know.  I had to actually say duh – it's for quilts and throw pillows.  He just laughed and said of course it is.    It's a win win really.  I don't like putting our throw pillows on the floor when we get into bed and he doesn't like throw pillows at all so now they're out of his way.  😉
Let me show you the rest of our little piece of heaven.  The original door knob was wobbly so I found this one made of mercury glass at Home Goods.  I feel it gives our bedroom a little more elegance.  Remember the post about my "names" for this place?  You can read about it here if you didn't but just like in that post, sometimes a girl needs some elegance.
As soon as you open the door you see my desk on the other side of the room.  It's not like it's a big room or the desk is far away.  I'd describe it as cozy.  You know like when you read about a home for sale and you see the word cozy and realize it's small?  That's it.  But it's an old wonderful farmhouse.  Built when people didn't care about king size beds, large TV's or heavens… closets!  The closet was added years later and it's about a 4 foot by 2 foot.  Not the ideal situation but I'm okay with it.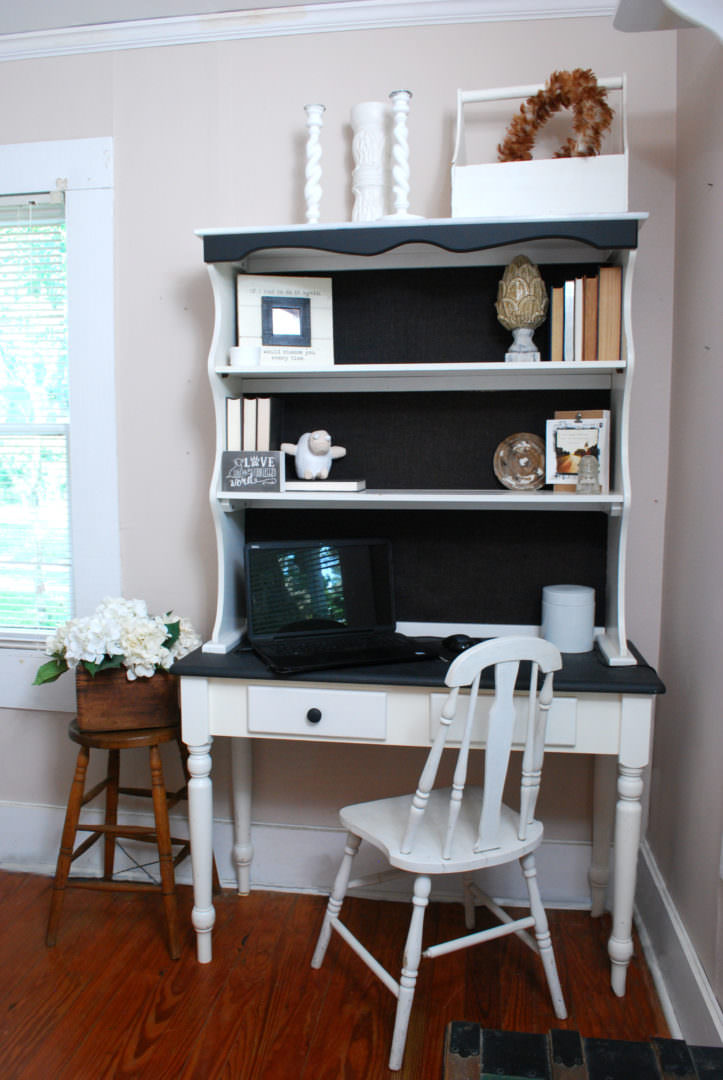 This is where I blog and day dream watch the cows walk by and the butterflies outside the window.
The actual desk was my moms old breakfast room hutch.  I'm sure y'all know exactly what I mean when I say fake butcher block top.  I painted the desk top in a chalkboard paint and covered the back with black burlap by using a spray adhesive.  Super easy and what a transformation.  Found the chair in the shed.  It's kind of rickety.  The Mister says he'll fix it but I think he's waiting for me to fall first so he can get in a good laugh.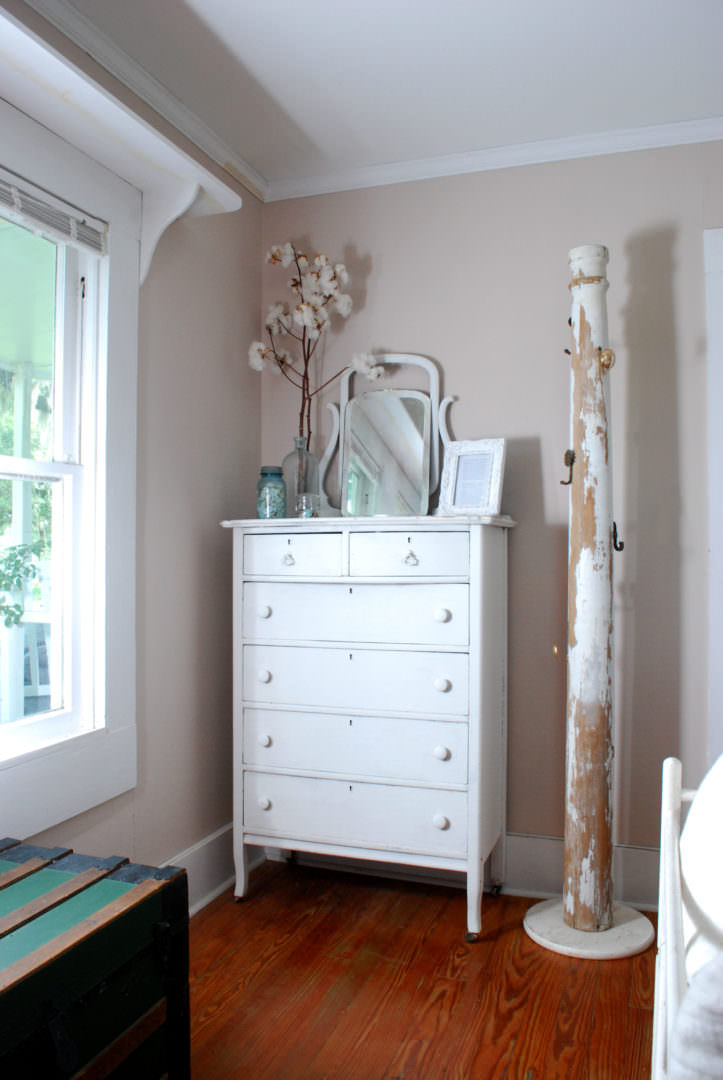 On the opposite side by the door, is our only real source for storage.  Sitting on top is an old blue bottle with real cotton.  It took a while to get the stems all cleaned up but it was worth it.  Finishing it off is an old jar of white buttons and a frame with the chorus of Come Thou Fount.   I often sing that all day long.  It never gets old.  Ha, now it's stuck in my head already!  Oh well.  The column is a repurposed project that you can read about here.
Last but not least is our beautiful bed.  I've mulled over whether or not to paint it white.  I think it would look fabulous painted and distressed but the Mister says he likes it just the way it is.  The shutter is from Germany and I have no plans to do anything to it.  I love it just the way it is.  What you can't see is how high the bed is.  Gracious me, I need a stool to get in!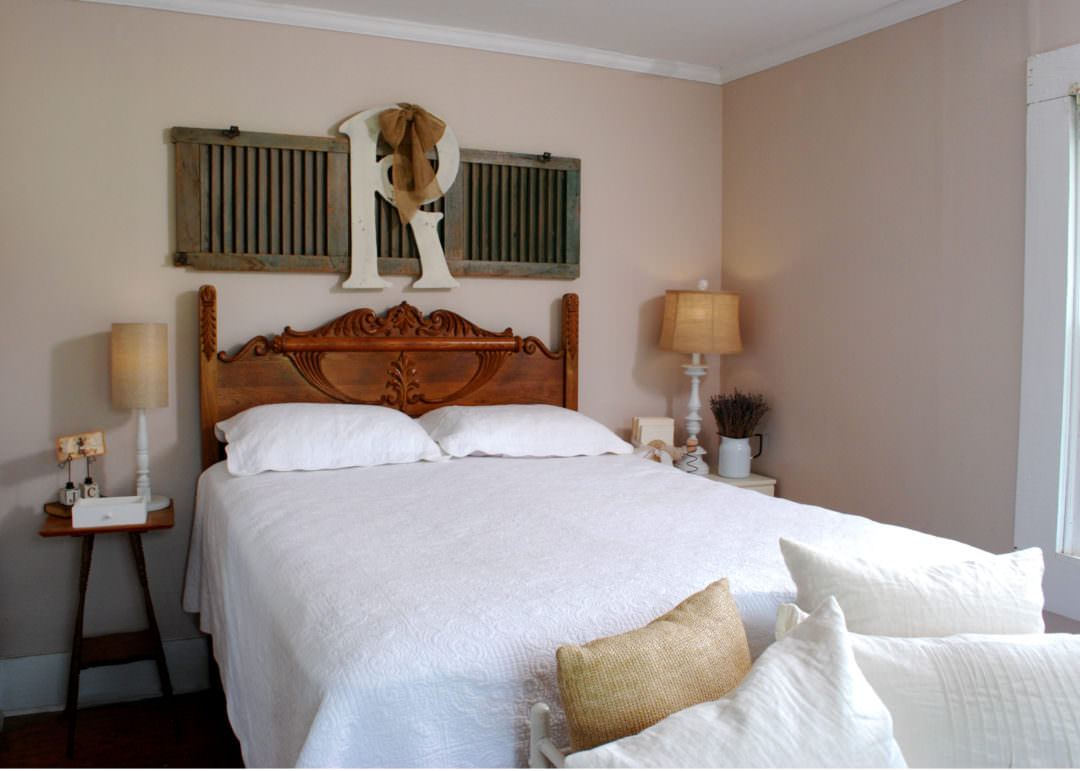 Well now you've seen the farmhouse master bedroom.  No en-suite, no large walk-in closet, nothing fancy.  Just sweet simple goodness that gives me a feeling of peace when I stroll in and put down the suitcase.  I really don't know why I enjoy it so much.  I'm seriously a New-York-is-where-I'd-rather-stay-I-get-allergic-smelling-hay-I-just-adore-a-penthouse-view-Darling-I-love-you-but-give-me-Park-Avenue kind of girl.
Save
Save
Save
Save