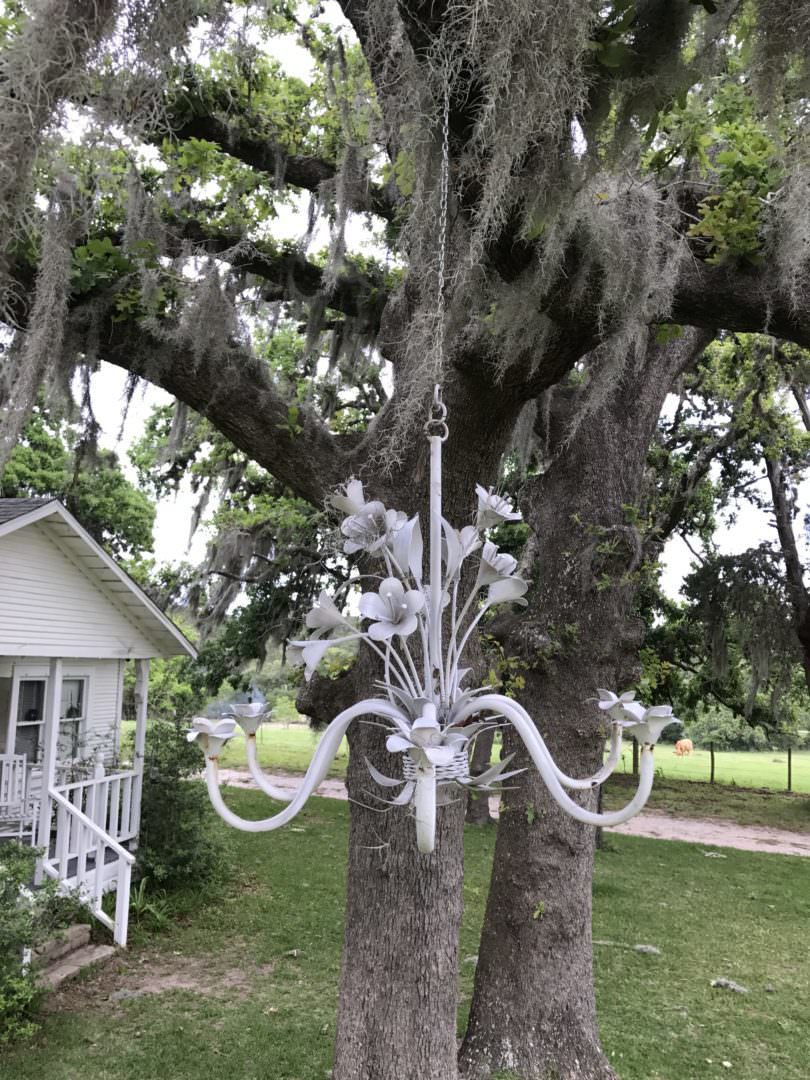 Since it's officially summer and hotter than Hades around here, my only outdoor inspiration is what I can see from the windows hanging out in the trees.  You won't find me enjoying the outdoors because the bugs are extra large and in charge.  They think it's their porch and will fly straight toward your face until you move.  No kidding and no thanks.
One of the beauties is the Spanish moss.  I think even though its pretty, it's killing the trees.  The Mister has a different opinion.  He hates it and says the moss covered trees have been there way over 100 years and look the same as when he was young (he's 50 now).  It's kind of hard to argue with that but we've decided to agree to disagree on that subject because neither one of us are Arborist's and googling it gives me all kinds of different answers.  Some say it's a fungus, others say nope.  I say whatever – for now.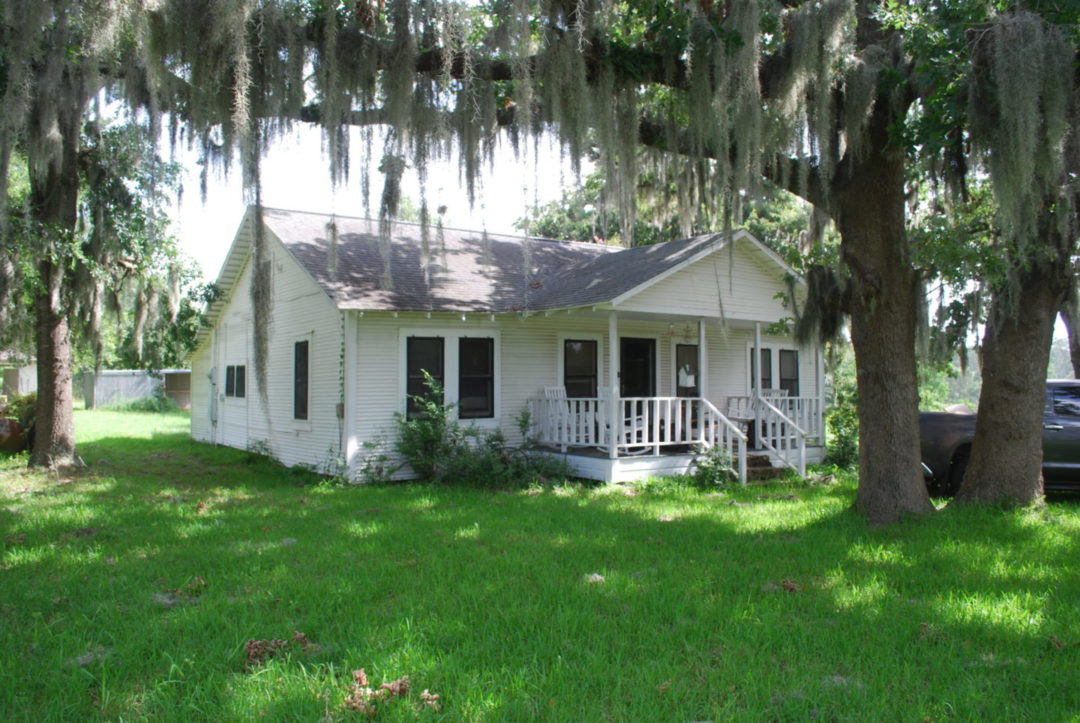 Another inspiration was an idea I had that turned out to be a favorite.  I hung chandeliers from the tree limbs.  Yep, chandeliers and of course they are painted white.  They give a bit of whimsy and elegance at the same time.  When people see them they're all like Hmm, that's unusual.  I hope that's in a good way and not in a wow-that's-ugly-and-weird way.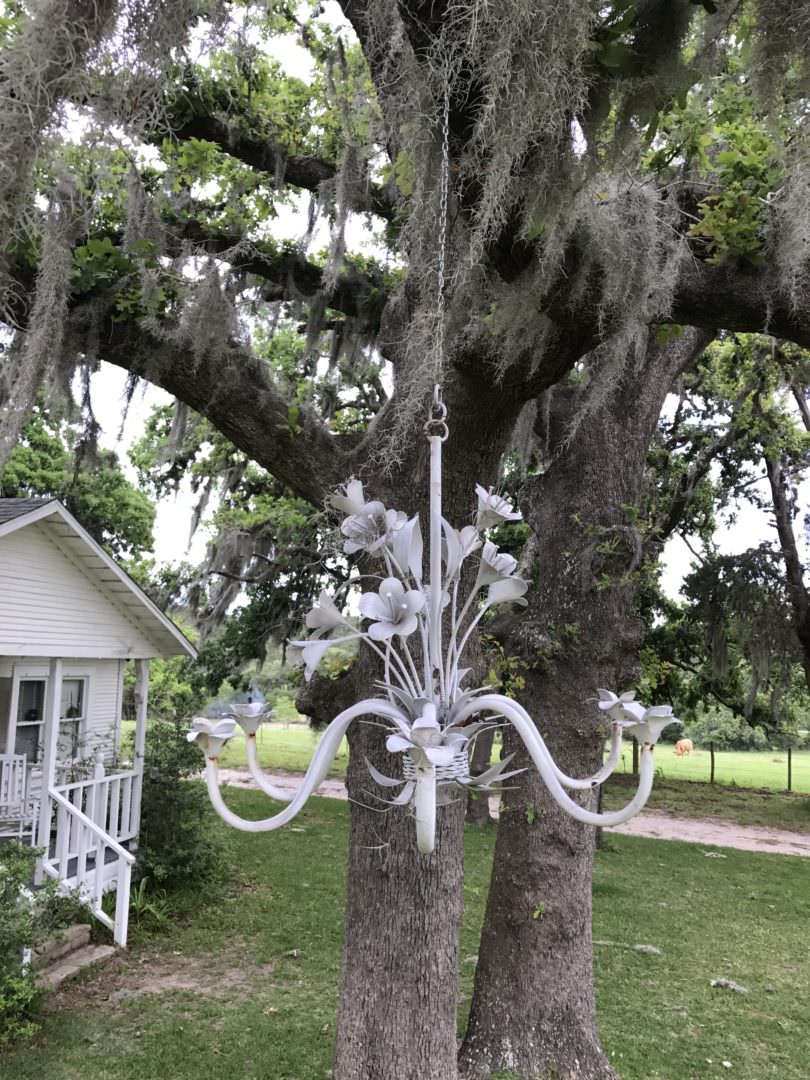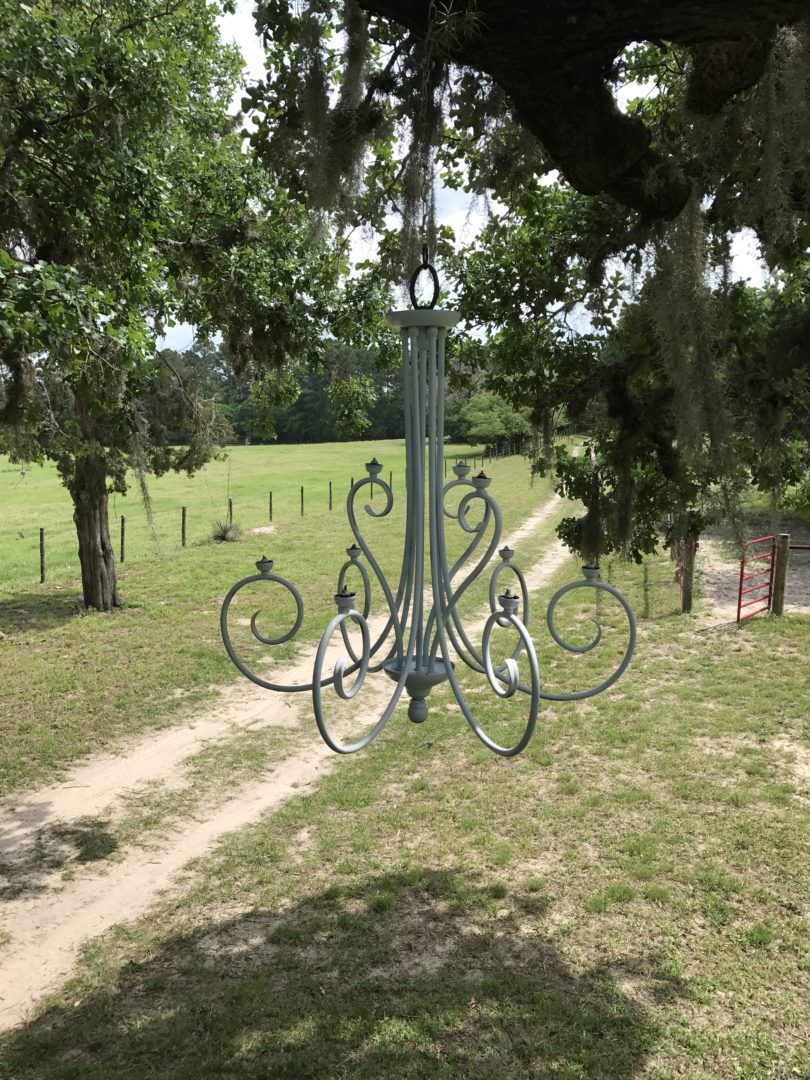 I have a more chandeliers in the works and will show those to you later on.  We also have a few birdhouses hanging around.  The usual wooden birdhouses and some not-so-typical tin pots I had the Mister fasten to the trees.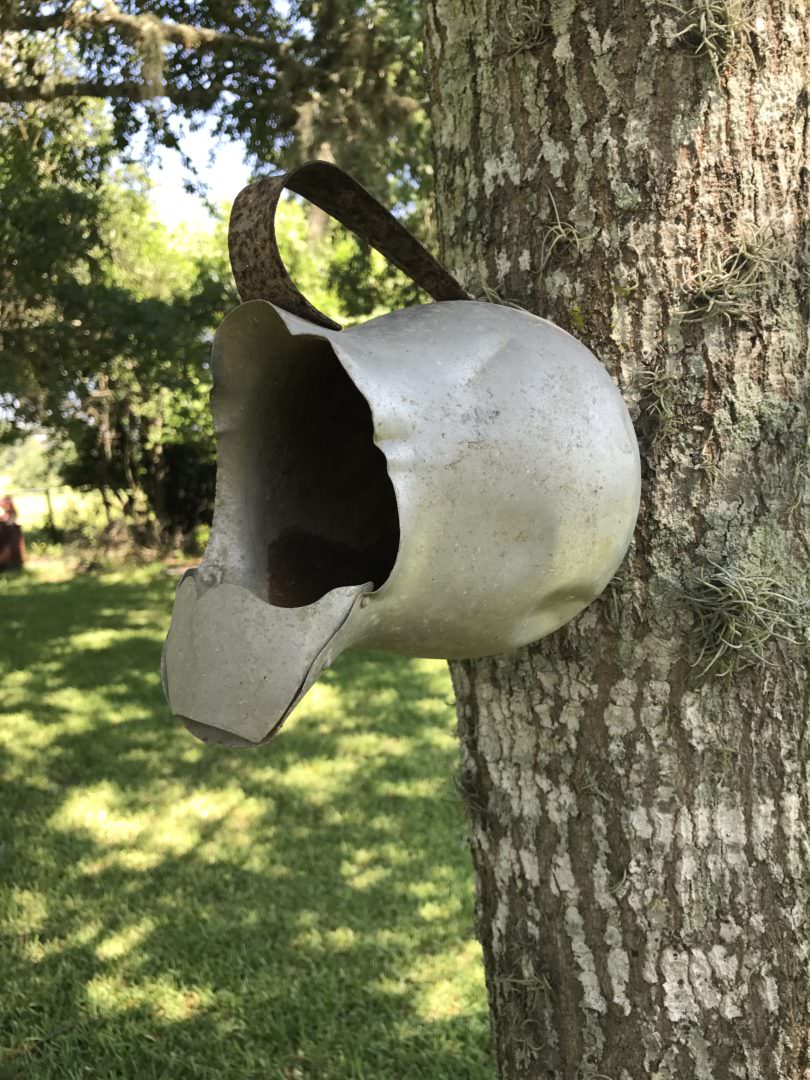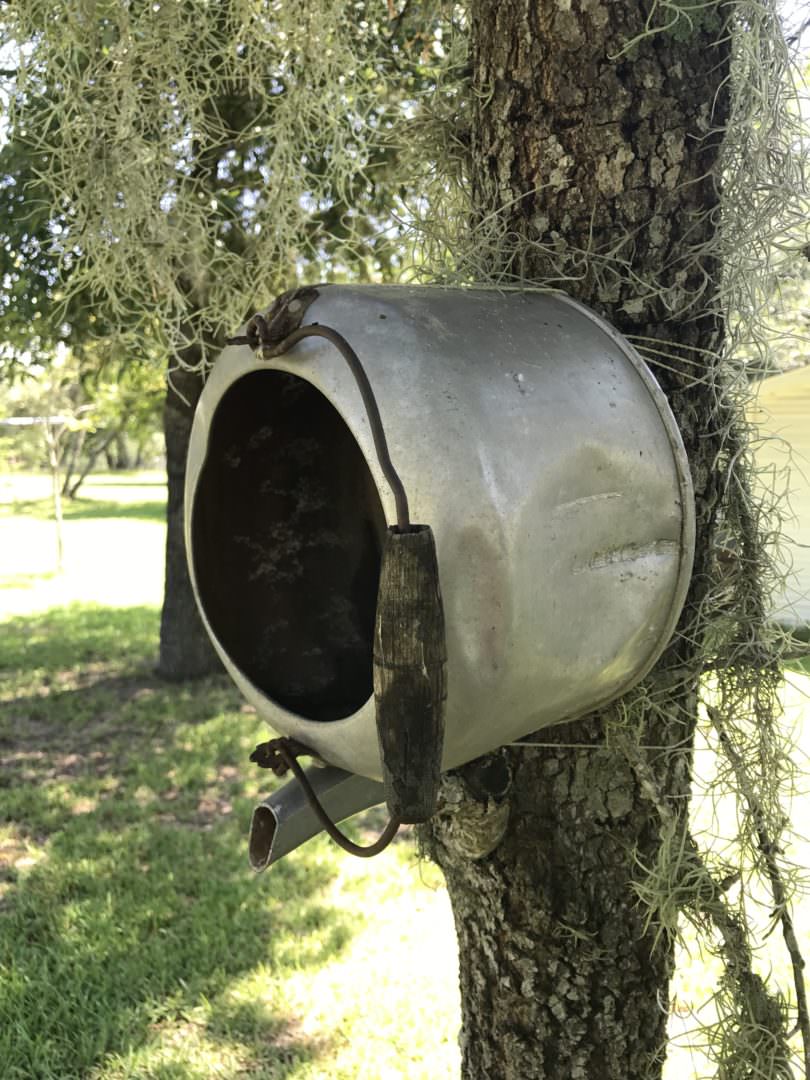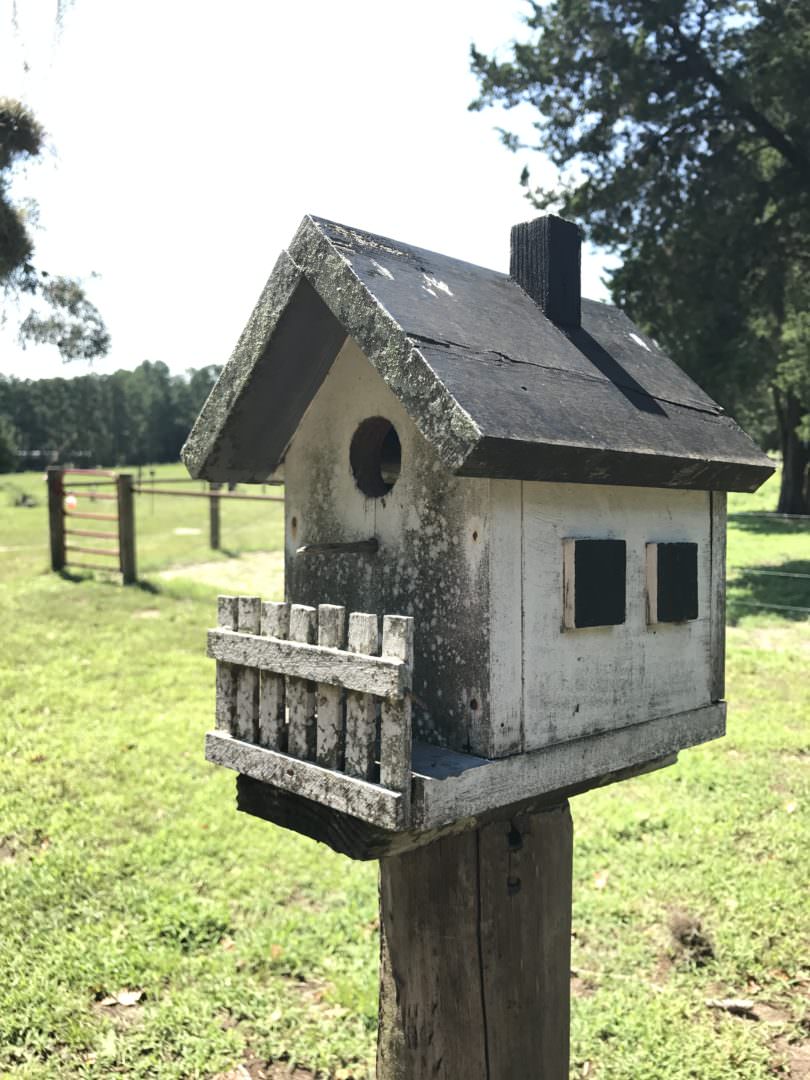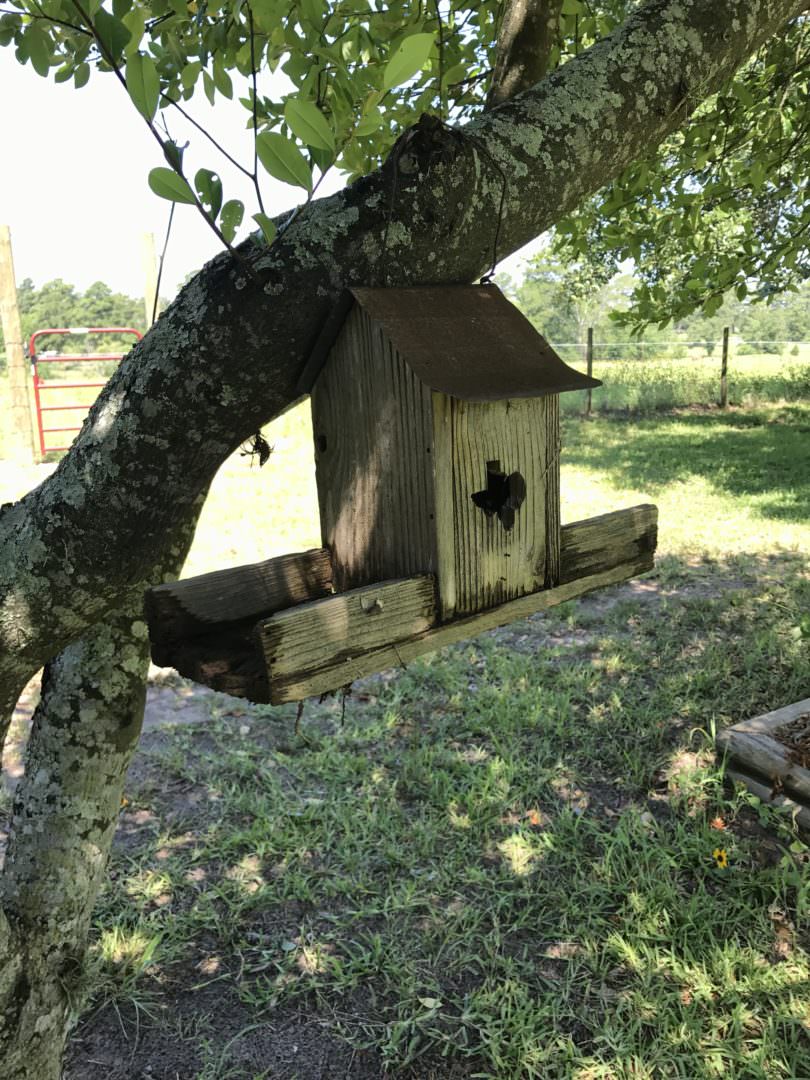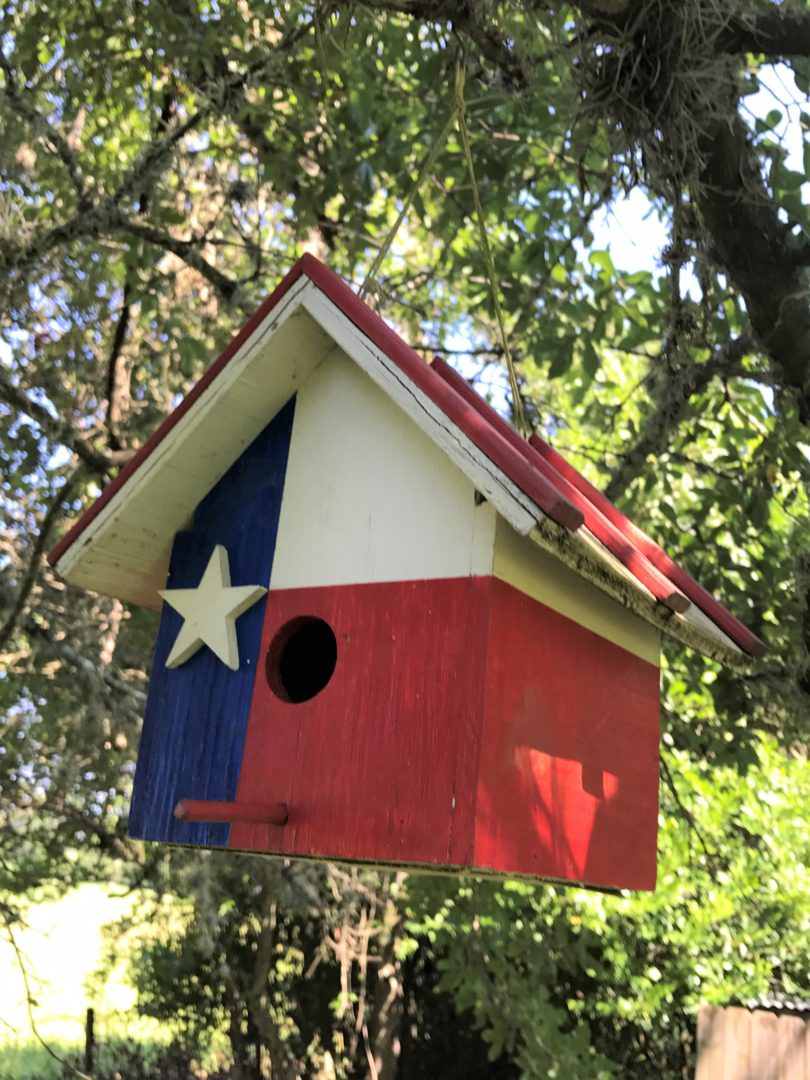 Aren't they cute?  We've actually had several different kinds of eggs and baby birds.  It's fun helping out nature by giving them little vintage condo's/single family housing. 😉
We hope to work on the landscaping around the house in the fall when it's much cooler.  Mr. Wonderful says putting a skirt around the outside of the house will help with the cold drafts on the inside of the house.  Sounds good to me.  I'd love some boxwood, hostas, peonies, catmint, hydrangeas, lavender and maybe some roses around here!  I can see it now – fabulous roses hanging around the windows like a canopy – mmm.
For now though my muse is the chandeliers.  I deem myself a bit more sophisticated by having them.  Kinda like having a tea party with Mrs. President George "Dubya" Bush or  Mrs. Kelly Clarkson.   I think they'd both adore the idea of chandeliers hanging in the trees.  I bet I could even invite them to a tea party and they wouldn't mind having paper plates and store bought chicken salad.  Yep, that's right, we Texan's can do it down with the home girls and do it up when we feel flashy and sassy. 😉  That's how we roll.  Who's with me?!
Save
Save
Save
Save