So right before Christmas last year (a whole month ago), a sweet friend texted me a picture of her mantel and asked what I thought.  Well a story book of my opinions later, she made some changes.  This got me to thinking about mantels and how I decorated mine (this week) on the upstairs landing.  So today I'm going to share a few easy steps to decorating a mantel.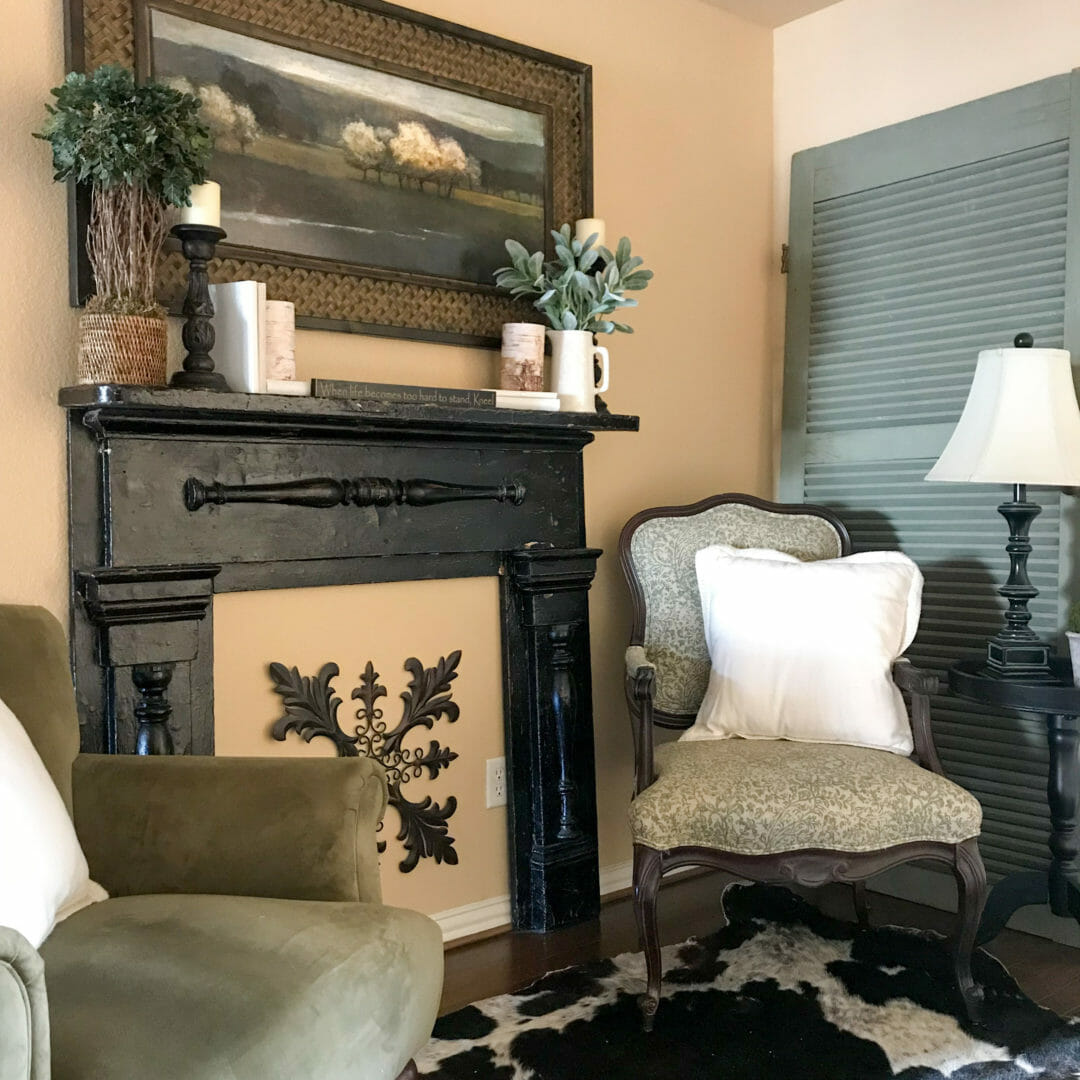 This is our upstairs landing.  Yes, I still despise the gold wall color but totally love the mantel the Mister mounted to the wall.  Found it half off at a going out of biz sale.  Hello deal of the century!  I can't get enough of anything that's old with thick layers of chippy paint.  And as you can see, I totally mix my styles in the house in Highland Village.  There's a bit of rustic mixed with traditional decor in this area.  On to the good stuff.
Easy Steps to Decorating a Mantel
Step 1:  Find your key piece or main focus:  This is the object you'll add first.  It could be a clock, a piece of artwork, really whatever you like.  (Hint: Mirrors are not the best choice for mantels unless it's reflecting the other side of the room. Most of the time they reflect the ceiling – not pretty!)
I chose a large metal piece that has a painting in the middle.  To me, it looks wintery and serene but not dreary.  This first piece will also set the theme for the rest of your decor.  Honestly, this large focal piece shouldn't be this big.  It should be smaller and not meet the edge of the mantel.  But since when do I do what's normal?  LOL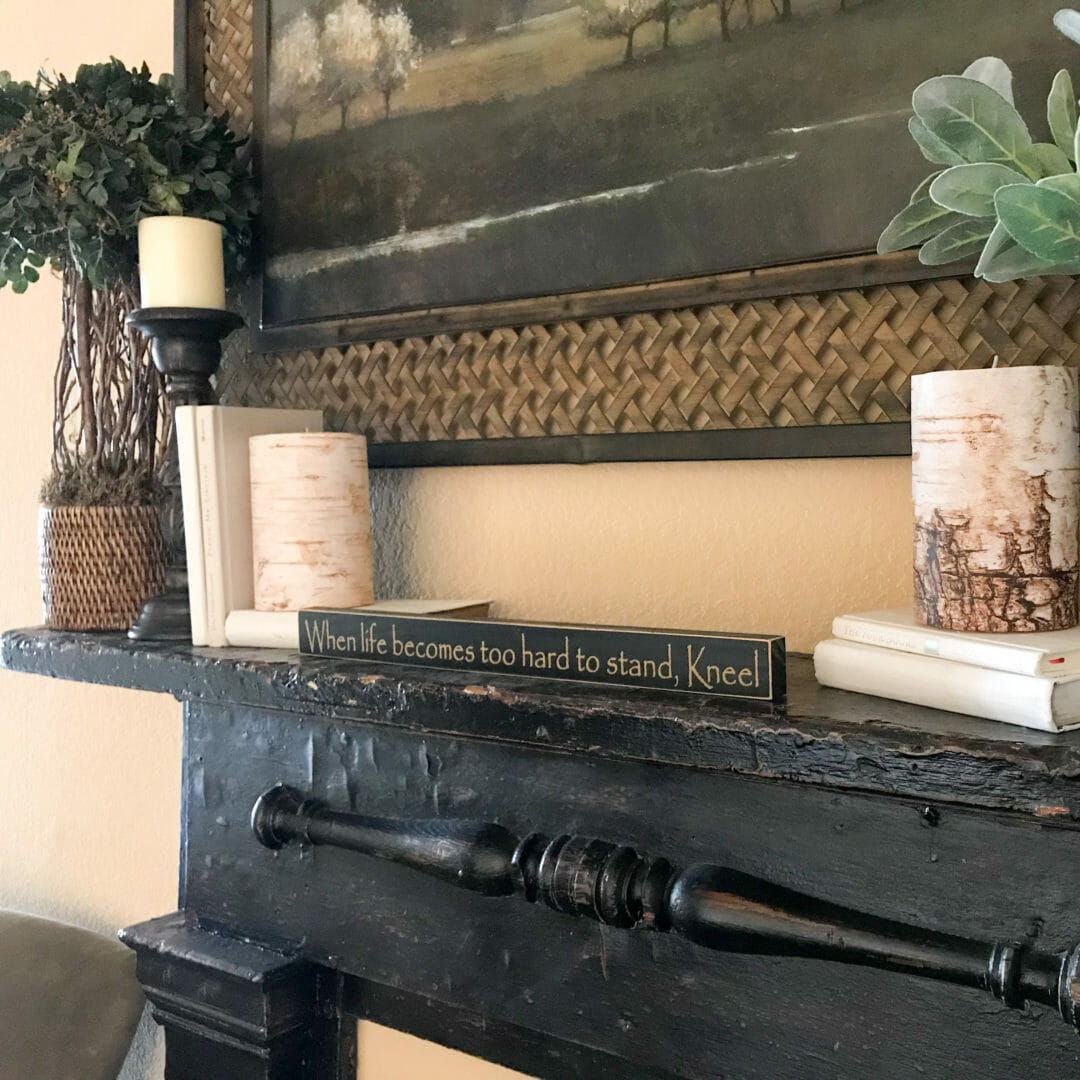 Step 2:  Choose a color scheme:  The majority of color in this painting is black, green, and white which will dictate the other items I use on the mantel.  Also think about sheen.  This painting is dull so I don't want to add bright shiny metals like brass, chrome, etc.  I feel they would look out of place.  And while looking for ways to add texture, keep your various color palette to about 3.  It will keep the mantel from looking chaotic.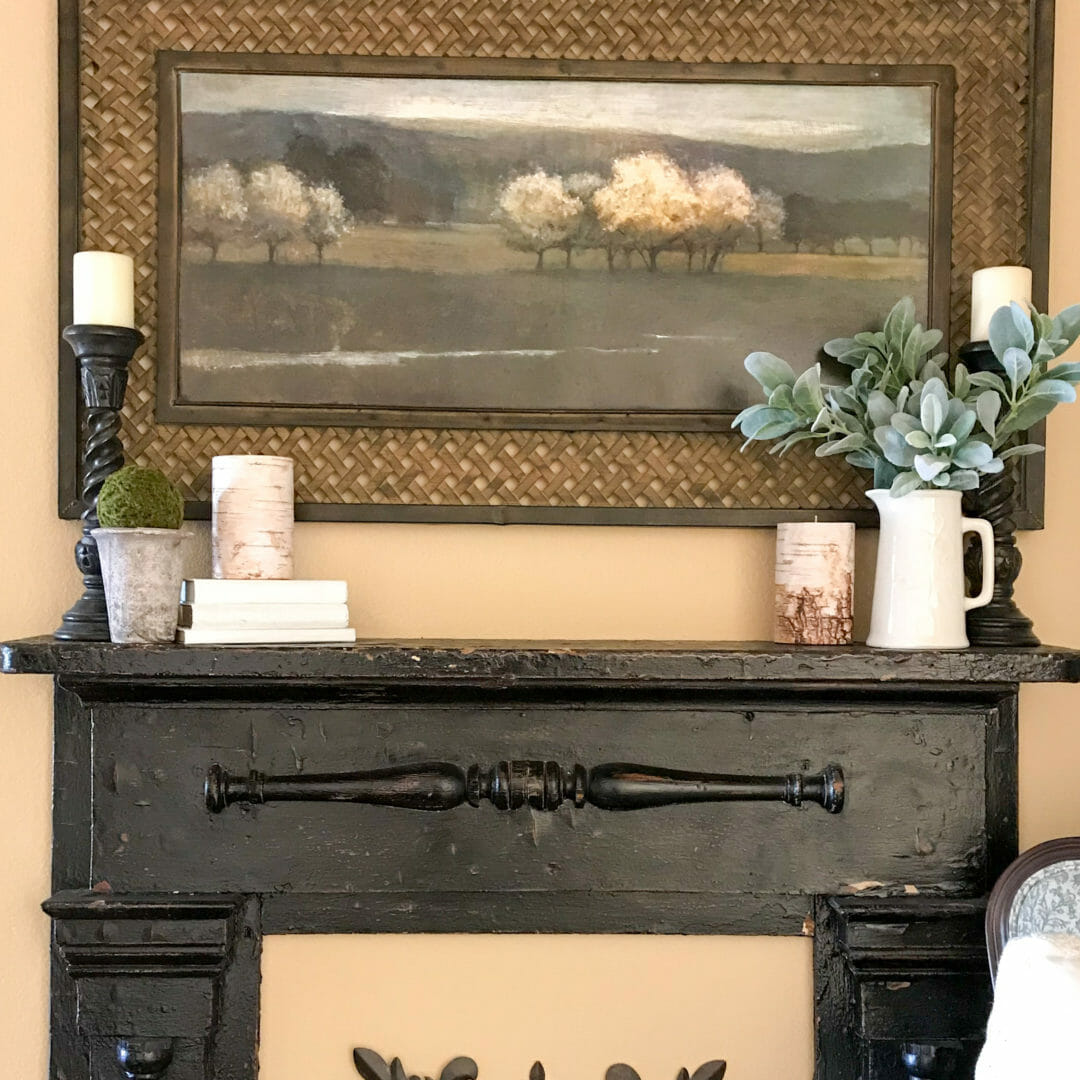 Step 3: Choose either symmetrical or balanced:  Symmetry is having the same decor items on both sides to keep it even or equal.  Like the same candle stick or vase on each side.  Balance is having items on each side but the items are different yet still visually weighted the same.  Does that makes sense?  For example – if you folded the mantel down the middle, both sides would look the same if symmetrical.
You can see this mantel is balanced, not symmetrical.  Both sides have the same type of items but the items are different.  Two candle sticks, two birch bark candles, two items of greenery.  But since the ironstone pitcher on the right has a larger surface of white than anything on the other side, I added white books to keep it "weighing" the same on the left side.
Step 4: Making a visual triangle:  This little trick makes your mantel look expertly crafted!  Along with your key piece, work out toward the edges making triangles on either side.  Remember when I said this metal piece shouldn't actually be this large?  This is why.  If it were smaller, you'd actually see the triangle (see white triangle).
But don't fret, it's perfectly fine to have layers instead and have triangles on the outer edges (see red triangles).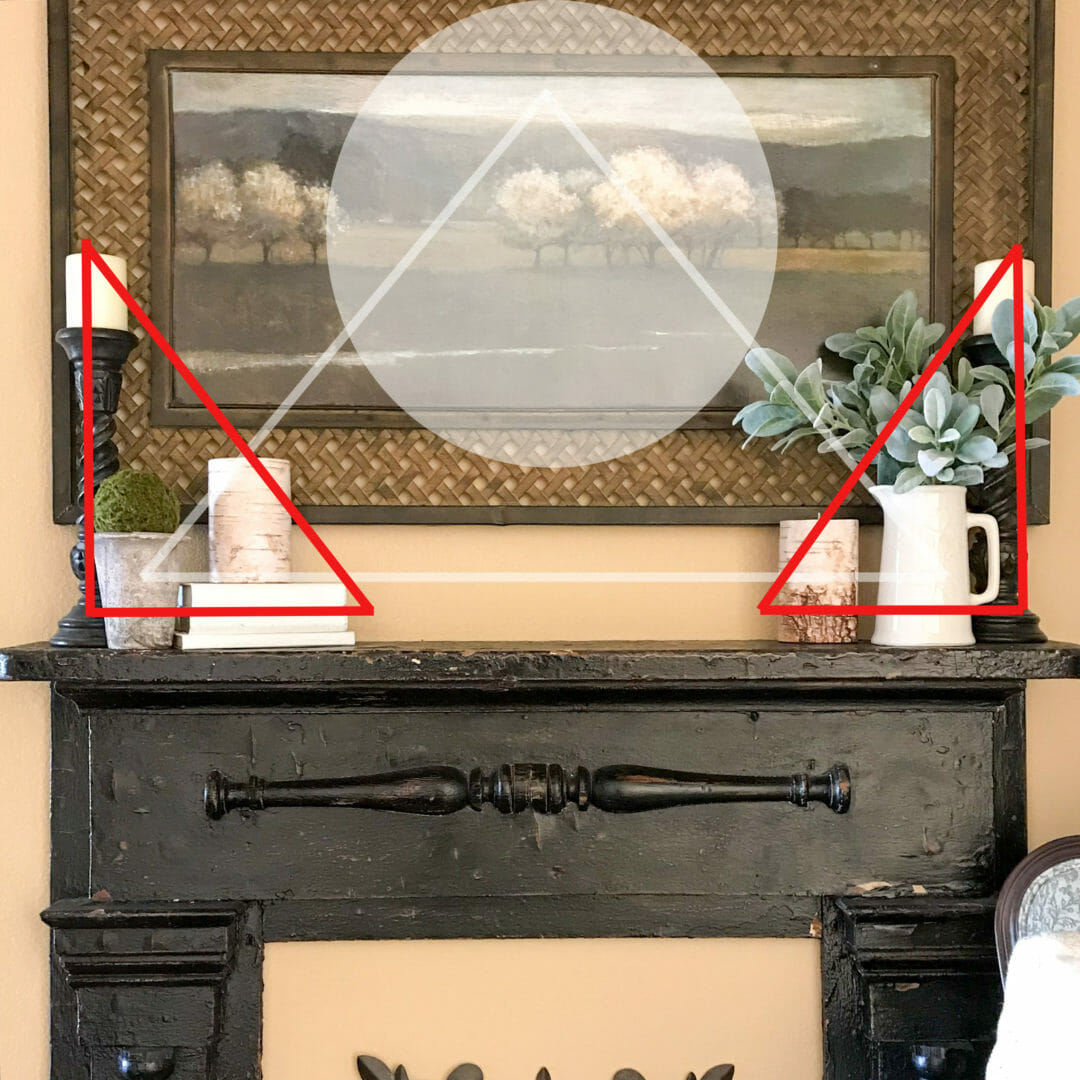 When decorating your mantel, keep in mind these 4 simple steps and you'll be a pro in no time!  Soon you'll find yourself thinking about triangles, color and balance when you're out shopping.  😉  Most importantly, have fun.  If you like a full mantel or one that is over the top – go for it.  If you are minimalistic and only want 3 items on your mantel, that is pretty too.  Heck, you may like only 1 thing up there.  It's all good.  You do You!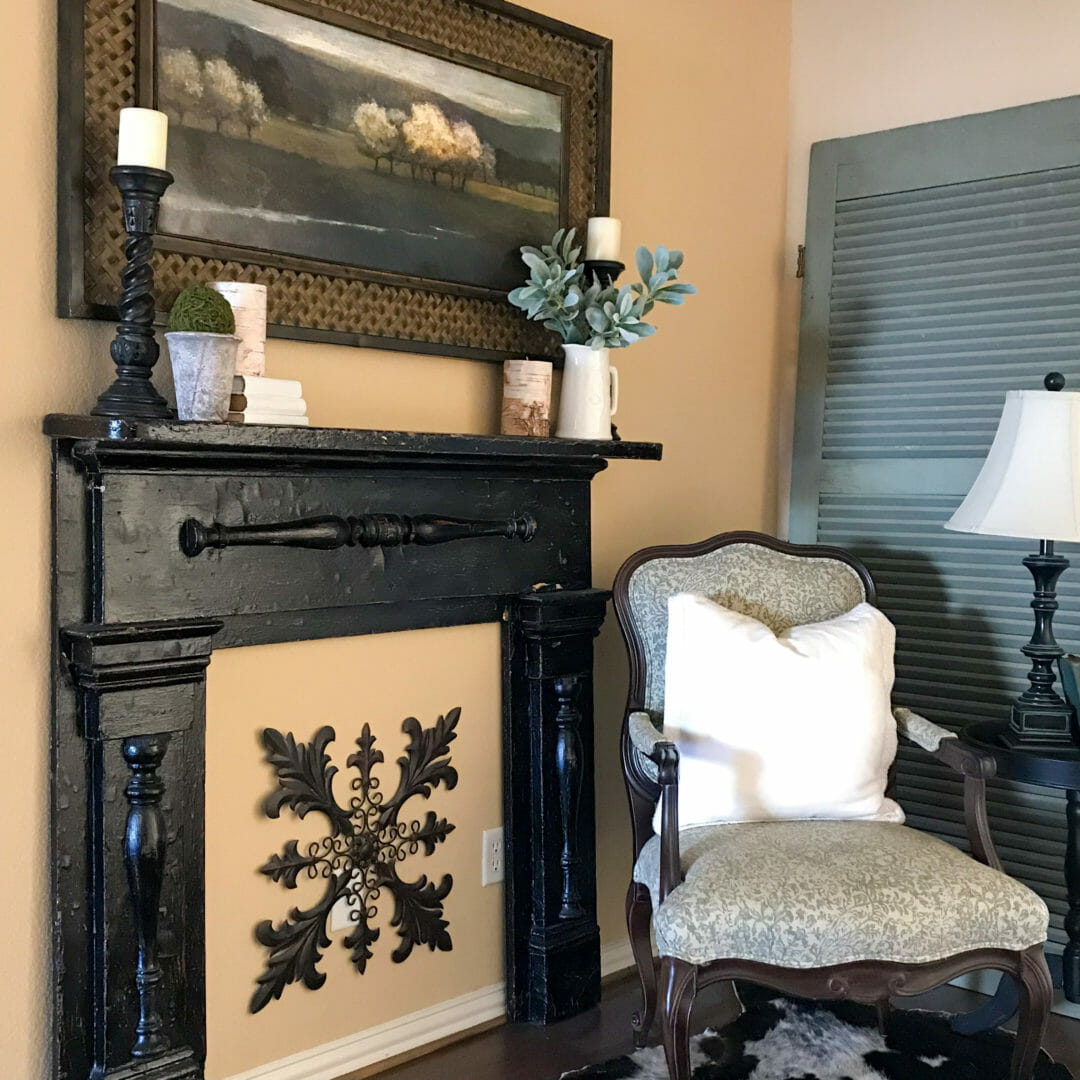 Pin this for later!