I'm excited to share my very first Christmas Farmhouse tour with you!  I've joined together with other Blogger friends to bring you lots of inspiration in a Christmas Tour of Homes and since this post has a lot of pictures, I'll stop all the blah blah blah and get right to – a Christmas Farmhouse Tour.
Farmhouse Front Porch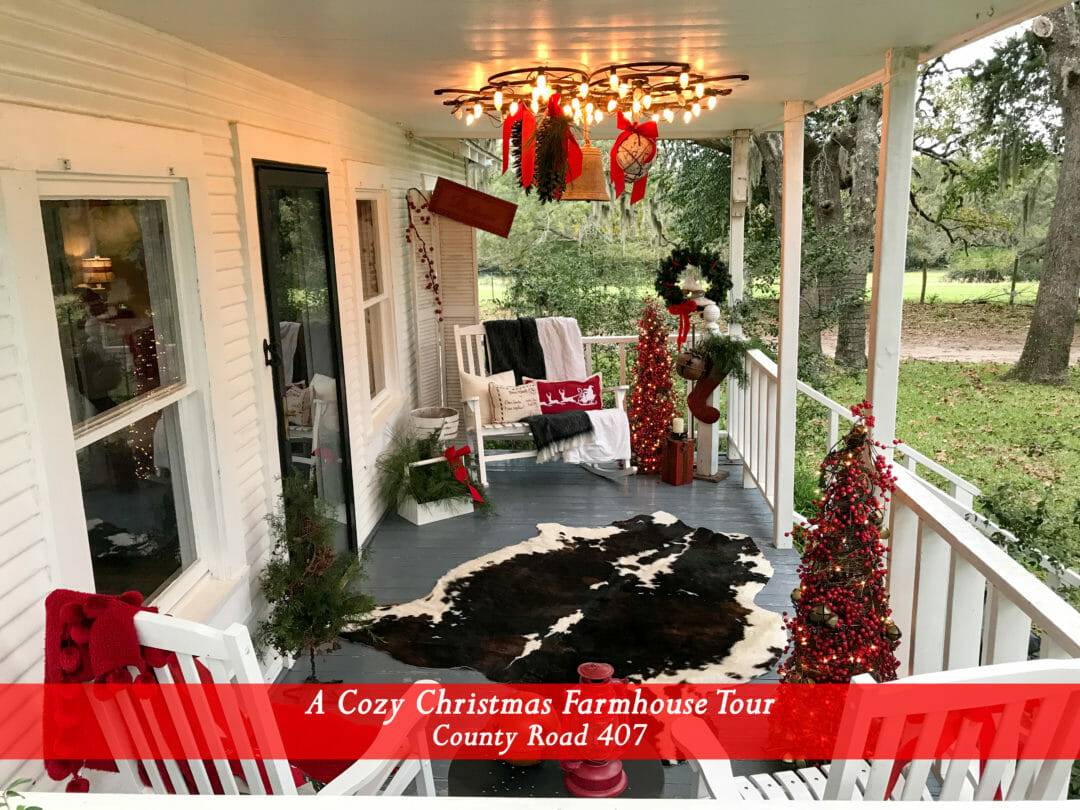 The porch is where I try and spend the majority of my time while visiting so I want it to be cozy.  We double up on blankets for the night time chilly air and try and have a surface within reach for everyone's hot chocolate.  I also want to surround myself with Christmas cheer and lights so both cranberry trees are lit up as are the trees in the yard.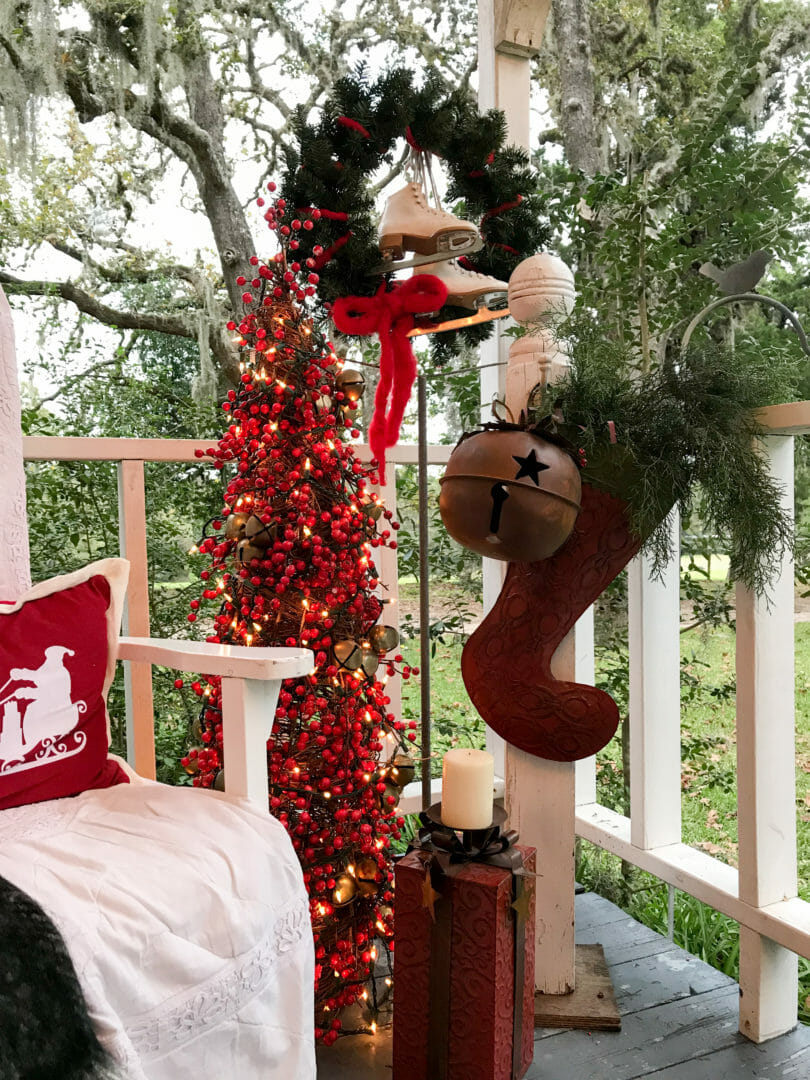 Yes, I tend to go a bit crazy with the fresh greenery cut from the surrounding pastures. I've added it to the embossed metal stocking and the iron tree.  Can't forget about the dogs.  They hang with us too so they enjoy the cowhide rug under their bellies.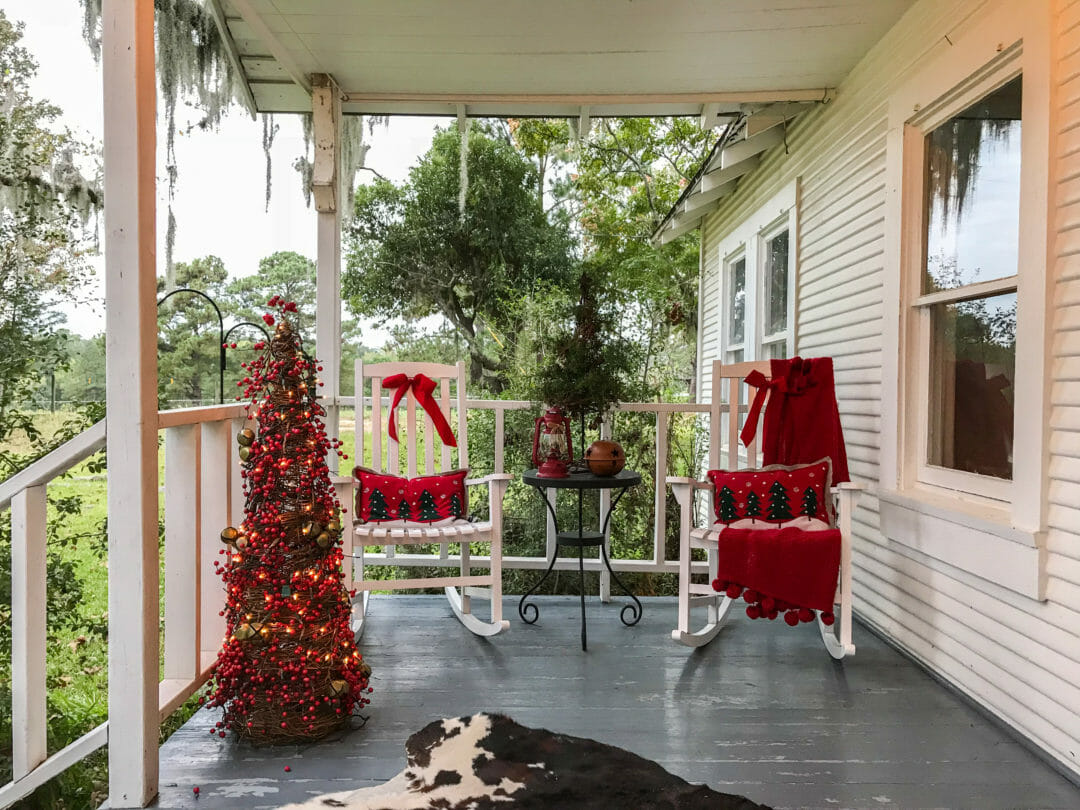 One of my favorite things is the DIY light fixture.  It hangs there all year round so it had to have a few Christmas embellishments too.  Look at those ginormous pine cones.  Actually they're sugar cones found at Hobby Lobby.  I've never seen such but they got a little fresh greenery as well.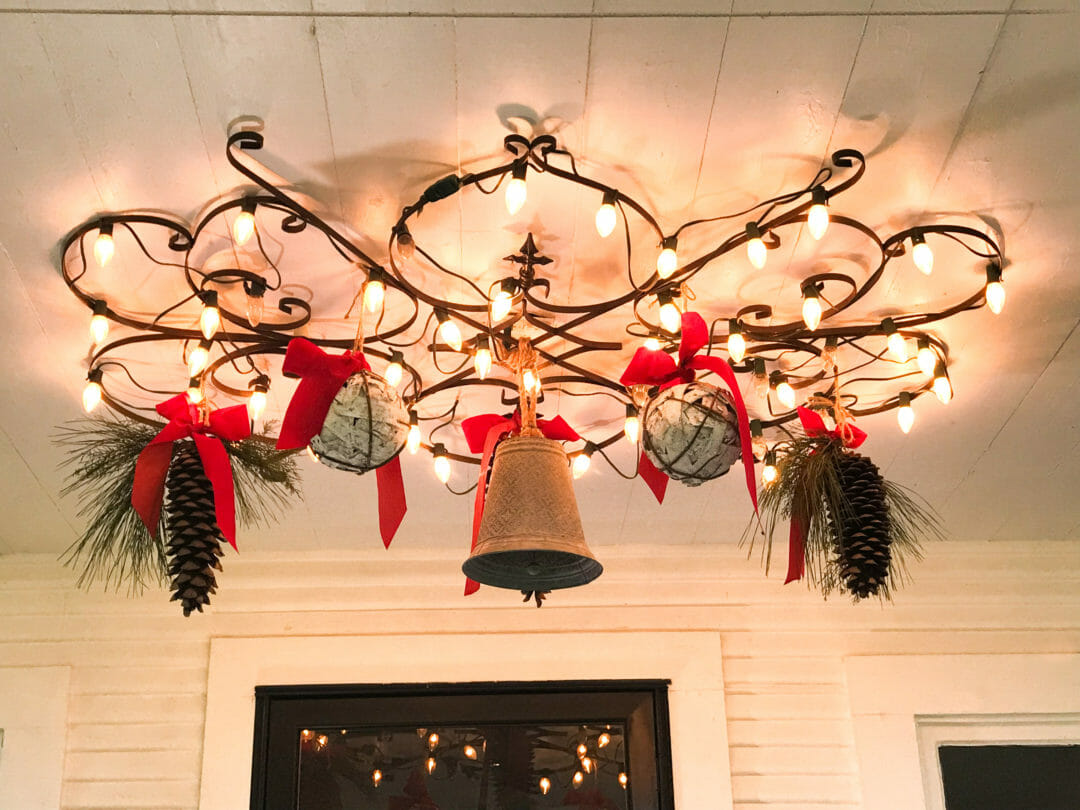 If you can stop yourself from sitting down on the porch, you'll walk through the front door right into the one and only living area.  I find it calming to sit there now.  Before, not so much.  If you want to see the oh-my-lanta before pics, check them out here.
Farmhouse Living Room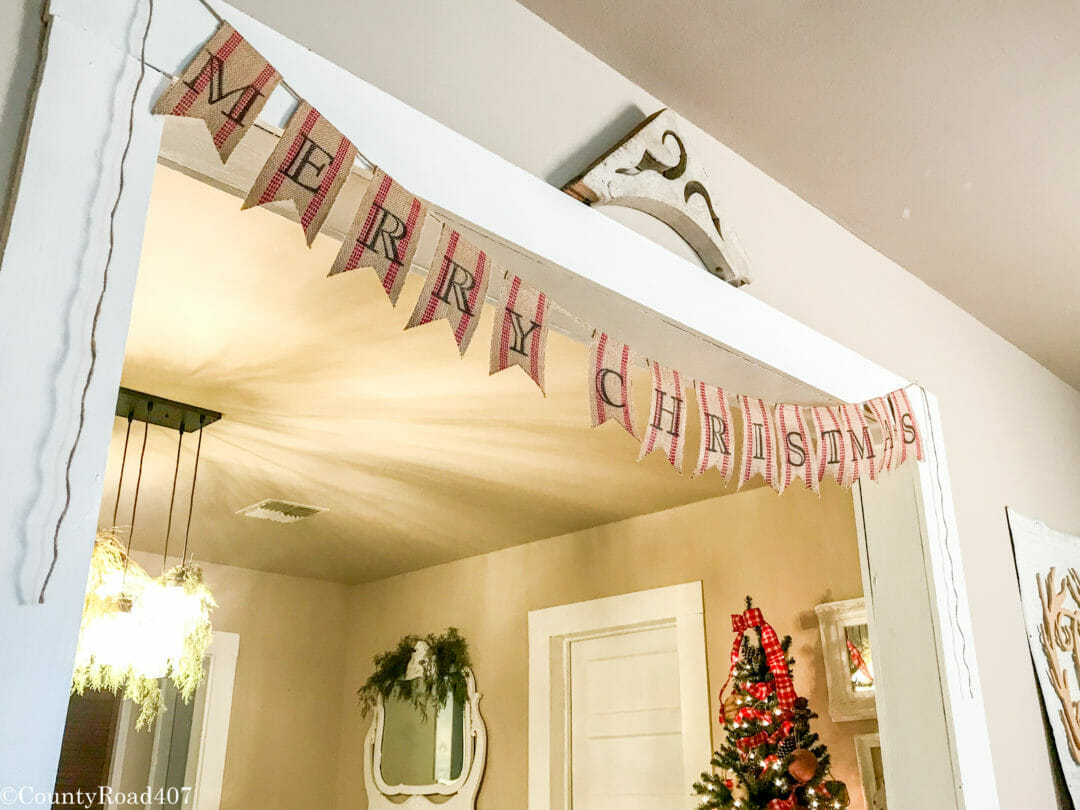 You're greeted with a banner, touches of red decor and fresh greenery all around the room.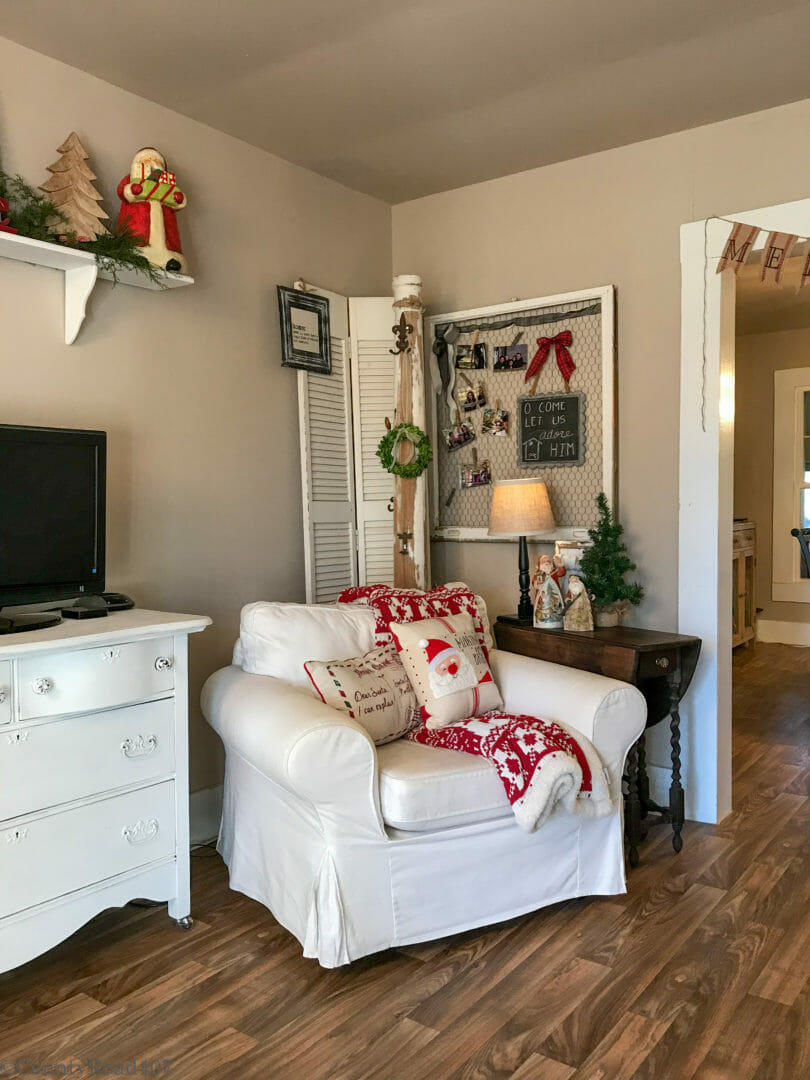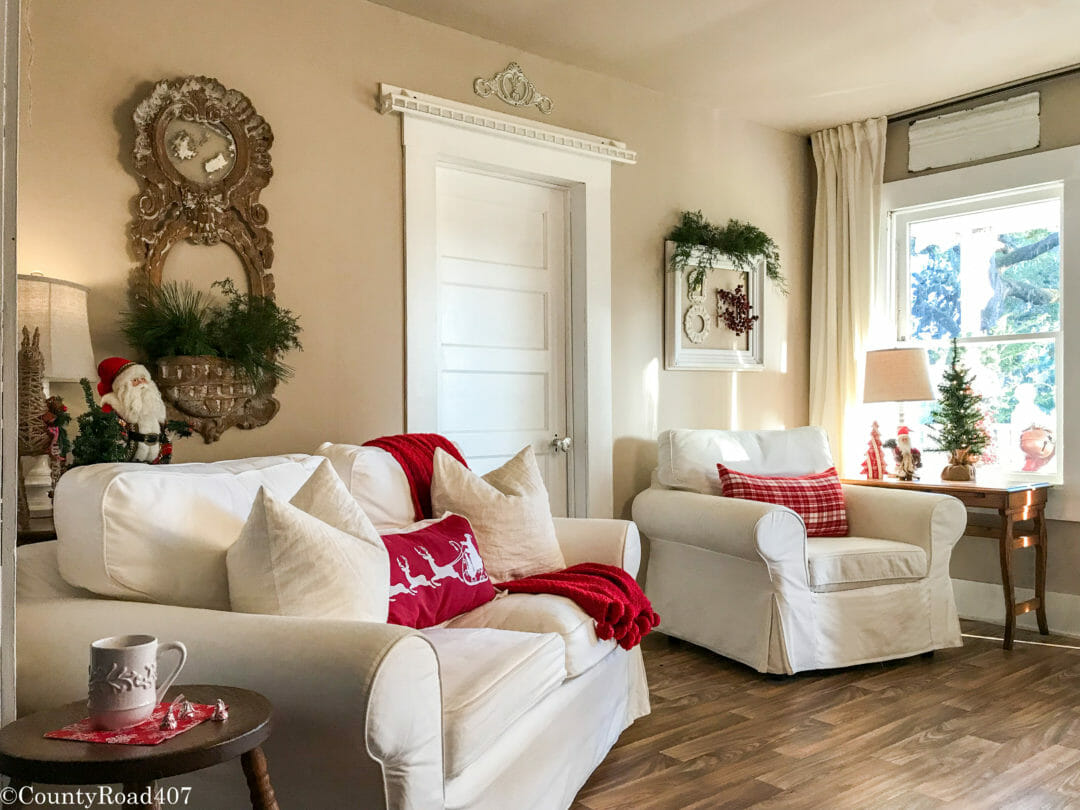 Farmhouse Dining Room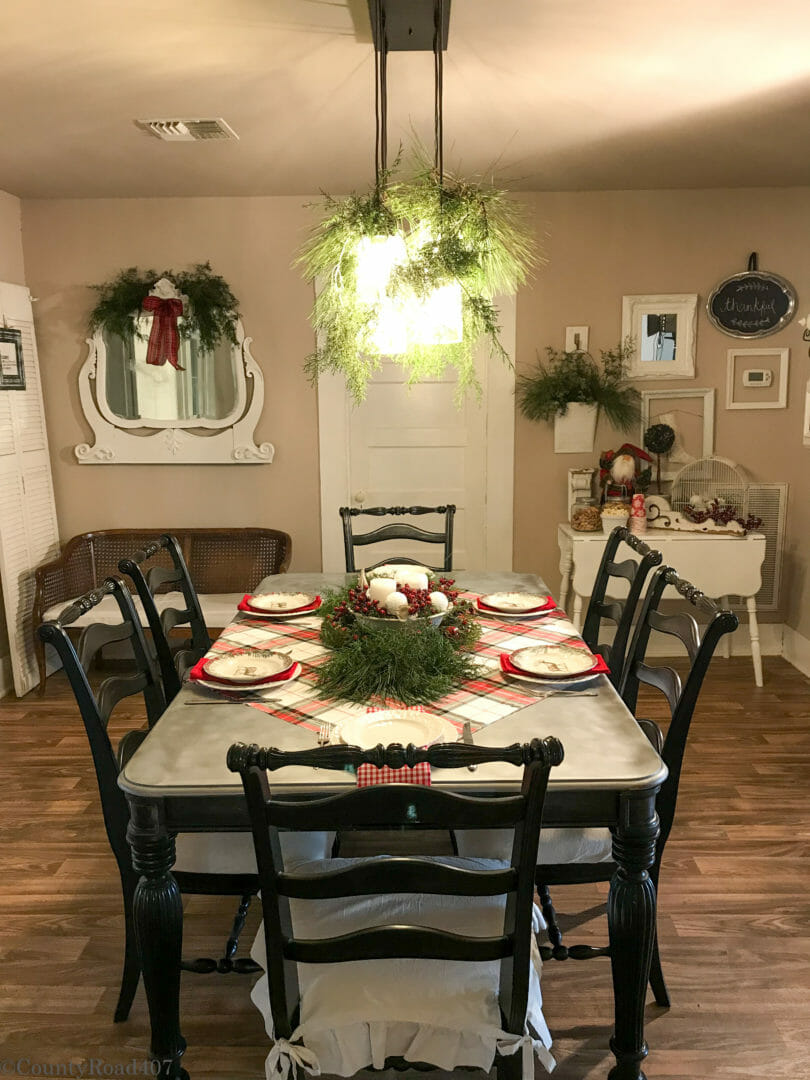 The last room I'll show you on the Christmas farmhouse tour is the dining room.  Gratefully it's in the middle of the house now.  When it was the Mister's great-grandmothers home it was located on the back of the house.  You can tell that from the windows.  Then when it was his grandmothers house they added indoor plumbing and a bathroom off the back porch.  Thank heavens for that!  If you'd like to see the no-one-could-have-had-an-appetite-in-that-dining room, you can see those before pictures here.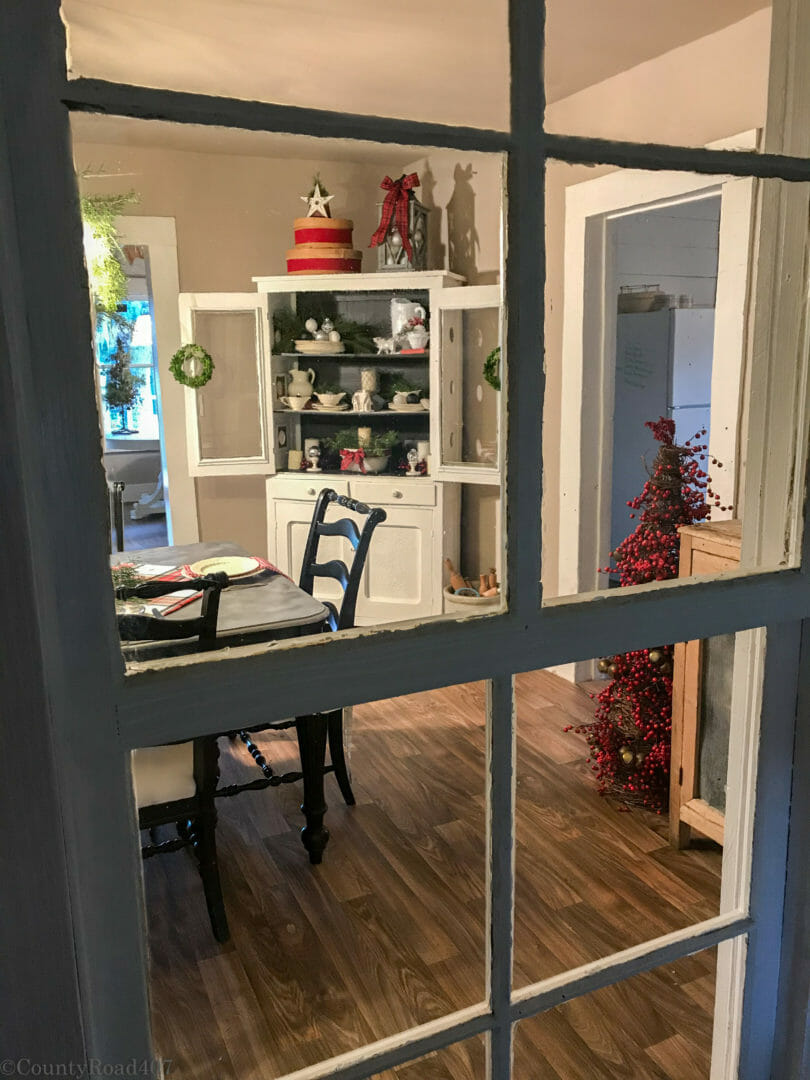 The back porch is now an enclosed mudroom which makes it so much nicer when you come inside through the back of the house.  Now you aren't immediately walking into the kitchen.  I love old houses but sometimes it boggles the brain.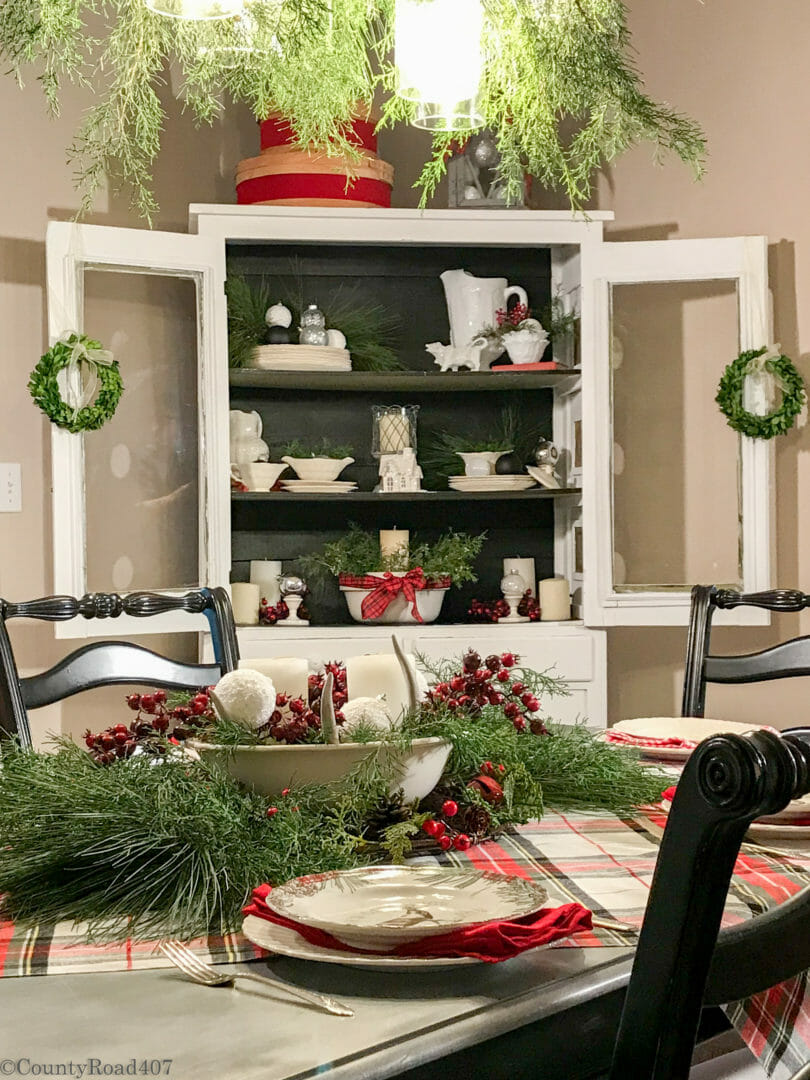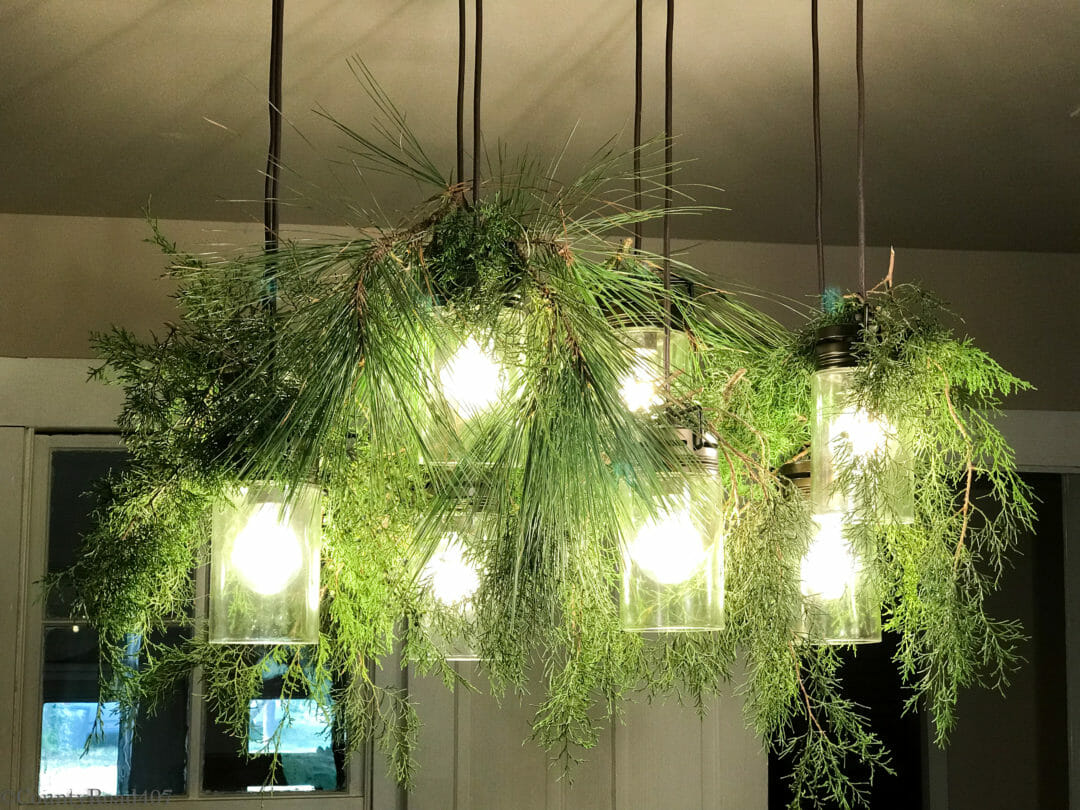 I told you I go crazy with the fresh greenery!  Look at that light fixture.  I LOVE IT!  It makes you feel as though you're dining in a romantic restaurant.  Minus not having a cook, a waiter, and having to do the dishes but I still LOVE IT!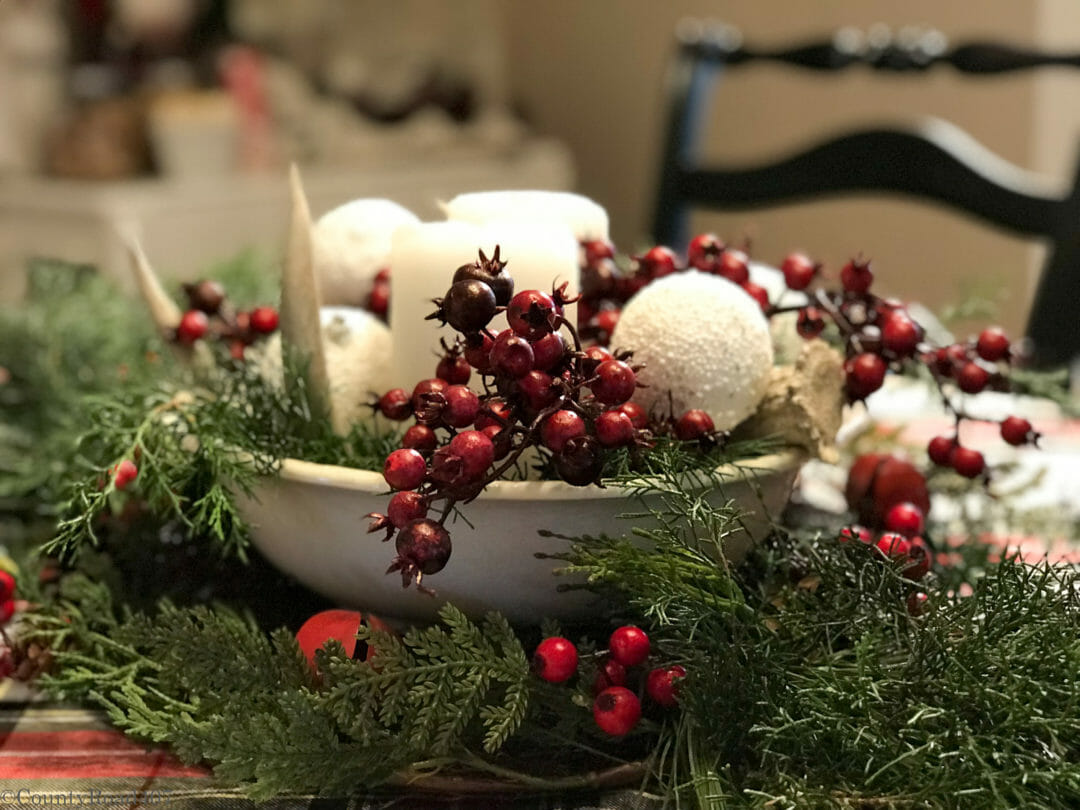 To keep the centerpiece simple, I used an old ironstone serving bowl and added candles, plastic ornaments, antlers and greenery.  The woodland plates came from Hobby Lobby.  They were actually the inspiration for the entire table decor.  The plaid table cloth isn't a table cloth.  I couldn't find one I liked so I bought 2-1/2 yards of flannel fabric to use instead.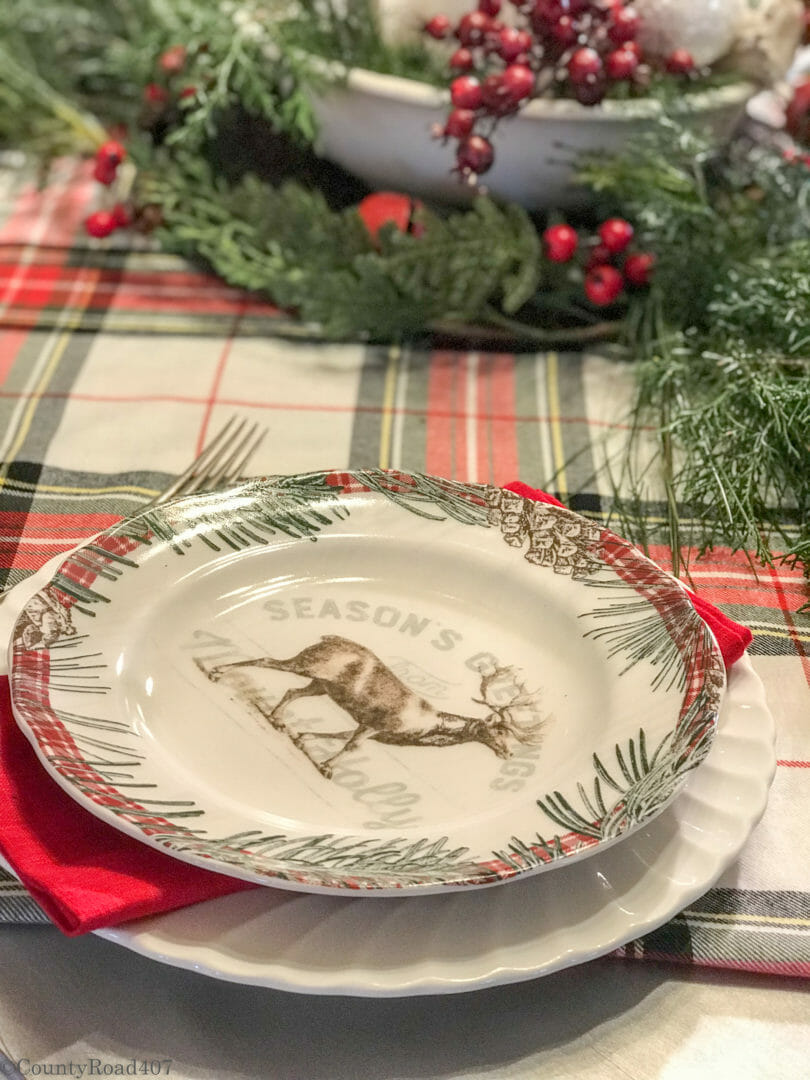 Last but not least, when we have visitors, there's a fun "snack" table.  Don't you want one?  All you need is a separate table decorated nicely with whatever your little heart desires.  Hint: We use cups instead of plates for easier handling.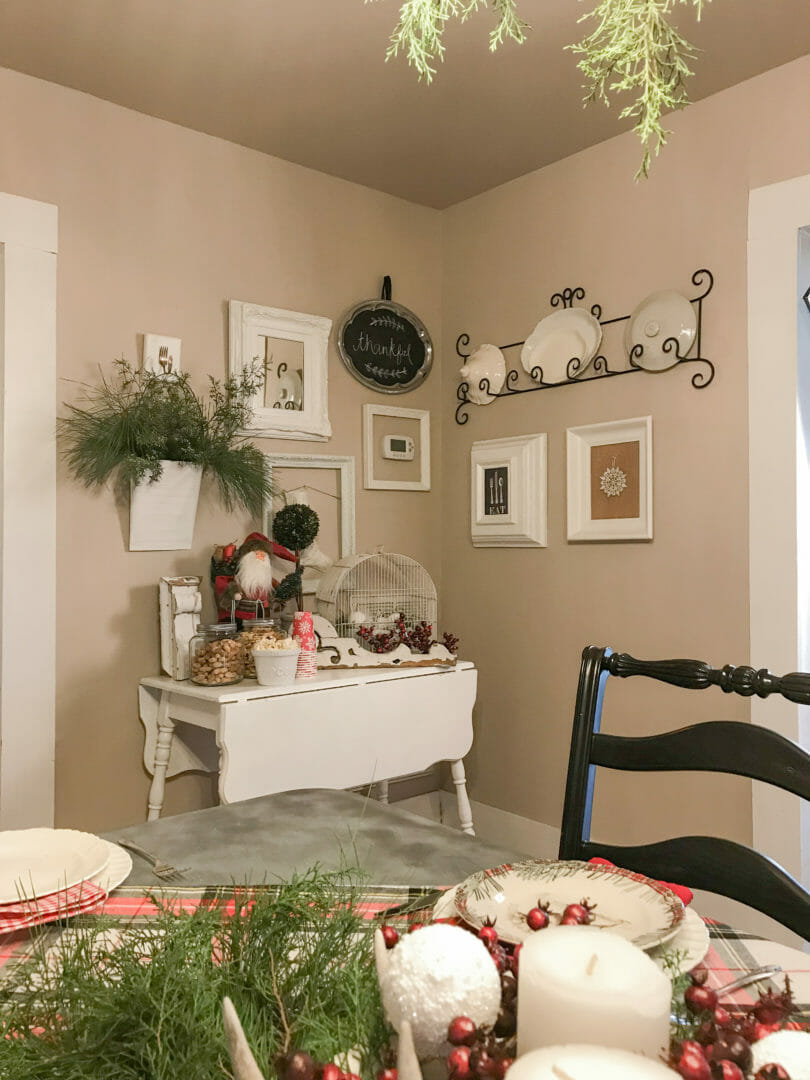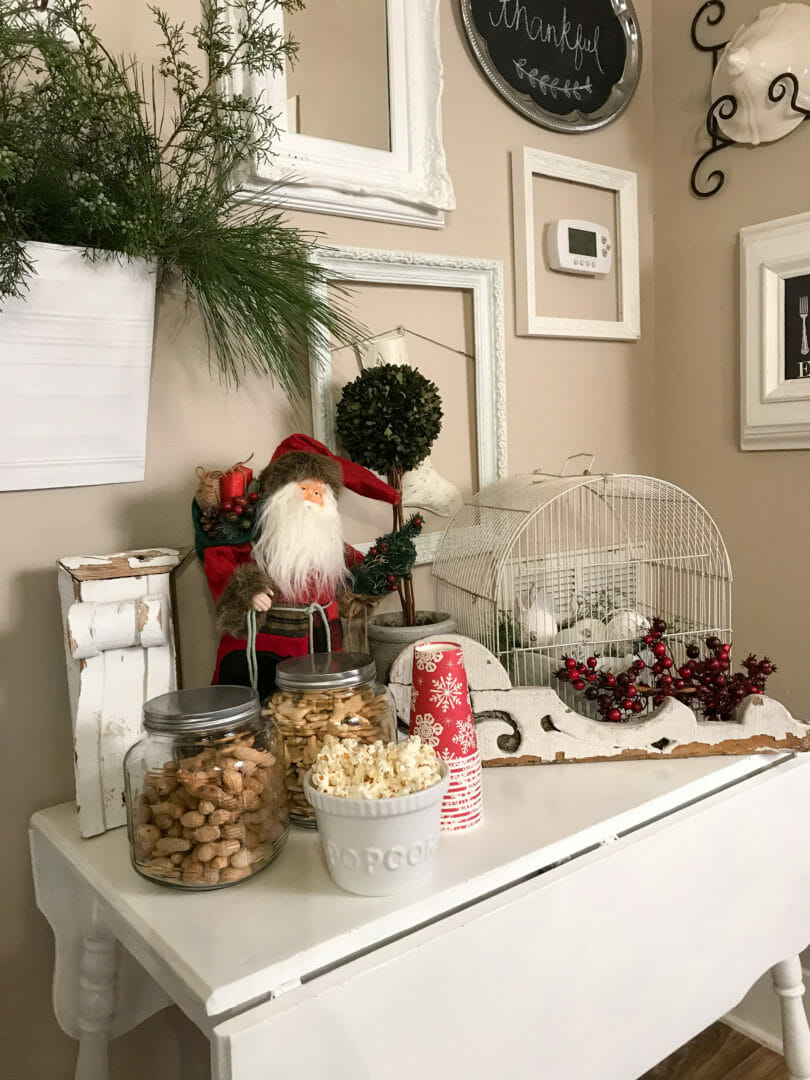 That's what has kept me busy the past couple of weeks and I truly enjoyed every minute.  I thought of my hubbies family and how they would have decorated.  I'm sure they would have enjoyed how bright and cozy and fun and colorful it is.  Also thought maybe I should string cranberries and popcorn for the Christmas tree.  Then I came to my senses and said how about a trip to Hobby Lobby instead.
Hope you enjoyed this Christmas Farmhouse Tour and like I mentioned before, I've joined in with several Blogging Friends to give you lots of inspiration every day of the week!  You won't want to miss visiting their pages below in the Christmas Tour of Homes!
Merry Christmas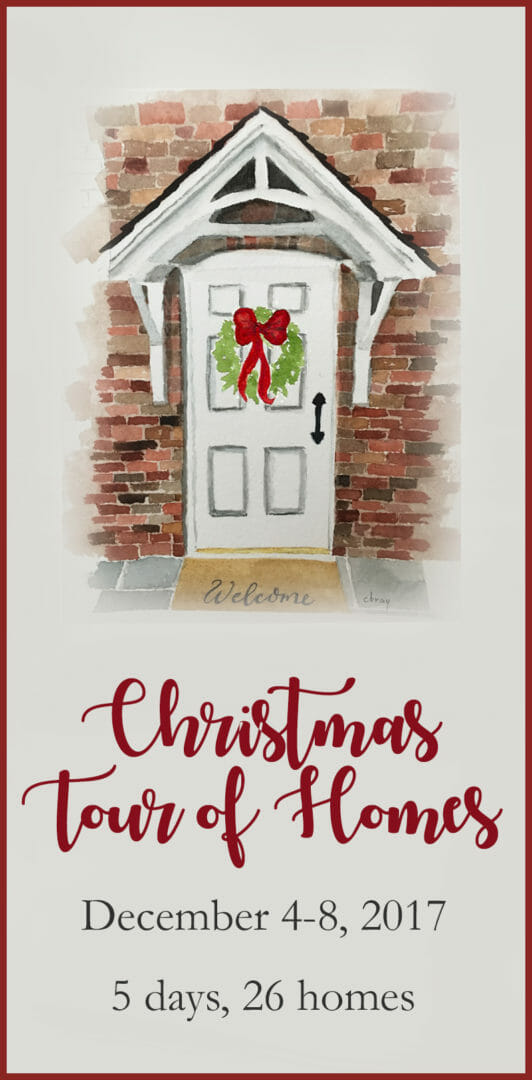 Monday
Deeply Southern Home | Poofing The Pillows | Noting Grace
The Red Painted Cottage |  Love Create Celebrate
Tuesday
 Simple Nature Decor | Houseologie | At Home With Jemma | Paint Yourself A Smile
County Road 407 | Art and Sand
Wednesday
Celebrate Creativity| Celebrate and Decorate | All Things Renee
Thursday
Savvy Apron | Hey Fitzy | Camelot Art Creations
Weekend Crafts  |A Home To Grow Old In
Friday
The Summery Umbrella | Love Your Abode | Twelve on Main | Bluesky at Home
Sweet Parrish Place | The Aspiring Home