I think most of us who decorate for fall probably have at least one piece of fall garland.  What do you do with yours?  I use them all over the place but this post is about 3 fall centerpiece ideas using 1 fall garland strand.  And because we are busy, especially when we cook a meal, these fall centerpiece ideas are going to be super easy.  Let's get started!
The strand of garland below is only 4 foot long.  I loved the color in the leaves because it works perfectly with my fall dishes.  (Yes, I have fall dishes.  Remember the post Confessions of a Plate Addict?)  I inserted a sheer ribbon for added personalization.  You know it can't just stay the way I found it.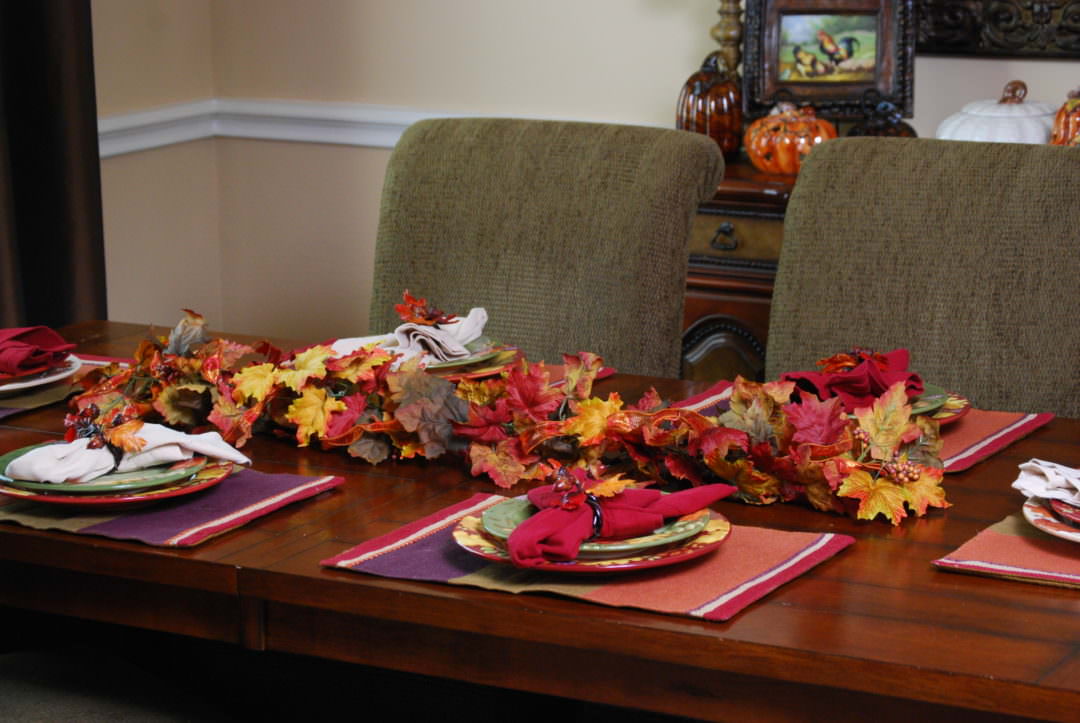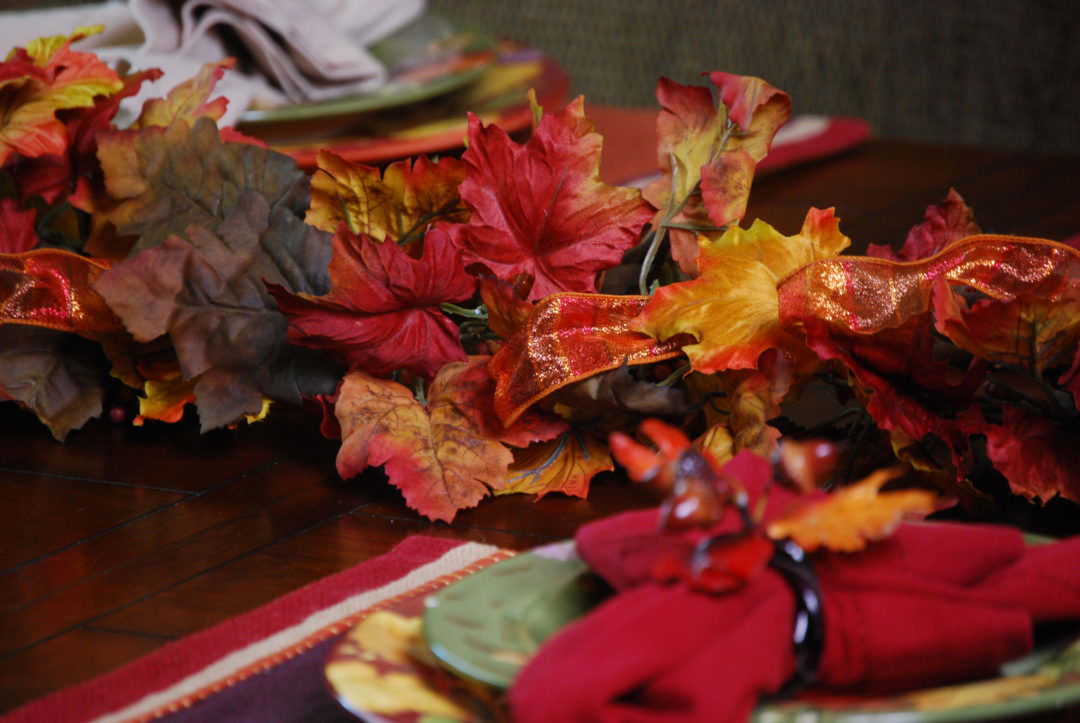 You can see this strand was plastic and not expensive at all.  I think it was $9.99 from you know where… Hobby Lobby!  And the ribbon was left over from another fall project.  It would look nice with any sized ribbon.  You might want to tuck it in a little better than I did.  I'm way to impatient – sorry.
Fall Centerpiece Ideas Look #1
I have a couple of lanterns that I purchased from Home Goods.  They have been used on the mantel, next to the TV and now here.  The lanterns use batteries and are great for a casual, simple, rustic look.  I just wove the garland around.  You could also add ribbon to the handles if you'd like.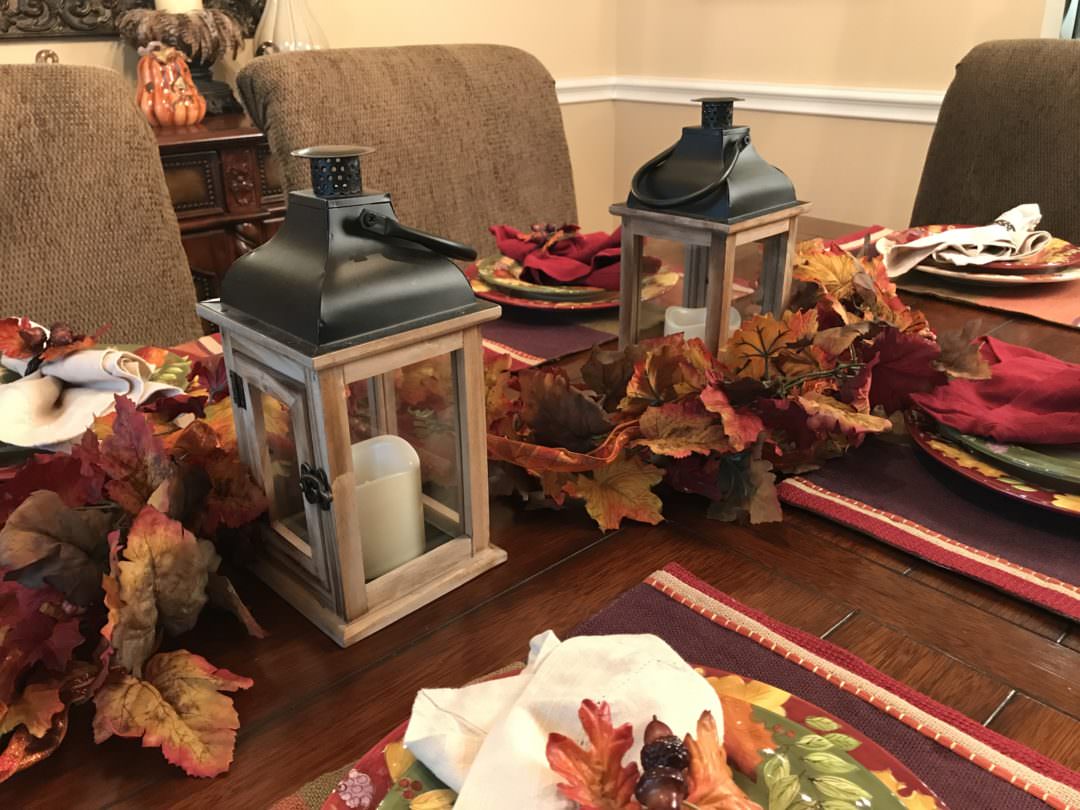 Look #2
This time I grabbed 3 glass pumpkins that were given to me by a very dear friend.  She knows I LOVE fall.  With these pumpkins it keeps the garland strand more compact leaving you with more room for glasses, food, desserts, etc.  You can use any type of pumpkin.  These sit on short pedestals for height.
Oh wait!  Speaking of desserts… I made an Apple Pecan Spice cake the other day that was so delicious.  Everyone loved it.  I'll put the recipe at the bottom of the post in case you're interested in totally wowing your family and friends like I did!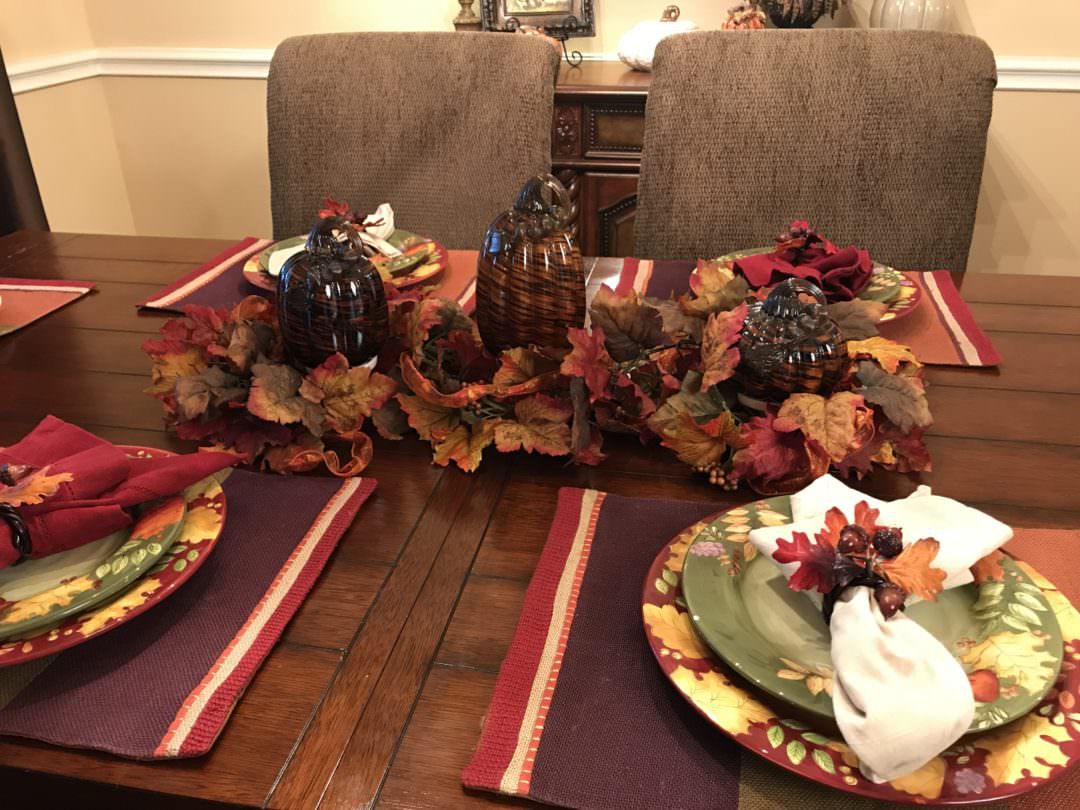 Look #3
For this last look I dug out my rusty candle holder and intertwined the fall garland.  You can see I used candles and pumpkins both.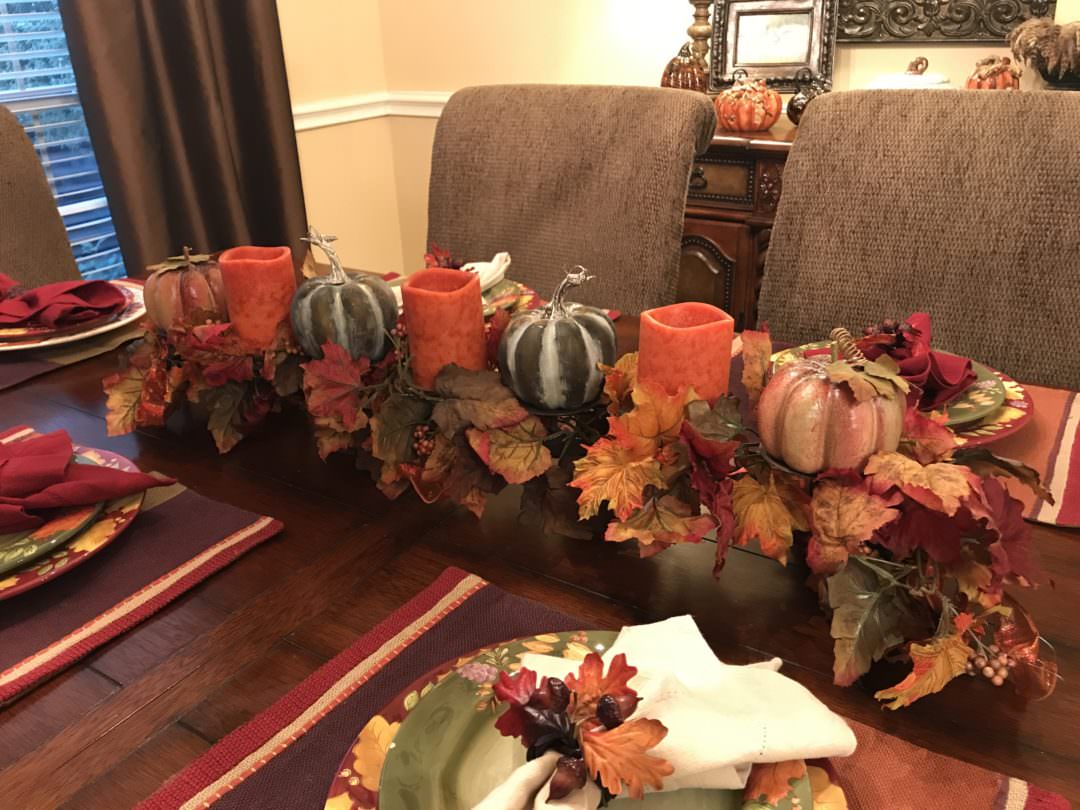 I hope you see how you can make 3 fall centerpiece ideas using 1 fall garland.  Notice that each look is simple and you can easily use what you already have sitting around.  Fall centerpieces don't have to be extravagant to be eye catching.  Make it easy on yourself – You have enough to do!
Apple Pecan Spice Cake w/ Brown Sugar Cream Cheese Frosting – yes please!
Ingredients
4 cups Granny Smith Apples, chopped into small pieces
2 cups sugar
½ cup vegetable oil
2 eggs, lightly beaten
1 teaspoon vanilla (I added another 1/2 tsp and used Mexican Vanilla)
2 cups all purpose flour
2 teaspoon baking powder
½ teaspoon baking soda
2 teaspoon cinnamon
½ teaspoon nutmeg
1 teaspoon salt
½ cup milk
1 cup pecans roughly chopped
Brown Sugar Cream Cheese Frosting:
1 (8 oz) package cream cheese frosting, room temperature
¼ cup butter, softened
2 teaspoon vanilla
1 cup golden brown sugar (I didn't know what that was so I used light brown sugar)
Instructions:
Preheat oven to 350 degrees and grease and flour a 9×13 inch baking pan. Set aside.
In a large mixing bowl, combine apples and sugar. Stir in oil, eggs, and vanilla.
In another mixing bowl combine flour, baking powder, baking soda, cinnamon, nutmeg and salt. Add the flour mixture to the apple mixture. Add milk and stir until just combined. Add chopped pecans.
Pour into prepared 9×13 inch pan. Bake for 30-40 minutes or until toothpick comes out clean. Let cool completely. (My bake time was considerably longer before the toothpick came out clean)
To make the frosting: Beat the softened cream cheese until smooth. Add butter and continue to beat until smooth scraping down sides when needed. Add vanilla and brown sugar. Beat for 5 minutes until it is light and fluffy and the sugar has dissolved. Spread evenly on top of the cake. Refrigerate after frosting.  (We didn't refrigerate before we dug in and I sprinkled chopped pecans on the icing as well.)  Enjoy!
Save