Yay, we are back in Navasota soaking up the country life and enjoying the little things that make this place special.  Well special to me, the Mister couldn't care less about the "special" things.  He enjoys being outside with the animals and just piddling.  Okay, he's usually having to fix something but at least he's here.
I on the other hand, not being the outdoorsy type, need more.  I need little details that make me smile.  Niceties so I don't feel as though I'm tolerating what the Mister's great grandmother did when she lived here.  So while I'm here this week, I'll show you what makes me feel more refined while hangin' out in the farmhouse kitchen.
 10 Farmhouse kitchen details I need in my life.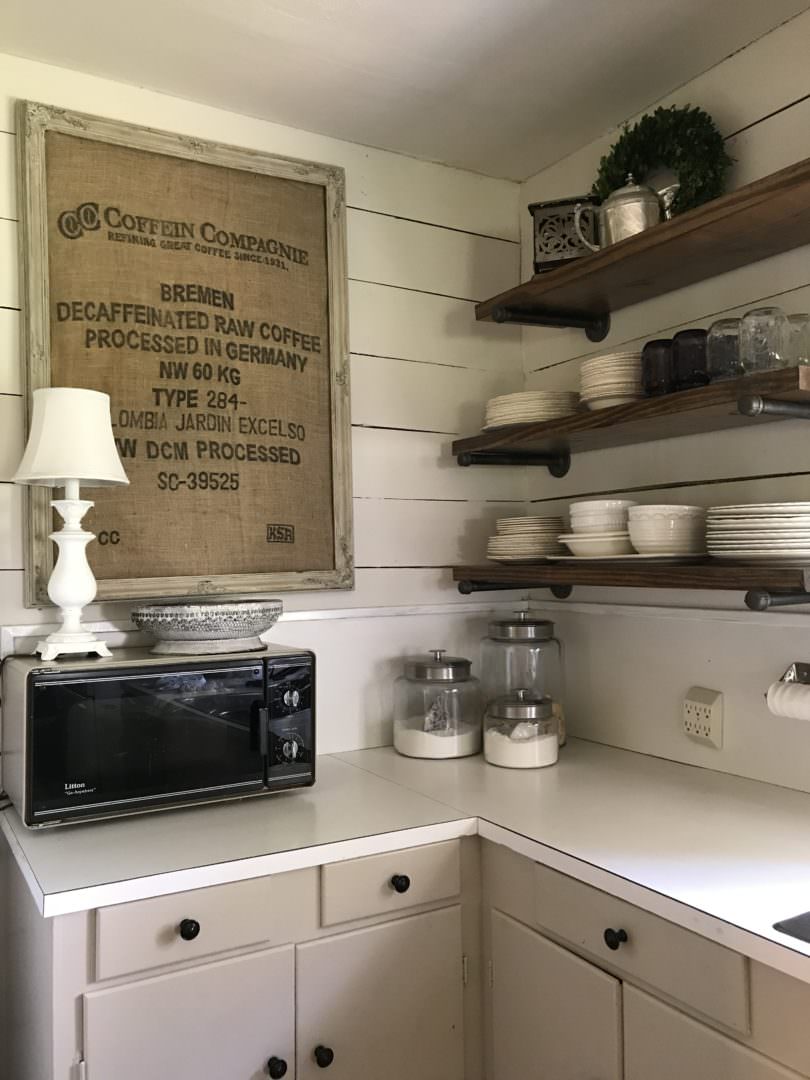 I'll show you the entire kitchen one day for but now, here is the left corner.  Yes it still has white laminate counter tops which do not bother me (yet) and an old microwave that takes up precious counter space but look beyond that.  Look at the walls.  It's the real deal.  Real board on board shiplap.  Finding that behind the upper cabinets we ripped out was a glorious day.  Anyway, that's detail #1 on the list.
Now for detail #2.  It's the framed vintage coffee bean sack.  The frame was $10 and the sack only $7!  HAHAHAHA – I love a bargain and need nice things to look at.  Remember, I'm all into decorating?
Detail #3 and probably a favorite.  I use vintage teacups as scoops for the sugar and flour canisters.  The matching saucer to this one sits on the stove.  We use it as a spoon rest.  You might also notice, the purple coordinates with the purple mason jars we use.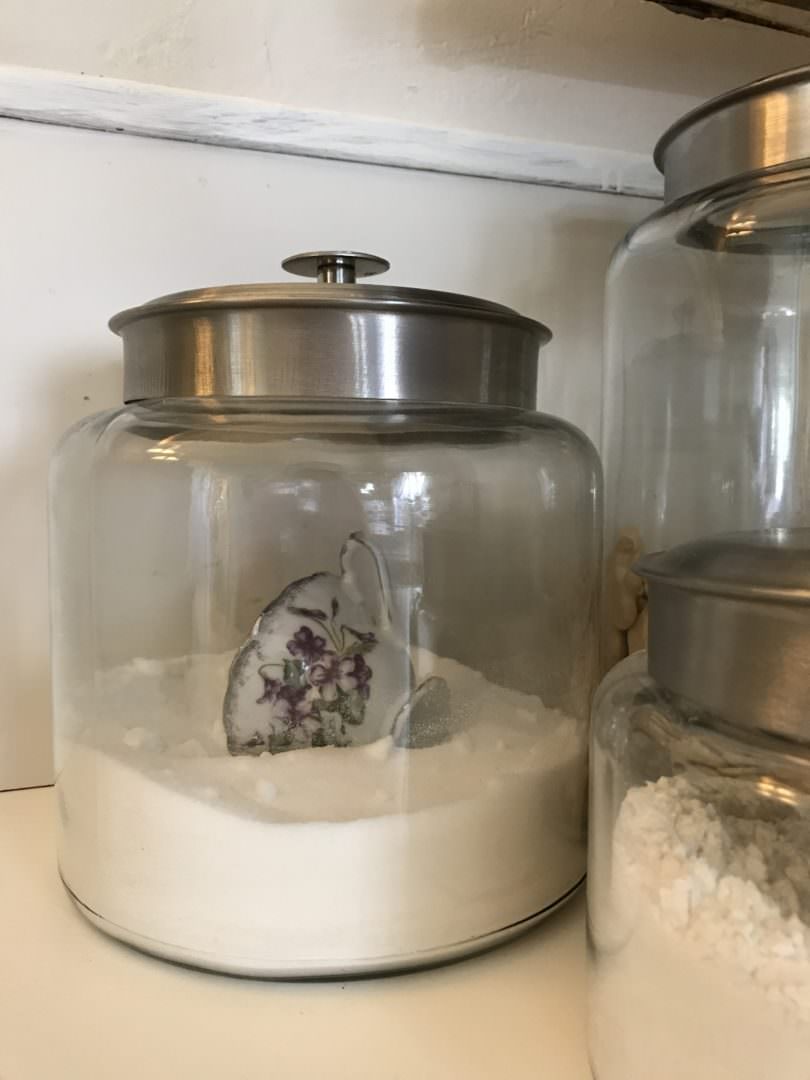 Detail #4.  I use a metal bowl/basket to house the paper plates.  They look so much prettier in there – don't you think?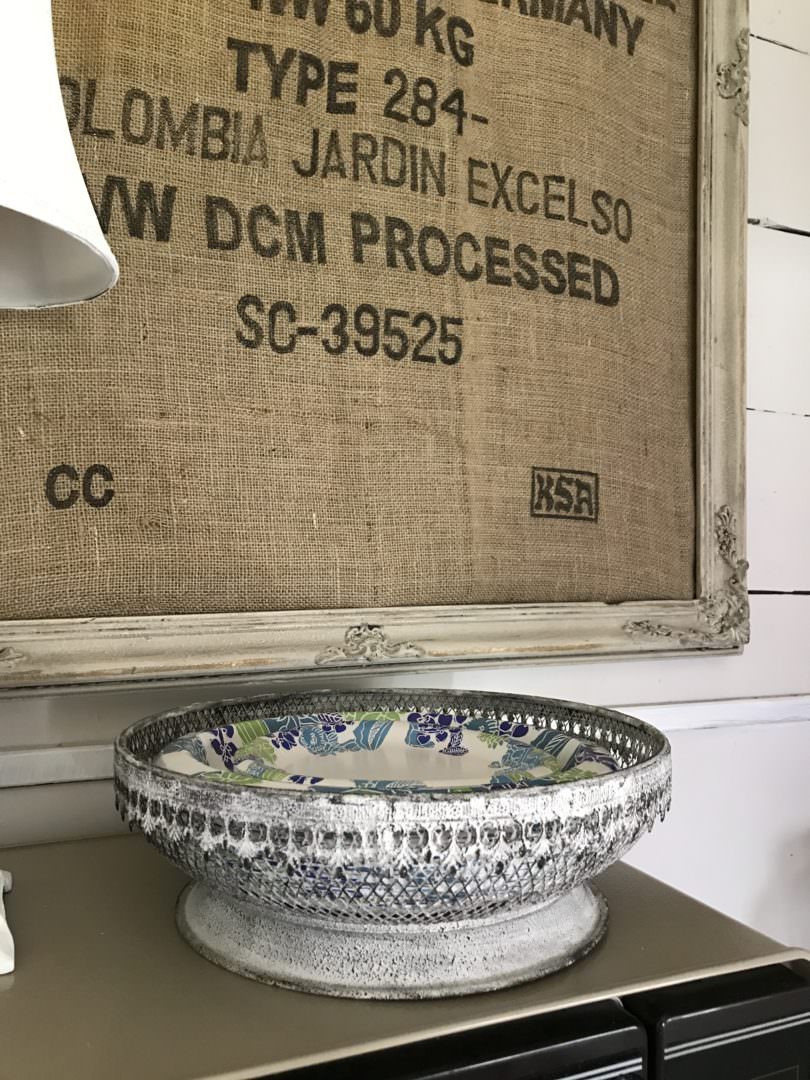 Detail #5 is over at the sink area by the windows.  I made a dish towel holder and used one of our forks for the hook.  I also found a silver plated wine chiller at an antique store (for $9) and decided to use it for cooking utensils because we only have 3 drawers in the kitchen to hold things – Detail #6.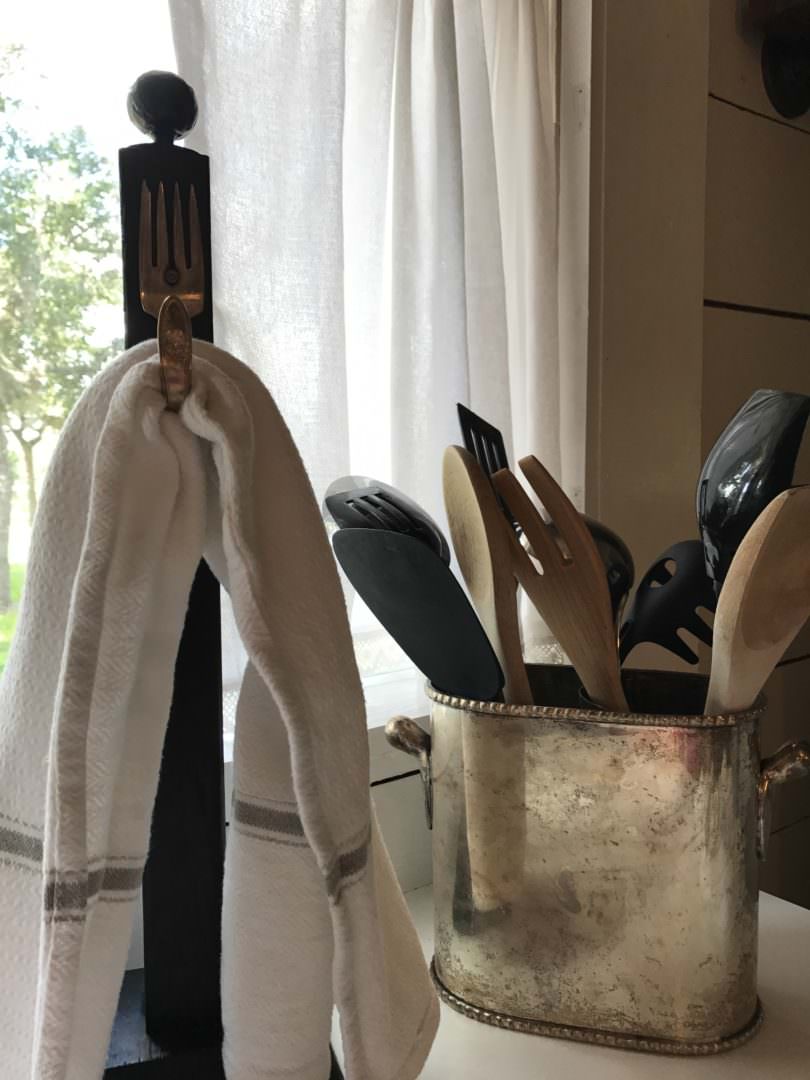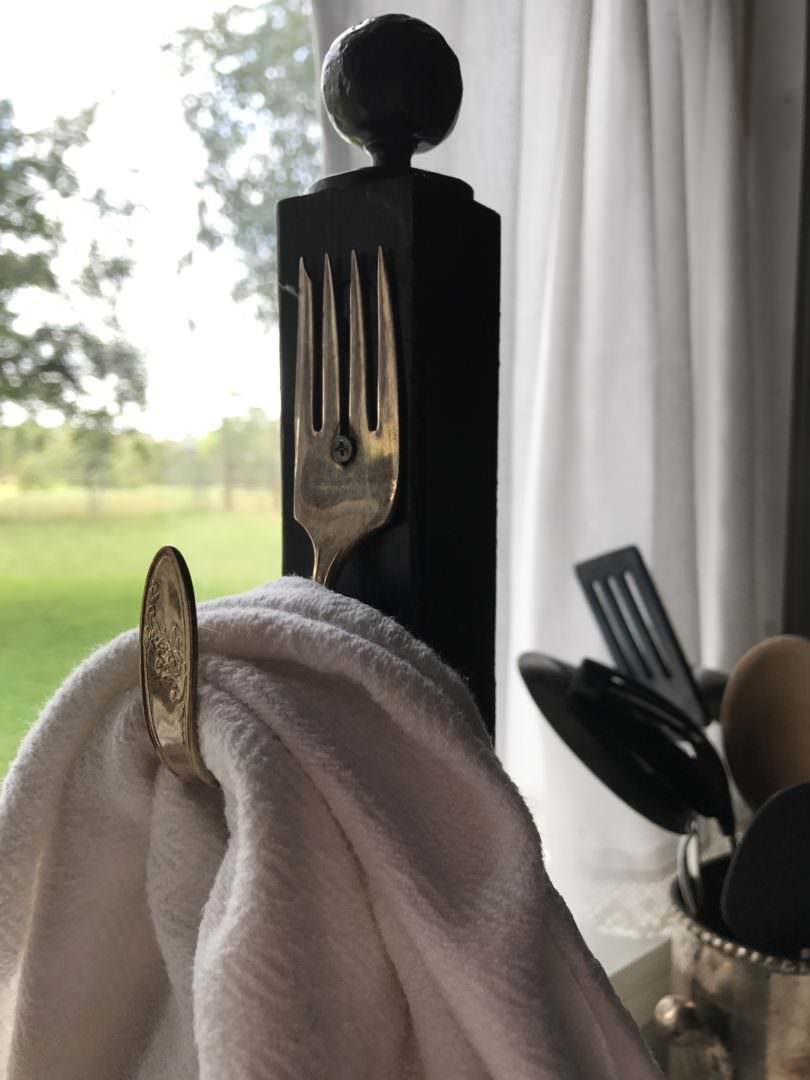 For detail #7 I came across this cast iron table top bird feeder at Hobby Lobby (hello 50% off) and thought it would be so cute sitting in the window holding sponges and the drain stopper.
Oh yeah, another favorite and detail #8 is… Here in the "kuntry" we use actual silverware for everyday.  It's a pain to wash and polish sometimes but the vintage pattern is so cute.  And of course it totally makes us me feel more sophisticated. 😉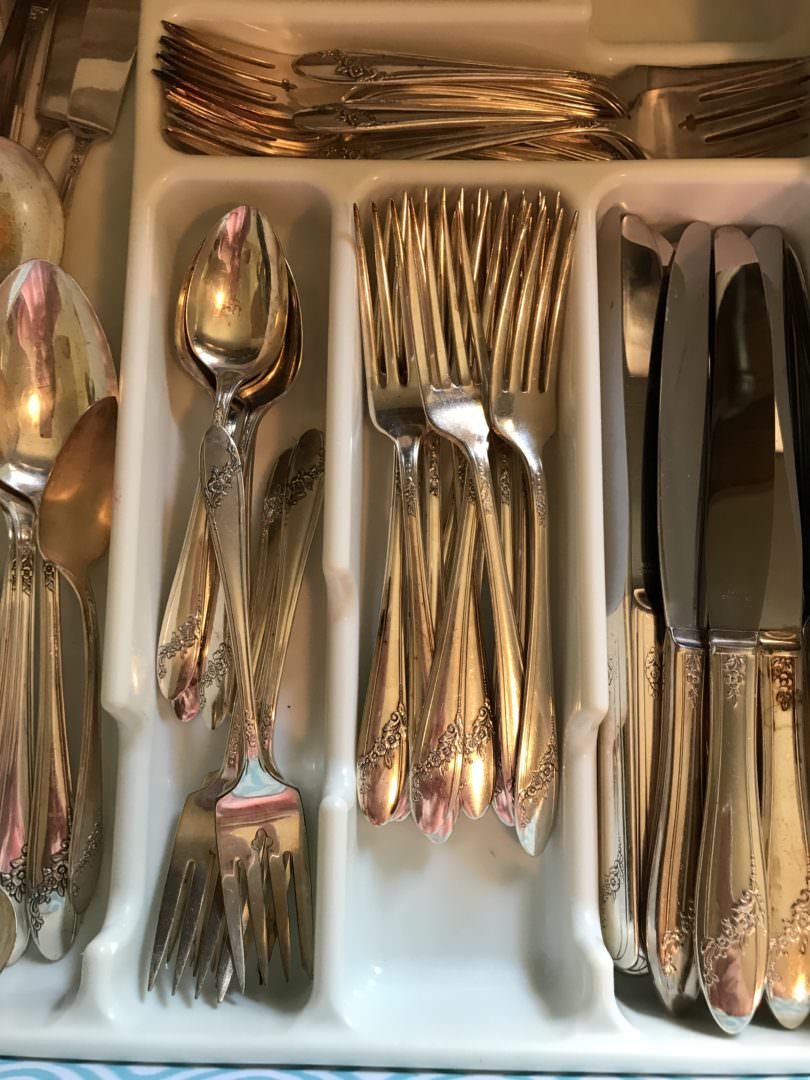 Look at this adorable milk bottle measuring cup which is detail #9. Macy (my daughter who has taken residency while attending college) found it on Amazon and I think it's perfect for the farmhouse kitchen!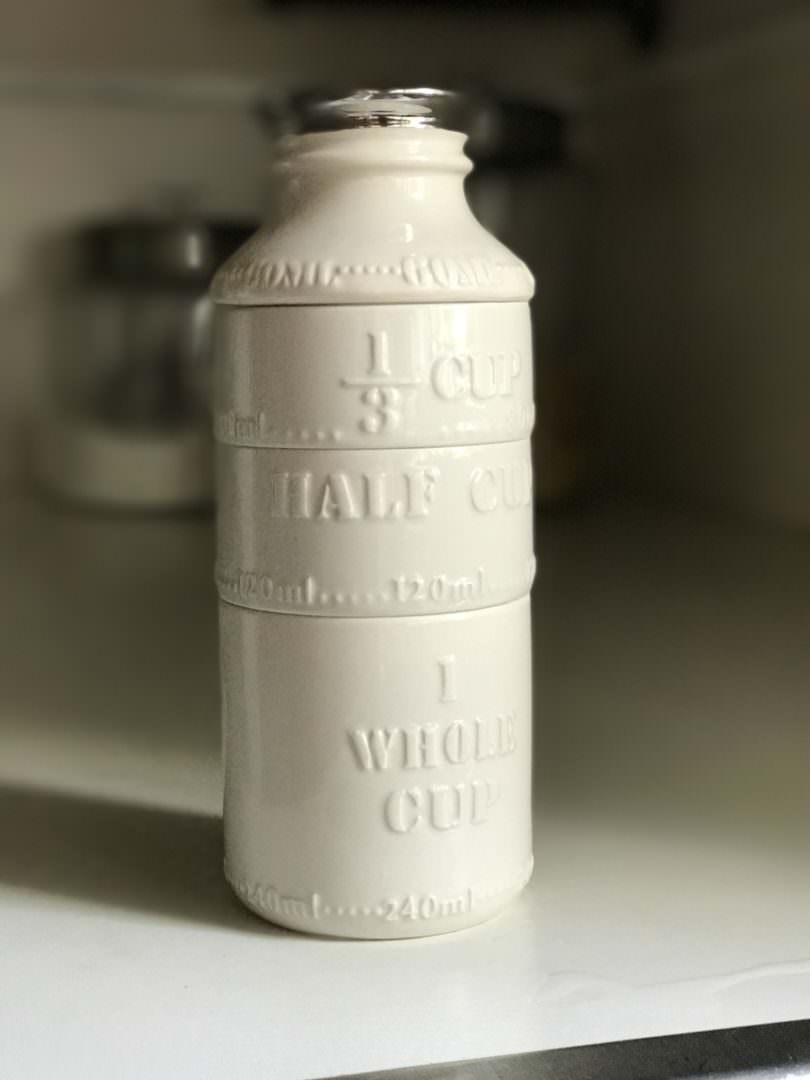 Last but not least, detail #10 is a vintage cake plate that I use as a napkin holder.  It sits over by the Coffee Station that you can read about here if you missed it.  The lid keeps the napkins from flying away when we use them outside.  Of course it's great for cupcakes and cookies too.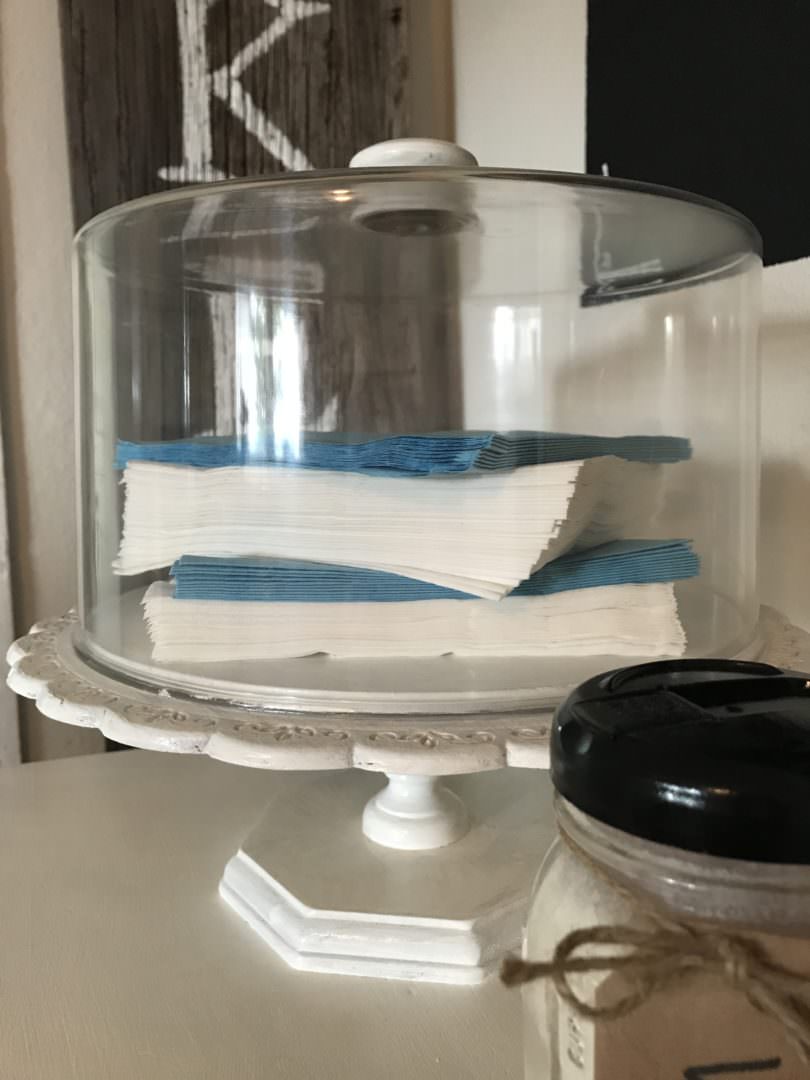 All of these things make life here so much more pleasant.  I'm not sure if it's really because we aren't down here as much so the mundane everyday life isn't as annoying or if it's not as bad as I thought it would be.
It could be because the Mister does everything in is power to make me happy and feel cherished.  He works hard to keep snakes and bugs away, to keep it cool inside while it's super hot outside.  He keeps the well water from smelling like rotten eggs (mhmm it did, bleh), the internet running as fast as possible, and so many other things.
Either way, we make a good team.  He'll keep making this old farmhouse better and better and I'll keep making it cuter and cuter.
Save
Save
Save
Save
Save